Warning: Gross picture follows.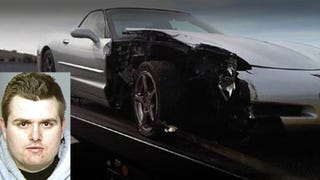 A 23-year-old City Councilman from Riverbank, California was charged with a litany of offenses after crashing his Corvette into a parked car, while drunk, with his four-year-old kid strapped into the car. Councilman Jesse James White then proceeded to leave his bleeding son in the car as he ran away, only to be …
According to a Jalopnik commenter claiming to be his 14-year-old son, Jesse James did crash his Ford GT this weekend. Also, his father was behind the wheel of the 1,000-hp modified supercar when it crashed.
Celebrity mechanic Jesse James shuttered his West Coast Choppers shop, and now his pinstriped Mac toolbox has hit the eBays with a current bid of $13,099. Maybe you can convince the Smithsonian.
(H/T to RX-Elise!) [eBay]
Motorcycle modder and detested celebrity Jesse James took delivery on a new Hennessey VelociRaptor, a 575-hp, supercharged version of the Ford Raptor truck, fulfilling the new-pickup ownership legally required of all divorced men relocating to Texas.
Jesse James set a record speed of 199.712 in the hydrogen-powered Streamliner at the El Mirage Dry Lake Bed last week, besting the hydrogen record previously held by the BMW H2R, thus proving Americans lead in increasingly obsolete technology.
So the New York Times, in the midst of all of this fallin' sky hullaballoo about the state of the American auto industry, took time out to talk to a number of people within and peripheral to the auto industry about what America's manufacturers can do to get back on their feet. Jesse James talks about the superiority…
If you're a Southern California type looking for something a little more wild, wooly and "Woo hah! Got you all in check!" this weekend than the straight-line action of the California Hot Rod Reunion in Bakersfield, the kids out at Irwindale Speedway have you covered. West Coast Choppers, Pick Your Part and Cisco…