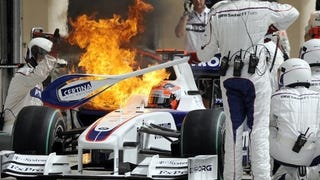 Barely eight months after Honda called it quits, another manufacturer of white cars is out of Formula One as BMW throws in the towel at the end of this season. What will this mean for the all-conquering Brawn GP?
A dozen men have walked on the Moon—and twelve Brits have won the British GP since first held in 1950 at Silverstone. Meet the men whose shoulders Jenson Button is set to stand on this Sunday.
Ross Brawn is back with a vengeance to buy the Honda F1 team and rename it the Brawn F1 Team. Did you know he has the world's largest brain? We present photographic evidence from space.
In order to tout their record of environmental achievement, the good folks at the Honda F1 Team launched the MyEarthDream campaign, which involves individuals pledging to do something for the environment and then having their name printed on Honda's new F1 car. The screening system isn't that great as Jalopnik reader…