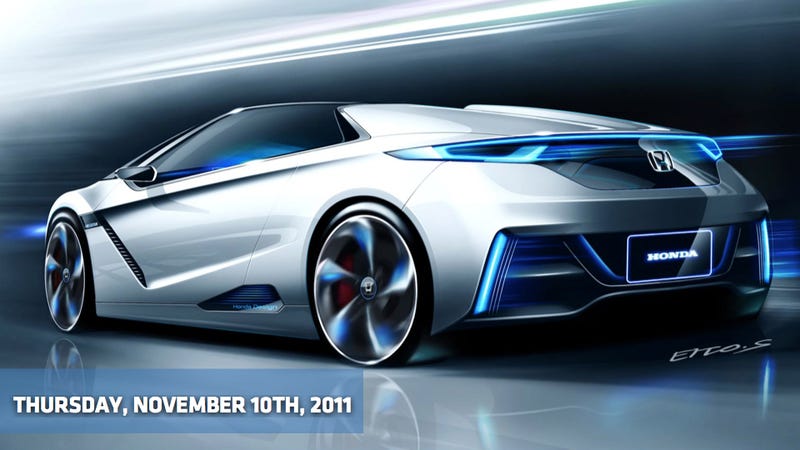 This is the Morning Shift, our one-stop daily roundup of all the auto news that's actually important — all in one place at 9:00 AM. Or, you could spend all day waiting for other sites to parcel it out to you one story at a time. Isn't your time more important?
---
1st Gear: Honda's Got The Beat, They Got The Beat, Yeah...
Honda will lift the sheet off a new electric sports-car concept at the 2011 Tokyo Auto Show. All it's called now is the Small Sports EV, and all we know is it's an open-top two-seater designed to be both eco- and fun-friendly. Of course they've said this before with the Honda Insight, and since all we know now is that it looks sort of like a drop-top version of the Insight, it's not really shootin' any wind up my skirt. But, some believe that, if it makes production, this could turn into a modern-day version of the Beat, Honda's midengine 660cc sports car sold in Japan in the 1990s. We'll believe that when we see it.
---
2nd Gear: 2013 Cadillac XTS Gets Cloth Dropped Officially
After yesterday's leak of the 2013 Cadillac XTS luxury sedan by Caddy's own website (first seen right here), GM's dropped the cloth officially, releasing a high-res version of the same image along with news it'll debut at next week's 2011 Los Angeles Auto Show. We just want to see the rear end, but for the moment, we're just happy something more in line with the rest of the Caddy lineup is replacing the DTS and STS.