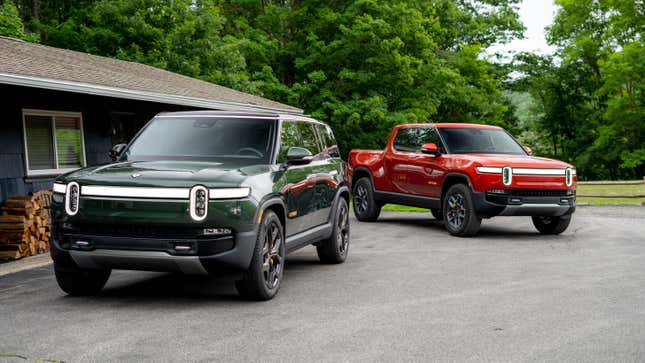 Automakers love to fill their EVs with party tricks. From lateral movement to video game capability, electric cars are rife with fancy features you'll likely never use. But it turns out there's one side benefit to those big batteries that really does matter: Two-way charging, where your electric vehicle can power another car — or even even your home. Now, it seems Rivian plans to add that functionality to all its cars.
This NYC Garage Takes Vanlife To The Next Level | Jalopnik Visits
Currently, Rivian trucks have standard 120-volt home outlets that can be used to power various household items — like surgical equipment required for a vasectomy. But those outlets' power-handling capacity pales in comparison to the CCS plug the trucks themselves use to charge, which the Ford F-150 Lightning already uses to power homes and cars.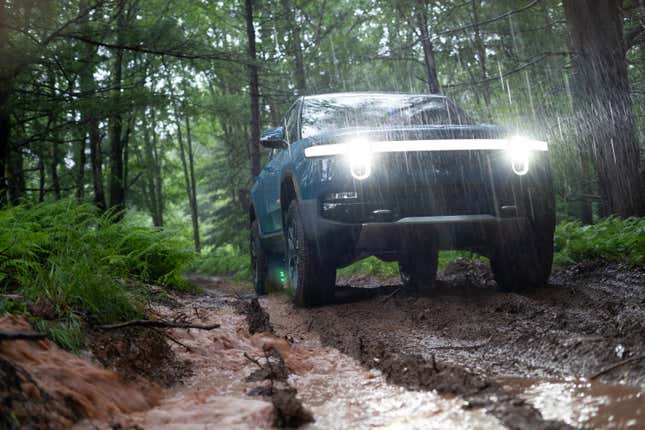 CCS plugs must meet the CCS charging standard, which is a set of rules that defines how it should operate and includes provisions for this kind of two-way charging. Rivian confirmed that its trucks are built to utilize this section of the standard, and that every truck from the company's factory will have the capability someday down the line. Given that a full recall to upgrade the charging ports is unlikely, this almost certainly means the functionality will be unlocked in a future software update.
Now, Rivian is a unique car company in many ways, but its willingness to answer questions from owners (and prospective buyers) is one of its greatest assets. Last week, in response to a Reddit thread of questions, the company claimed that every vehicle it's built has the proper hardware for this kind of two-way charging — the trucks just need a software update to make the hardware work. That's it.
If Rivian's representatives are to be believed, it'll be a victory for Rivian owners who have had to endure the harsh, mocking glares of Ford Lightning owners for too long. No longer will they be looked down upon by the Blue Oval owners, and instead can look them in the eyes, confident as an upstart with one-way-charging-only EVs.