Once again, it's time for one of the most legendary races on the planet, where the world's best sports car racers battle it out for an entire day: the 24 Hours of Le Mans. If you're hum-hawing about the idea of tuning in to a 24-hour race, don't be. Here's how you can watch the race, and why you'd be crazy to miss it.
Why Should We Care About Some Long Race In France?

Le Mans is extra fun because it's like watching four races at once, all happening on the same unforgiving 8.469-mile track, which uses part of a full-time circuit as well as closed-down public roads. Le Mans race cars have to navigate around traffic of varying speeds, which becomes much trickier as the sun sets and parts of the track become pitch black. The pavement isn't all a smooth-as-butter track surface, and the weather can be unpredictable at times.

The competition is insane, as it involves legendary racing marques like Porsche and Ferrari. World's most kick-ass gearhead Jackie Chan even has his name on a car. Le Mans runs as part of the World Endurance Championship—the highest level of endurance racing in the world—but Le Mans attracts many other teams who run in regional series across the world, such as Corvette Racing.

Surviving all 24 hours of racing among some of the fastest drivers on earth is a feat in itself. Winning is the ultimate achievement. Le Mans is considered yet another leg of the Triple Crown of Motorsport alongside the Indianapolis 500 and the Formula One Monaco Grand Prix—the world's three most prestigious races—and rightfully so. Le Mans first ran in 1923, making it the oldest sports car endurance race in the world.

G/O Media may get a commission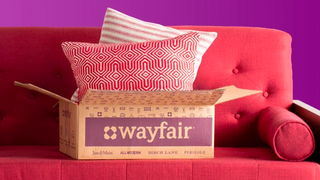 Big deals
Wayfair Surplus Sale
It's a huge deal for manufacturers, too. If a car company wants to demonstrate their worth to the world, this is where they go do it. Ford's new halo car, the GT, was built specifically to impress at Le Mans, and Porsche is so synonymous with the track that there's a set of curves named after them.

More importantly, it's a lot of fun to watch. Because everybody—drivers, teams, marques and crew—wants to win Le Mans, it's a goldmine for bizarre cutthroat stories about teams exploiting loopholes or pulling other tricks to get any leg up they possibly can. It's all brilliant, crazy stuff.

How Do I Watch The Race?

Let's get the most obvious question out of the way: how do you tune into the race itself? Fortunately, you don't even need a TV, although the online stream is a bit fiddlier than it has been in years' past.
Here's how you can tune into the race if you're watching on TV in the U.S., starting on Saturday, June 17 (all times Eastern):
Fox Sports 1: 8:30 a.m. - 10:00 a.m. (Sat.)

Fox Sports Go only: 10:00 a.m. - 1:00 p.m. (Sat.) 

Fox Sports 2: 1:00 p.m. (Sat.) - 1:00 a.m. (Sun.)
Fox Sports 1: 1:00 a.m. - 9:30 a.m. (Sun.)


May other sports have mercy on this broadcast and not preempt it a bunch of times like last year. Alternately, the race will be streamed in its entirety online on Fox Sports Go if you'd rather spare yourself the channel changes and likelihood of Fox's main TV feed screwing over racing fans yet again. 

The World Endurance Championship itself has a paid, commercial-free live stream here (which is also accessible on the WEC app for iOS and Android) of both the qualifying sessions and the race itself. However, it's been more finicky to use than in years past for some reason, requiring me to mess around with different browser settings before it would ever open every time I've tried to use it this year. If you go this route, allow some extra time to tinker with browser settings or restart your computer in case it's not working for you.
You want to watch a few onboards, even if it's just for a little while. It's completely surreal to see these cars speed through zones of complete darkness late at night, with only their own and their competitors' lights in some parts on track.

Several teams will be running onboard live-streams, both through the WEC's streaming site/app as well as on their own. The Ford Chip Ganassi Racing Team will have their own onboards from all four Ford GTs and garage cam on YouTube. Porsche is also running a set of onboards on their own site here.

Le Mans' official live timing screen is here (just kidding; WEC appears to have disabled it for the race), and a fan has made a more detailed live timing screen with sector splits here. If you just need audio, Radio Le Mans will have coverage here.

If you're interested in any of the other events happening at the circuit this weekend such as the Road to Le Mans or Carrera Cup support races, r/WEC is a fantastic resource, and the full on-track schedule can be found here.

How Do I Tell The Cars Apart?

There's a handy guide with information on all 60 cars running in this year's race lovingly kept as up-to-date as possible by graphic designer and friend of the site Andy Blackmore. Download it here.

What's With All The Different Kinds Of Cars?
Le Mans is the flagship event of the World Endurance Championship—a multi-class racing series that sends different cars out on track to race at once and hopefully not bonk into each other. Production-based race cars like the Porsche 911 RSR, Ferrari 488 GTE and Ford GT race alongside purpose-built racing prototypes, making it even trickier to grind out fast laps.

Here's a quick rundown of the classes, each of which gets its own podium at the end, even though the overall winner (usually from the top LMP1 class) is the one that gets the most attention:

LMP1: The top level of endurance racing prototypes in the world and the fastest class at Le Mans. The regulations are a bit more open than they are in many other series, leading to different engine configurations (Porsche's V4 versus Toyota's V6, for example) and all manner of cutting-edge technology. The manufacturer-backed LMP1s—designated as LMP1-H—use high-tech hybrid systems to go even faster. Two manufacturers are participating this year: Toyota and Porsche. Only one non-hybrid privateer LMP1 is running—ByKolles—who will presumably get the most prestigious participation trophy ever if they finish.

LMP2: A slightly slower, cost-controlled prototype class open to amateur drivers. All cars are powered by a rad-sounding 4.2-liter Gibson V8 engine in chassis from one of four approved suppliers. No manufacturers are allowed in this class anymore. The cars are a bit faster this year, and it still attracts some ridiculously good drivers, so expect 24 hours of ruthless racing in this class.

LM GTE Pro: This is where manufacturers bring their latest, greatest production-based race cars. With cars like the Ford GT now built for GTE-spec domination, the engineering eye-candy here can almost be as exciting as the LMP1 cars! For this year, the fascinating new car is the mid-engine Porsche 911 RSR—a sweet feat of taking advantage of the GTE-class regs to get better handling and more speed in its own right. If you like watching cars that look like cars, this class is your jam.

LM GTE Am: This is the GTE class open to amateur drivers and as such, machinery has to be at least one year old to be used here. You'll find a similarly diverse field of cars here, although sometimes they're not as aware of the ultra-fast LMP1 cars flying down the circuit as their Pro counterparts.

Who Should I Pay Attention To?

Le Mans' 60-car field can be intense to keep up with. Most folks focus on a few key battles, favorite teams or drivers, the coolest cars or just whatever is exciting that pops up on screen.

The race everyone's watching is inevitably the LMP1 battle this year. For one, there are rumors that this could be Porsche's final year in the class, which would be sad, given how well they've done with the 919.
Secondly, it's hard not to root for Toyota, even if you're one of the biggest Porsche homers in the world (like me). Toyota was set to become only the second Japanese manufacturer in history to win Le Mans last year when a simple connector failure before its last lap resulted in the car failing before the end of the race. Painfully, their leading car wasn't even classified for taking too long to complete its last lap.

That's racing, but Toyota's thirsty this year, bringing three cars to the race after winning the first two races of the WEC season before Le Mans. They set a new record for the fastest lap to run at Le Mans since more chicanes were added in 1989. But you know Porsche won't just let them have it, so you know they're waiting for Toyota to make the slightest hiccup so they can get ahead.

Speaking of carry-over from last year, the GTE Pro class is always full of controversy, as the "Balance of Performance" system that aims to get all the different kinds of cars on a relatively level playing field will be debated until the end of time.

Already, Risi Competizione race engineer Rick Mayer accused the Fords and Porsches of not using all of the curb in order to take slower lines around the track in testing to Racer. Going slower than you're capable of—or "sandbagging"—is one way to trick Le Mans' organizers into not adding modifications (such as restricions on turbo boost, or added weight) to slow your cars down for the race. Risi and the Ford Chip Ganassi Racing Team infamously protested each other after ruthlessly battling for the win during last year's 24 Hours of Le Mans.

The Fords, which didn't have much pace in yesterday's first qualifying session, are now showing themselves to be one of the quicker cars in GTE Pro. Surprise! We'll see how that pans out over the next 24 hours of racing, but either way, the Risi Ferrari vs. Ford vs. Everybody rivalry is some seriously delicious drama.

Otherwise, pick a team or driver you like and hope for the best. Have you been following Jean-Éric Vergne since he was at Toro Rosso in F1? He's in the No. 24 CEFC Manor TRS Racing LMP2. Love Corvettes? Corvette Racing brought two cars this year in GTE Pro, and Larbre Competition has made their GTE Am 'Vette into the coolest art car I've seen in years. Are you wearing Gulf Racing boxers right now? Don't lie. Anyway, Tockwith Motorsports' No. 34 LMP2 and the No. 86 Gulf Racing Porsche 911 RSR are for you. Peruse the list, and pick your favorites.

This All Sounds Fun, But How Do I Stay Awake?

We've got a guide to staying awake, too, if you'd like to watch the whole thing. Who wouldn't? Sleep is for the weak.
I prefer the more natural method of getting a good night's sleep before the race itself, and then remembering to move around a bit and keep making coffee during the race itself. You sit, you snooze. I do not recommend buying trucker speed from your sketchiest looking neighbor.

Happy watching, and remember: you can always sleep after the race.