In case the, you know, McLaren didn't signal your wealth to the world loudly and proudly enough already, the company is badging its yet-to-debut, $2.3-million, three-seat McLaren Speedtail in "a range of optional finishes" such as 18-karat white gold paired with carbon fiber. McLaren's calling it a "Badge of Honour."

And an honor it is, apparently, because McLaren said the jeweler-made badges with more karats than the typical wedding band are "already proving popular" with some of the 106 very tasteful and very affluent future owners who saw the badges on the new three-seater supercar at a private event. The rest of us have to wait until next Friday for its debut, because that's life.
If all of that sounds familiar, it's because it is. The sold-out McLaren Speedtail, which McLaren said will have around 1,000 horsepower, will be a supercar with three seats and a central driving position, just like the famous 1990s McLaren F1. It'll also only be made 106 times, like the F1, and McLaren said its top speed will be over the 243-mph mark set by the F1. The F1 also had gold in it, but not just for a fancy gold-carbon fiber badge. It used gold foil as a heat shield.

G/O Media may get a commission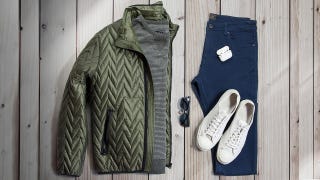 60% off
Jachs NY Fall Sale 60% Off
The Speedtail's gold, instead, is "combining art with extreme performance," as McLaren puts it. Art doesn't necessarily have to do anything other than make a person feel good, and it would probably feel good to say, "Check out my McLaren badges made of 18-karat gold and their carbon-fiber inlays." Probably. I wouldn't know. My engagement ring has fewer karats than that.
But art isn't meant to be practical, and a gold McLaren badge weighs a honking 0.2 pounds (gasp!), which will surely throw off the power-to-weight ratio in a 1,000-HP car by unfathomable amounts. You could even be able to feel the difference during a track day. The horror. Because of that, McLaren said in its press release, the "more weight-conscious customer" can choose "a lacquered transfer which weighs almost nothing" instead of the gold.

Phew. Thank goodness. That was almost a crisis. Maybe McLaren will make a keychain version of the gold and carbon-fiber badges for those folks who just can't bear having the weight on the car—you know, for the best of both worlds.
Everyone needs a badge of honor, after all. Some people just have different criteria (and budgets) for them.