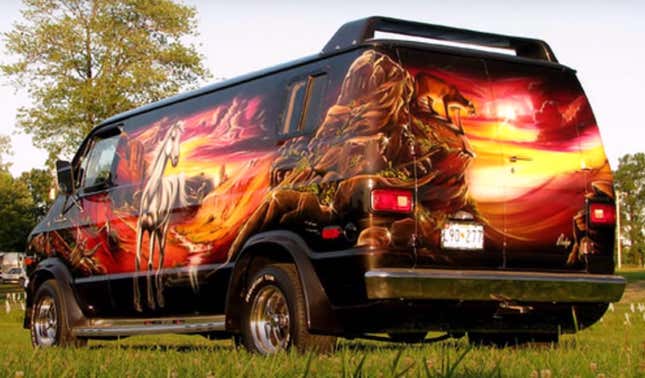 Weird cars are the best because they express so much about the owner. Whether you're a cutie with a Kei car or a madman driving a postal Jeep cross-country, your car says a lot about you. No vehicle screams personality quite like a van with a sick mural, so I got to know: What does yours look like?
What Recession? Car Companies Insist Everything Is Fine
The '70s were the height of vehicle-based painting and van murals were as varied as their drivers. You could create a Custom Dodge Tradesman celebrating your love of dirt bikes, or a GMC van covered in sexy Star Trek scenes. The empty swaths of potential on the side of a van compels its owner to uncover what is already there — their very souls.
For mine, I'd probably want some sort of bitchin' space scene. Maybe something from a beloved sci-fi series, like Gideon the Ninth by Tamsyn Muir. A book about necromancers in space just hits all the right notes — a dark forbidding landscape on a strange planet, spaceships, muscly women holding swords and maybe even a horrifying creature made out of human bones. Oh and lasers. There are lasers everywhere.
But you can do anything! Want to make it into western scene and travel the deserts? Celebrate your love of a certain cartoon? Express the freedom of your soul with as brilliant wild horse? Make it totally incomprehensible? We want to hear from you!