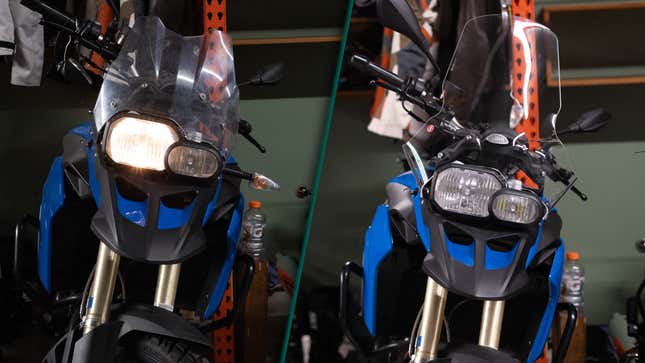 The internet's favorite broken old Beemer is back — now, less broken than ever. When we last saw my BMW F800GS, it had finally been restored to its bright-blue glory, but the process came at a cost: My front-right turn signal, long hanging by a thread, finally succumbed to the engine's vibrations and freed itself from my front fairing.

But that one turn signal wasn't the only thing this GS needed. Firstly, the dash kept yelling at me for an oil change, but there's more to it than that. I have a trip coming up this weekend, a highway ride to Connecticut followed by a hundred miles of mixed-surface trails, meaning the F800 needed to get ready for touring and dirt riding. Does wrenching ever start to feel Sisyphean for anyone else?
(Full Disclosure: Motul kindly sent me enough oil for a full oil change. Garmin also sent me a GPS unit for an upcoming review, which I wired into the bike here.)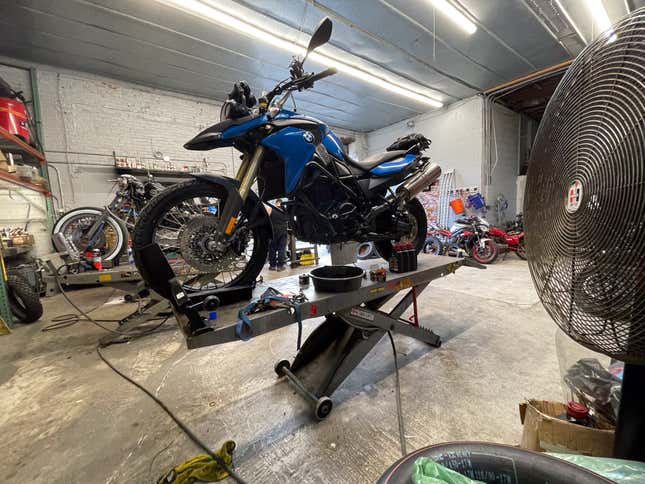 Fun With Fluids
When I bought the bike, the prior owner told me it was due for an oil change. The dash agreed, shouting SERVICE at me on every startup, so I figured the bike was a few hundred miles overdue for its 12,000-miles change. No big deal, right?
Not a huge one, but it did become an expedition once I started to pull the bike apart. Removing the aftermarket bash guard gave me a great view of the GS's magnetic drain plug — a plug that, for some reason, unscrews with a novelty oversized hex key. Here I was, with my socket set ready to go, staring down a plug that would only yield with a 10mm Allen key. It took a full hardware store trip before I could actually drain the bike's oil.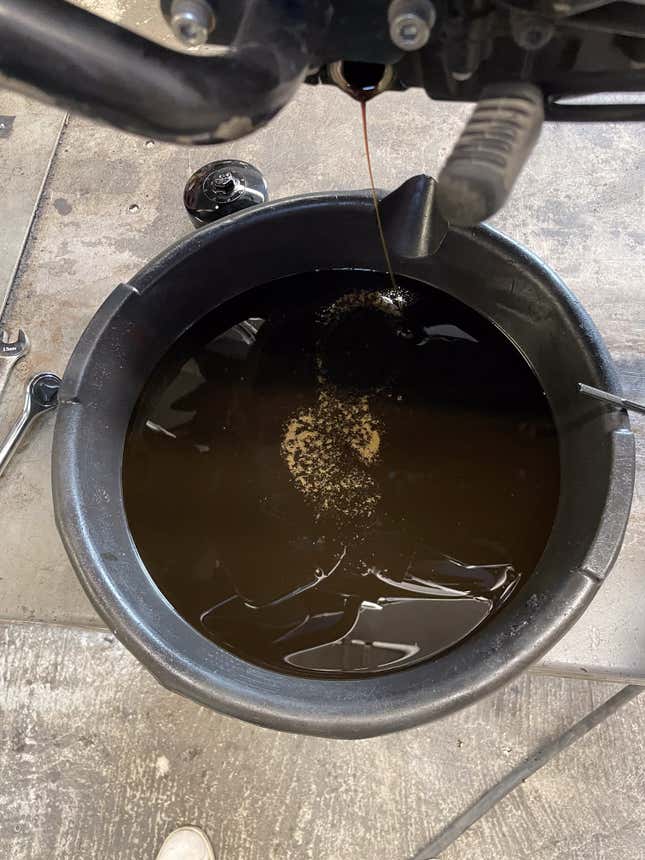 Once, I did, I discovered the condition inside the oil pan. The bike may have only been a few hundred miles overdue, but god only knows how many years it took to accumulate those miles — the oil that drained out was pitch-black and syrupy thick, like an espresso shot pulled with molasses instead of water. I think it may have legally qualified as a biohazard.
But, for all its age, the oil from the GS wasn't glittery with particulates. The magnetic drain plug had a bit of shmutz on it, but far from a concerning amount — with oil in this condition, a bit of metal on the drain plug seems well within spec. I'm unilaterally declaring it fine.
Fresh oil made the bike immediately feel better, smoother to shift and more eager to rev out. This also led to the discovery that it stumbles over 6,000 RPM, but I'm hoping that's just an air filter. Please let it just be the air filter. The spark plugs are so buried in this bike, and I have so little interest in reaching them.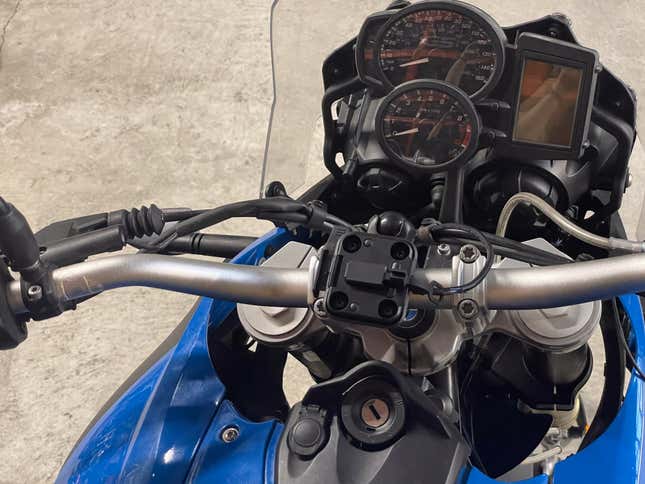 Get Positioned, Son
While out on this upcoming trip and trail ride, I'll be testing out the latest Garmin flagship moto GPS: The Zumo XT2. Of course, in order to do that, I had to install the unit's base on my bike. That meant wiring the system up, melding its bare wires with the included fuse and ring terminals, as well as attaching the accursed RAM mount to my bars. I cannot stress enough how much I hate RAM mounts, and how unjustified that hate is.
This leads to my first bit of real advice, though: Keep a multimeter on hand for wiring work like this. Sure, the ring terminals and fuse all came with the Garmin — they're going to work well together, it'll be fine. But in the rare instance something isn't, it's better to check continuity on the tool chest that doubles as your kitchen island than to mount everything to the bike and be confused when it doesn't work. Also, when working with heat-shrink tubing, be sure to only use your finest Front Bottoms lighter.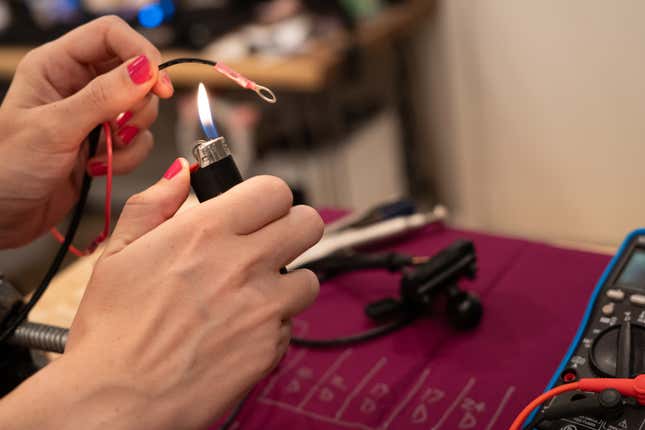 After ensuring the electrical connections were sound, I spent a solid two hours just trying to figure out where to put the Garmin on my GS. I love the Dakar look, every gauge and instrument tucked up behind the windshield, and I tried so hard to make the unit fit near my dash. Plus, the RAM mount didn't really fit on the center of my bars, and I wanted to avoid putting the GPS out to the edges. I'm assuming I'll drop this bike a lot in the dirt, and I'd like to avoiding hurting the screen if I can.
Unfortunately, two hours of searching only reminded me that I didn't shell out for the F800GS Adventure with its factory navigation bar. Perhaps someday I'll add such a feature to my humble non-Adventure model, but for now the Garmin lives — poorly — in the center of my handlebars. The RAM mount is really only attached on one side, but it's fine. Don't worry about it.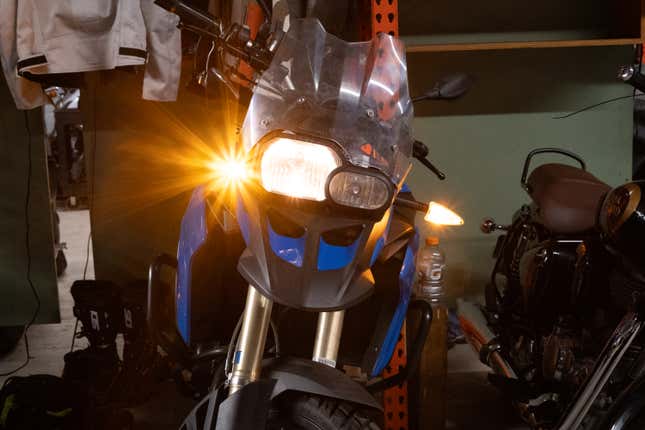 Those Damned Indicators
Last time, I teased the idea of installing compact Motogadget m-Blaze Pin turn signals on the GS. Those are the exact indicators I ended up buying, alongside some resistors and a set of adapters from Rizoma to help fill in the now gaping divots in the front fairing. The resistors, despite all evidence to the contrary, ended up being entirely unnecessary — they didn't affect the flash speed of the new signals at all. I ended up keeping them around in the garage just in case, but I don't really expect to ever use them.
Unfortunately, the indicators proved horribly inconvenient to install. The issue isn't necessarily theirs but comes from trying to use them with my BMW's factory turn signal plugs. The way the Motogadget signals mount, as a single pin, simply didn't want to play nice. For a visual, here's what the signals look like on their own: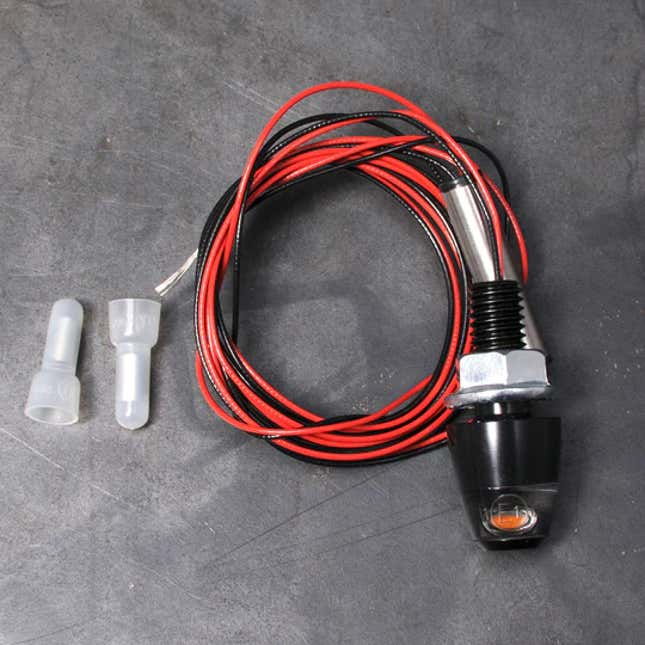 The light element itself serves as the head of a hollow bolt, through which the wires run out to the bike's harness. While that's all very nice and sleek, it also means the nut that holds the signal to your fairing has to be applied before the bare wires of the indicator can be attached to your factory harness. The nut simply won't fit over any kind of OEM plug. The cheap crimp connectors I keep around my apartment wouldn't grab the wires, so that meant soldering plugs to the indicators after mounting them.
A fun fact about me is that I am godawful at soldering. It's just never something I've been good at — I can make an electrical connection, sure, but making it smooth and durable? That's a taller task. But by god, I went out to Micro Center for some heat shrink and a heat gun, and I gave it my all.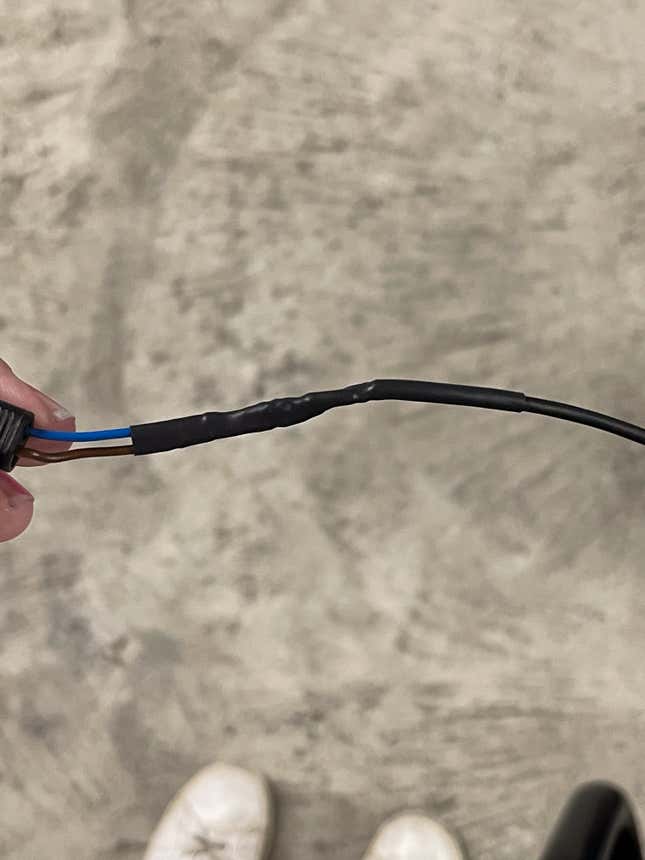 ...Yeah, I'm just kinda hoping the heat shrink holds everything together. The signals have already survived a nighttime highway ride through a thunderstorm, so I'm thinking they'll be okay. If something breaks, it's just more solder practice.
As for how the signals actually work, my feelings are mixed. They're much brighter than the stock indicators, and way more compact — you can see in the top shot how little they stick out from the bike's fairing. That was intentional, to reduce the risk of breaking them in an offroad drop, but I do with they extended just a little further from the body. The stock signals were recessed, and my adapters don't quite fill all that space, so these are pretty tucked in. Still, they're bright, visible, and securely attached — better than what I had before.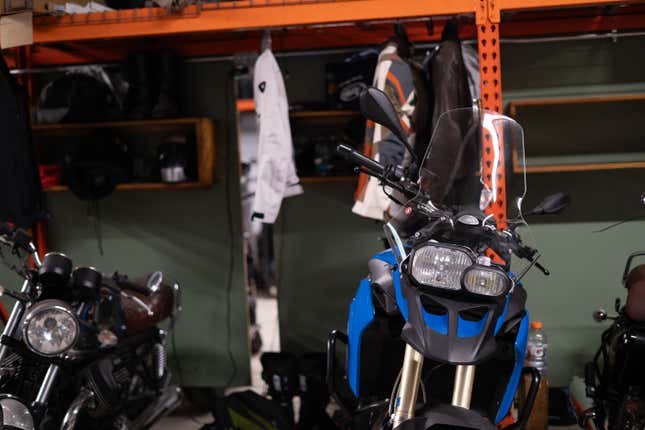 Windscreen Woes
Another feature the F800GS Adventure gets over the base bike, beyond the navigation bar, is a taller windshield. This alone feels like a worthwhile upgrade — the 800's stock screen pushes turbulent air directly into my helmet's chin bar. This, as you might imagine, sucks. I imagine it would suck incredibly on a ride out to Connecticut, and one home from Massachusetts. So, a taller windscreen was in order.
I did a lot of research here. A $41 option from Alibaba was on top of the list for a while, until it became far too late to actually get the $41 option from Alibaba in time for the trail ride. So, Givi it is — just like I had on my G310GS. I tried to test its wind-deflecting capabilities, to see if it really pulled that turbulent air off my head, but just ended up in a lightning storm. No real winning there, from a wind perspective.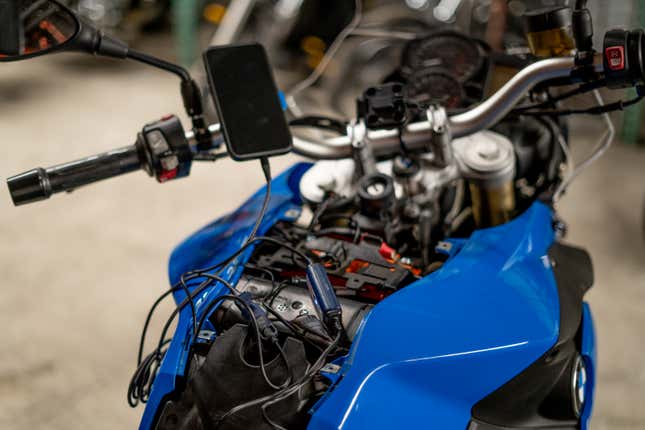 Cell Carrying
Have I mentioned that I hate RAM mounts? This bike came with one for a cell phone, a big ungainly X-grip mount that always tried its best to hit my phone's volume buttons. It also had a charger that plugged into the port next to bike's ignition, and led to tow USB ports on the bars. From a cable management perspective, a sleekness perspective, this would not do.
Now, the phone is on a Quad Lock mount, charged by a six-foot-long Lightning cable that runs all the way to the battery. This is so much cleaner, even with the new mount's vibration damper in place.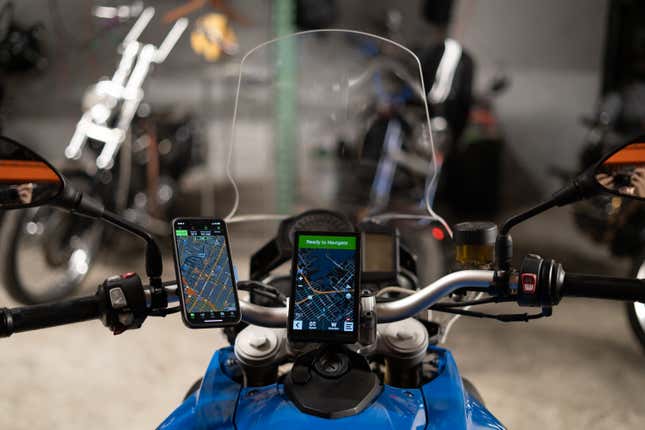 Road Trip Ready
With that, the bike should be set to go. It still needs a few things — the brakes still don't feel great, even with the new fluid, and the chain and sprockets could use replacement — but it's in good enough shape to trust for this trip. That's a far cry from the condition it was in just two months ago, when even the ride home from my purchase was sketchy as hell.
Now, I just have to try not to hurt it too much over the weekend. I have effectively no dirt experience under my belt, so where better to start than a 500-pound BMW? Look forward to a series of blogs coming out of that, assuming I make it out in one piece. I'm sure it'll be fine.