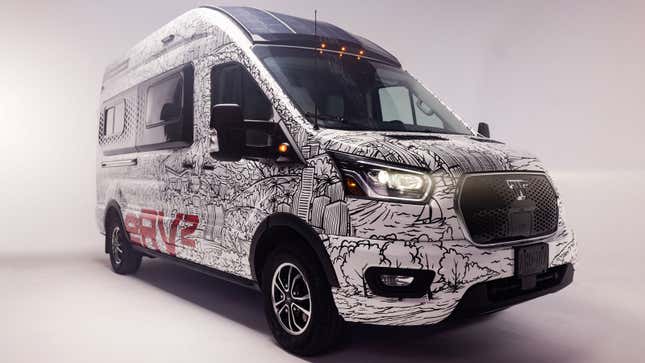 "Take only photos, leave only footprints" is a corny saying I like batting around every time I head out into the wilderness. It's all about leaving nature where nature belongs and heading home without a trace. But if your only method of getting into the countryside means leaving a cloud of toxic gases in your wake, can anyone ever really stick to this cheesy mantra?

Well, for any adventurous campers out there, American RV maker Winnebago may be about to address those concerns. The company has just premiered its second all-electric RV concept, called the eRV2.
Based around Ford's electric E-Transit van, the concept will serve as a proving ground for Winnebago's sustainability-minded future products. As such, it runs on battery power alone, incorporates solar panels into the roof and features an interior crafted from more sustainable materials.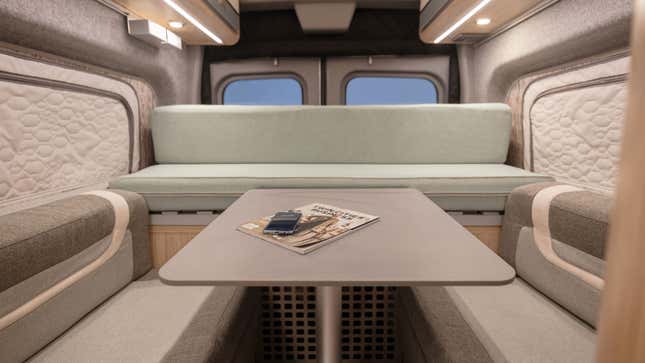 "Our primary goal in building the eRV2 was to help people comfortably explore the world around them with less environmental impact," explained Huw Bower, president of the Winnebago brand.
To do this, the van starts out as a Ford E-Transit, which the company says is capable of 108 miles of emission-free driving. As this is a prototype, Winnebago says it'll use the vehicle as a test bed for range-extending tech that it's "actively pursuing."
Winnebago has also given the van a 48-volt battery to power all its camping essentials, such as lights and heating. This battery pack is paired with an array of solar panels built into the van's high roofline. The 900-watt capacity, Winnebago says, is enough to power your off-piste adventures for up to seven days, depending on how you use all that sweet, sweet electricity.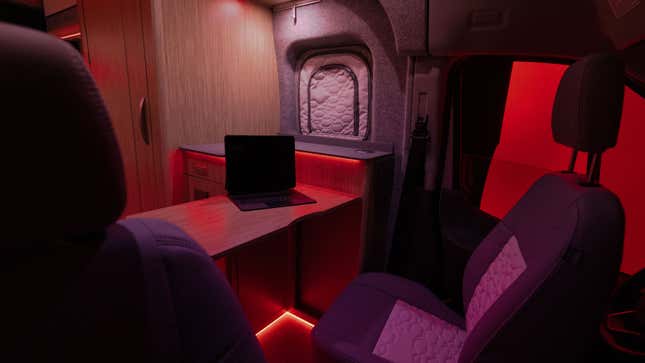 There's more than just a few batteries to help cut the environmental impact of this van, however. Inside, Winnebago has fitted it with an interior made from a host of renewable materials.
Instead of leather or plastic, the seats in the van are covered with plant-based materials, and the countertops are biodegradable. There are also recycled materials in use throughout the van, including to make up the carpets, floor mats and mattress.
What does all this eco-minded design look like, you might ask? Well, rather lovely to be honest.
The electric van has a very minimalist, bright interior. At the rear, there's a dining area that also doubles up as your bed and the eRV2 has a counter unit that comprises a sink and fridge. There's also a second unit with a fold out desk.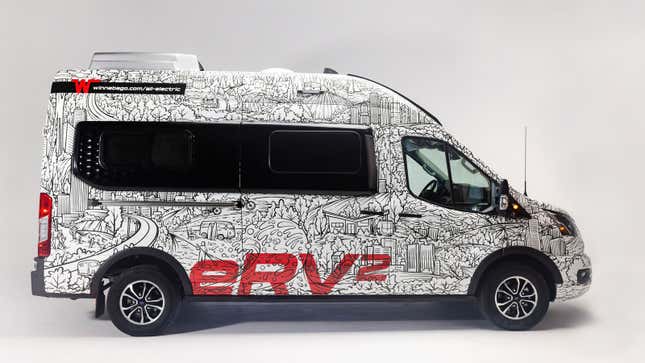 Everything is finished with light-colored wood, and lighting built into the living space can be customized with different colors to match your mood. There are also neat flourishes like built-in wifi and an app that allows you to monitor and control your energy usage.
Now, this is being billed as very much a test vehicle at this time. But, Winnebago says that everything it learns from the eRV2 will be put to use in a "final design" for an electric RV that could hit dealerships in the future. Neat.