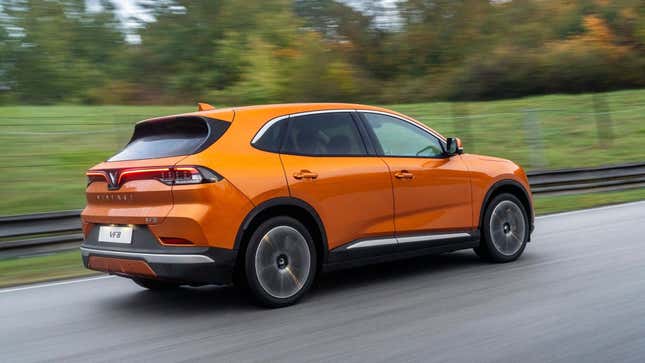 Vietnamese automaker VinFast is attempting to do what few unknown car brands have successfully accomplished: take a solid foothold in the American car market. Wall Street analysts seem bullish on this idea, giving VinFast a market value greater than GM and Ford. This defies logic on several fronts, and I hope someone can explain why a company that seems doomed to fail, can survive and flourish.

I'll admit that I am not an investment expert, but having run a car buying service for over ten years I'm pretty knowledgeable about what customers are looking for and what products do well versus which ones do not. Based on my experience, I don't see any outcome where VinFast does not crash and burn, and here is why.
Making Cars Is Hard
Let's get the obvious one out of the way. According to practically every early review of VinFast FV8 City from respected automotive outlets, it is a terrible car. The car vibrates, shudders, and causes motion sickness. The turn signals didn't even work consistently. This would be one thing if the car was targeting a sub $20,000 price point, but VinFast has a projected MSRP of almost $50,000 for a vehicle that can't even do the basics of what we'd expect from any car. Our own contributor, Kevin Williams, said point blank that the VF8 is "not ready for America."
It is very difficult to find an objectively "bad car" in the American market, almost every car from every brand will accomplish the basic motoring actions just fine. Some cars are just clearly more desirable and competitive than others. However, VinFast seems to be struggling with even the most basic aspects of creating a product that works how buyers would expect it to. Maybe, the brand goes back to the drawing board and drastically overhauls its product to field something that is at minimum, on par with other cars in a very crowded $50,000 segment. Even then, it's probably not going to be good enough to poach your average American car buyer away from legacy automakers.
Convincing People To Buy Your Car Is Even Harder
In all my years of talking with thousands of car shoppers, I have found that most people are hesitant to take risks on products unless there is a major overarching aspect of the brand or model that trumps the risk. For example, buyers will roll the dice on an Alfa Romeo Giulia Quadrifoglio because of the performance or someone may take the gamble on a used Range Rover because there is some style and a "brand name" attached to it. But the bulk of your consumers are going to spend their money on something with a fairly predictable outcome.
This is where VinFast is likely to face its biggest hurdle, which is convincing your average buyer to spend anywhere from $40,000 to $80,000 (depending on the model) on a car made by a brand they have never heard of, instead of buying something from Audi, BMW, Mercedes, Honda, Toyota, Tesla...the list goes on.
I'll also address another issue that is not often spoken about. There is a chunk of buyers that have an ingrained distrust of products not made in Japan, Europe, or America. To this day, I still encounter folks who will not buy models from Kia or Hyundai because of the perceived quality of those products, based on experiences or anecdotes from 20 years ago. There are people who refuse to buy Volvo products because they think they are really "Chinese cars." Now, in an age of globalization and multinational corporate conglomerates whether or not these consumer perspectives are rational or well-founded, isn't relevant. The fact remains that this psychology is at work and there will be a substantial group of buyers who will automatically reject a Vietnamese car.
I've said before that buying a car is not a rational purchase, how a consumer "feels" about a brand is just as relevant, if not more so, than the quality of the product. Consider Cadillac as a case study in which you have an established automaker, that by all accounts made "good" products, yet still struggled with overall sales unless that car is an Escalade.
The EV Market Is Starting To Stall
A larger factor at play here is that VinFast plans on offering exclusively an all-EV lineup, in an electric vehicle market that is showing signs of slowing down. EV inventory is starting to pile up and brands are beginning to throw some money at these cars to find buyers. Big discounts are a sign that the supply and demand situation is no longer favoring the automakers. Dealers are turning away EV inventory due to lack of interest. According to data from Cox Automotive, the EV segment is sitting on a 100 day supply of cars.

In the next few months, VinFast will be attempting to compete in a segment with a major over-inventory problem from Cox Automotive - "U.S. dealers have more than 92,000 EVs in stock, more than three times the number on their lots a year ago."
When given the choice between a Ford, GM, Mercedes, BMW, or Tesla EV with heavy discounts and an established service network, buyers are going to instead spend the same money on a car that "looks like" a knockoff of those established brands?

All of these variables don't bode well for VinFast, but perhaps I'm missing something in a world where companies aren't really "worth" something based on what profit they can return now, but rather than what potential profit they can return in the future by "disrupting" the industry.

The best analogy I can think of in regards to VinFast is if a completely unknown fast-food chain entered the "chicken sandwich wars" several years late and sold a product that would be akin to something you would get in a school cafeteria for the same price as Popeyes and KFC.

---
Tom McParland is a contributing writer for Jalopnik and runs AutomatchConsulting.com. He takes the hassle out of buying or leasing a car. Got a car buying question? Send it to Tom@AutomatchConsulting.com