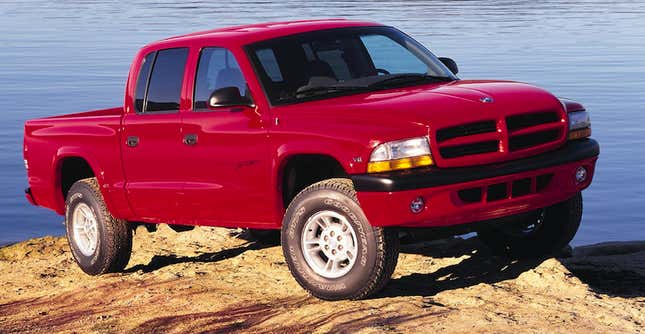 This morning, Automotive News quoted Fiat Chrysler CEO Mike Manley as saying Ram is planning to bring a mid-size truck back to market. The story reminded me of something I've been meaning to discuss: the second-generation Dodge Dakota. It is deeply underrated.

2024 Nissan Z NISMO | Jalopnik Reviews
In the enthusiast space, certain pickup trucks garner more love than others. The Ford Ranger, Toyota Tacoma, and Nissan Hardbody are ones that get loads of appreciation—and rightly so. But the Dodge Dakota is arguably as cool as those vehicles, and I'm not convinced it's getting the recognition it deserves, so let's fix that.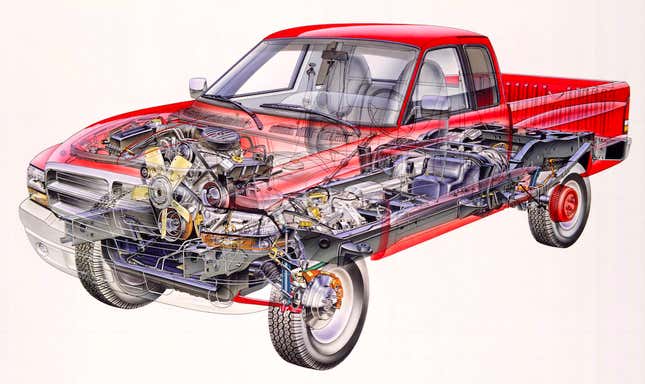 When the Dakota launched for the 1997 model year, it was hot stuff, in part, because it shared the universally adored "big rig" styling of its big brother, the Dodge Ram. But it was more than just the vastly different, less-boxy look that made the second-gen Dakota so appealing. Unlike other trucks in the segment, it offered a V8 and a fairly roomy interior.
New Car Test Drive wrote in its 1999 article about how the Dakota found itself in an interesting middle-ground between full-size pickups and other compact trucks:
Perhaps most important for many, the Dakota is a uniquely nifty size, bigger than compact pickups such as the Ford Ranger, Toyota Tacoma and Chevy Sonoma, yet smaller than the full-size models. Dodge calls the Dakota a compact, but there's nothing else quite like it. It's a little roomier than its smaller competition, but not as cumbersome around town as a full-size pickup.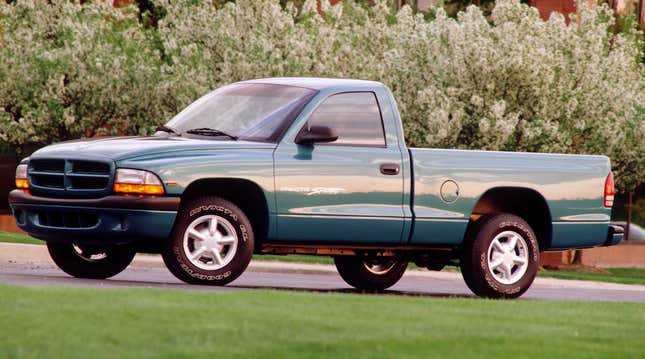 Size and the V8 engine options were important advantages over the competition, but so too, apparently, was ride quality and handling. (I say "apparently," because I've never driven a Dakota). Here's what Motor Trend had to say about the then-new 1997 mini-Ram:

The ride and handling improvement over the previous Dakota is immediately obvious, even during a short drive. Indeed, from an engineering standpoint, this is what seems most improved. In front, two-wheel-drive Dakotas use longer, redesigned unequal-length upper and lower control arms with coil springs. Four-wheel-drive models feature a fully independent torsion-bar setup. In back, the arrangement is the standard leaf springs with a solid axle that's been stretched two inches for a wider track.

Our two-wheel-drive SLT with the handling and tire package carved through the slalom at 59.6 mph with exceptional crispness and poise, particularly for an unloaded pickup. Adding to this truck's surer feel is a quicker steering ratio, which lends sharper handling response. The resulting high-speed behavior is confidence-inspiring and closer to that of a taut rear-drive coupe than you'll believe until you try it.

Elegant, tough looks; a V8 engine option; decent ride and handling; generous but not too generous dimensions: This sounds like a good truck.
But more so than those, the thing that—in my eyes—makes the truck deeply underrated is the fact that the V8s (That's plural because between 1997 and 1999, the Dakota offered the same ~230 horsepower 5.2-liter Magnum V8 as the Jeep Grand Cherokee ZJ and second-gen Ram 1500, and then starting in 2000, the truck shared the ~235 horsepowe 4.7-liter V8 with the Jeep Grand Cherokee WJ and third-gen Ram 1500) could be mated to a stout NV-3500 five-speed manual transmission.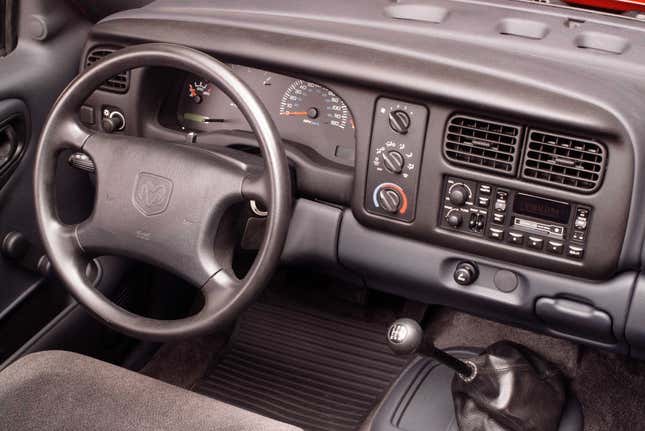 That's right, a second-generation Dodge Dakota could be configured to fulfill all but one requirement in the Hierarchy of Pickup Truck Needs. Those requirements, in case you haven't been reading up on your truck bible lately, are: Regular cab, bench seat, V8, manual transmission, four-wheel drive, stamped tailgate.
Sadly, the Dakota didn't offer the last of those, but five out of six is a damn fine showing, and more than enough reason why the second-gen Dakota deserves more praise.
It's also worth mentioning the other engine options besides the 5.2 and 4.7. Between the 1999 and 2003 model years, the R/T trim came with a big 250 horsepower, 345 lb-ft 5.9-liter V8 just like the motor found in the 1998 Jeep Grand "niner" and Ram 1500. Sadly, this engine was only offered with a four-speed automatic.
There was also a tiny 120 horsepower 2.5-liter inline-four as the base engine, a 175 horsepower 3.9-liter V6, and then only during the final model year of 2004, the Dakota ditched everything but the 4.7 and added a 210 horsepower 3.7-liter V6 that was also offered in the Jeep Libery, third-gen Dodge Ram, and other Chrysler trucks.
Many of the Dakota's options: the 3.9-liter V6, the 5.2-liter V8, and the 5.9, were actually common with the second-gen Dodge Ram 1500, and because of this, in many ways, the lighter, nimbler Dakota out-performed the big full-sizer.
Back in July of 1997, Motor Trend did a comparison between the Ram and Dakota—specifically, the publication ordered both trucks in the exact configuration I would want: standard cab, 5.2-liter V8, five-speed manual, and four-wheel drive. The Dakota smoked its big brother, with the review reading:
At the test track, the Dakota's lighter weight and slight power edge seemed key with a huge 1.3-second edge in the 0-60-mph sprint, 7.4 versus 8.7 seconds. The Dakota turned in a respectable-for-a-pickup 145-foot 60-0-mph braking distance, with the Ram needing another 15 feet to get whoa'd. The Dakota got around the skidpad better (0.78 g against 0.74 g) and was faster down the slalom (59.4 to 55.7 mph). If it's on-road sportiness you seek, the Dakota is the clear choice of these two.

It's not a huge surprise that the smaller truck with the same engine ended up being quicker and nimbler, but those numbers are fairly solid even when compared to vehicles other than the Ram. Under 7.5 seconds to 60 is pretty solid for a pickup truck, especially one that's built to handle trailer loads of up to roughly 6,500 pounds.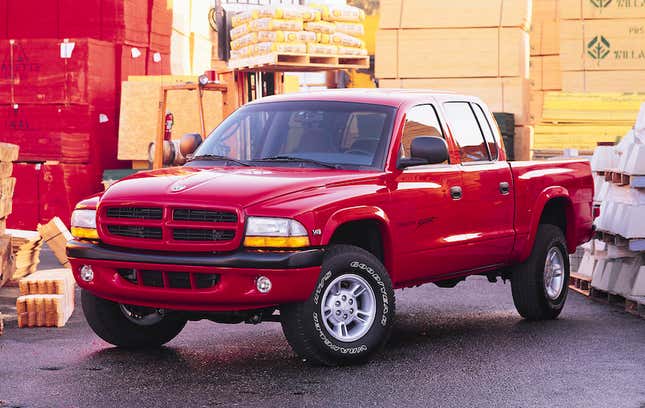 Anyway, it should be clear now that the second-gen Dakota has a lot to offer, and a quick glance on my local Facebook Marketplace shows that picking up one of these trucks could be a dirt-cheap endeavor:

Granted, a number of the Dakotas for sale here in Michigan are fairly rusty, and quite a few have mechanical issues. Speaking of mechanicals, I really don't know how reliable these second-gen trucks are; A quick look at forums seems to imply that there's quite a range of experiences when it comes to Dakota longevity.

In any case, if it were me, I'd try to find a 1998 or 1999 (to avoid the first model year) truck with the tried-and-true 5.2-liter Magnum V8 mated to the beefy NV-3500 five-speed transmission. I haven't found a clean example of that configuration for sale during a short search, but I bet if I remained patient, I could snag the small, V8, manual, boat-towing, bench seat Dodge Dakota of my dreams for a song.