Over the course of its existence Jeep Brand ownership has been like a game of hot potato while the trucks themselves have seemed almost like go anywhere time capsules. Today's Nice Price or Crack Pipe 1998 Grand Cherokee is from the Chrysler era, and sports that make's rabid 5.9 V8. Its price, however, might make you drop it like a... well, you know.
Jeep is quintessentially American, having been born to help defend the nation from her aggressors during WWII. Conversely, yesterday's 1992 Toyota Sera - while not exactly un-American - is none the less unwelcome here due to is inherent JDM-ness. That was reflected in its 72% Crack Pipe loss, although its $5K price may have had something to do with it as well.
The Grand Cherokee - or ZJ - was an epochal product for Jeep being both a unibody design and interestingly, developed under the shadows of three consecutive owners. Originally envisioned as a replacement for the Cherokee, the burgeoning SUV market indicated sufficient room for both the continuation of that model and the new truck, which would eventually slot in above it. When first conceived, Jeep was still owned solely by AMC, however soon Regie Renault took a controlling interest in the parent, seemingly in order to get access to the legendary off-road brand. The French sacre blew-it in running the Kenosha-based company and Jeep, including the still in-vitro Grand Cherokee, as well as the dregs of the Franco-American conglomeration, were bought up by Chrysler, flush with cash from the seemingly unending '80s money machine known as the K-car.
G/O Media may get a commission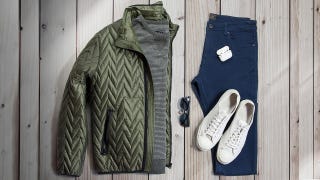 60% off
Jachs NY Fall Sale 60% Off
Chrysler continued development of what would become the Grand Cherokee, debuting it by having Maximum Bob Lutz drive one through the plate glass at Detroit's Cobo Hall for the 1992 North American International Auto Show. Like, on purpose, and not just because he was old or anything.
As befitting the Grand in its name, the top-tier Cherokee came with a full compliment of luxury accouterments, and should that be insufficient to make your consumption conspicuous enough, a Limited edition was built in almost unlimited numbers. And the most unlimited of the Limiteds was the 5.9.
As exemplified by today's Bright Platinum-colored 1998 ZJ, the 5.9 added brute to the luxury ute. A benefit of Chrysler's ownership of Jeep was access to the company's resources, including big thirsty engines that when stuffed under the hood of a smaller ride would make for what Tim Allen would describe as Ooooooooh, Oh, Oh, Oh, Oh!
This one has all the proprietary 5.9 bits including functional hood vents, 5-spoke Ultrastar alloys, and a seven slat grille that, like your favorite panties, is mesh. Other changes include bespoke leather on the seats and doors, less crappy fake wood - and more of it - on the dash, and an armrest for the backseat drivers.
Mechanically, the 5.9 gets the 5.9-litre (shocking, I know!) magnum V8, which in Jeep guise makes 245-bhp and 345 lb-ft of stump pulling. Behind that is a 46RE, basically a toughened up Torqueflite. Quadra-trac four wheel drive and a Track-loc rear differential pretty much ensure something's going to grip should you get adventurous with the loud pedal. Zero to sixty times when this Jeep was new tended to be in the 7 second range, which may not seem like much until you realize that's nearly two tons of top-heavy truck you're piloting.
This one is claimed to have over 130K on its clock and despite that, the seller attests that nothing on the truck is non-working or problematic. Visually it seems to have everything where it should be, and aside from the cataract-clouded headlight lenses, doesn't look its age. Tires are said to be new, and the seller claims to have a further trio of spares. As one of the design features of the ZJ was how much room the vertical spare could suck up in the cargo hold, that may not be a good thing. There are no shots of the interior, although the ad says that it looks great inside and out, which would be a prime selling point as the insides of these Jeeps tend to age like the outside of Lindsay Lohan.
Hotrod SUVs are pretty common these days what with supercharged Range Rover Sports and Porsche Cayennes clogging prep school car lines, but the 5.9 Grand Cherokee was one of the first to drag itself out of the primordial booze, and in its single model year only about 15,000 did so. It also remains one of the best looking ever, and on account of its monocoque construction it is, even at about 3,800 pounds, one of the most lean.
The question for you is whether this one of fifteen thousand hot rod Jeep has a price that should also be lean? The seller is asking $5,000 and says that he's hot for a quick sale due to his impending incarceration move in February. What do you think, does that make this 5.9 a 10 in your book? Or, is that price this Jeep's limiting factor?
You decide!
San Francisco Craigslist or go here if the ad disappears.
H/T to Rollo Grande for the hookup!
Help me out with NPOCP. Click here to send a me a fixed-price tip, and remember to include your commenter handle.