If you haven't watched a single Formula One race and had to choose only one to pay attention to, clearly, it should be this weekend's upcoming Abu Dhabi Grand Prix. Two dominant Mercedes cars are vying for an undetermined championship. Only one can win.
Abu Dhabi is the final race of the season, and to maximize eyes on the final race, Formula One decided to award double the usual points for the race. As Chris Harris mentioned yesterday, no one actually likes this. Reason? It's a gimmick.
Yas Marina Circuit in Abu Dhabi is one of the newer tracks designed by Hermann Tilke that many fans say lacks character, and is dull to watch. We've assigned double importance to a track that lacks the history of many of the others on the schedule, such as Spa-Francorchamps or Silverstone.
Even the man in second place who is most helped by this gimmick, Nico Rosberg, feels as if the double points race is a bad fit.
G/O Media may get a commission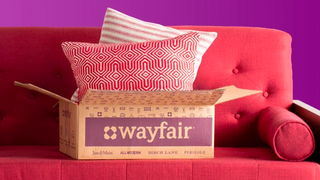 Big deals
Wayfair Surplus Sale
"I find it artificial and I don't like it in general," Rosberg said to Fox Sports. "Of course, now, with the way it is, it's great for me, but that's just because of the situation (we are in)."
Yet like the threat of being put into a literal doghouse during the 24 Hours of LeMons, the Drag Reduction System in F1, or the entire Chase for the Sprint Cup in NASCAR, it is the gimmick we have been dealt, so it is the gimmick we must deal with.
The two men to watch are Lewis Hamilton and Nico Rosberg, both of the Mercedes F1 team. The rivalry between these two has been entertaining to watch all season, but it's all come down to this one final showdown.
Rosberg shortened his gap in the points with teammate Hamilton by winning the Brazilian Grand Prix, but as usual this season, that just meant Hamilton came in second place. Mercedes' engines have been dominant all season, and the Mercedes team themselves have been the best at designing a car around those engines.
Hamilton currently has 334 Driver's Championship points, while teammate Rosberg has 317 points. The next driver in the standings, Daniel Ricciardo, has only 214 points, so it's all but decided that one of the Mercedes drivers will win.
The Constructor's Championship was decided earlier at the Russian Grand Prix to exactly no one's surprise. Mercedes dominated this season and won it handily.
Had this been a normal grand prix season, all Lewis Hamilton would have to do would be to finish in sixth if Rosberg won the Abu Dhabi Grand Prix. That situation would give Rosberg and Hamilton equal points, but since Hamilton has a greater number of wins, he would win anyway.
For this race, however, Hamilton will have to finish second in the case of a Rosberg win. Mercedes published this handy chart explaining just how close the battle for the Driver's Championship is:
Does the double points race mean a bit of manufactured excitement? Yes. I can assure you that every ounce of fight in Hamilton and Rosberg to deal with this double points situation is genuine, though.
Hamilton is generally considered the faster driver of the two, but Rosberg takes more time to understand the car and its set-up. Raw natural talent has proven itself faster in practice, though, with Hamilton posting the fastest time during Free Practice 1, edging out his teammate by only 0.133 of a second.
That means it's going to be a phenomenal race.
If you haven't watched a single race all season long, it's worth tuning into the season finale.
Qualifying will air at 8:00 a.m. EST Saturday, and the race itself airs at 8:00 a.m. EST Sunday with a replay at 2:00 p.m. EST, all on NBCSN.
Photo credit: Getty Images