The 2019 Ford Mustang Shelby GT350 is being shown off today at the M1 Concourse racetrack in Pontiac, Michigan. While it's a lot like the outgoing model year car, Ford says it offers some important track-oriented upgrades.
Ford promises faster lap times in the 2019 GT350, with the most important new component being the tires: Michelin Pilot Sport Cup 2s that Ford says have a Shelby GT350-specific tread pattern and a different compound over the outgoing Michelin Pilot Super Sports.
Though The Blue Oval brand hasn't released any performance numbers, it does say the 305/35 rear tires and 295/35 fronts (wrapped around new, prettier wheels) will yield "significantly improved acceleration and lateral acceleration, as well as braking."

G/O Media may get a commission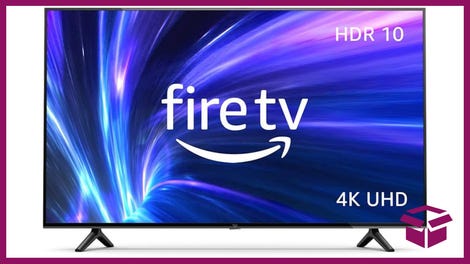 42% Off
Amazon Fire TV 50" 4K Smart TV
On the outside, the 2019 Shelby GT350 looks like last year's GT350, and indeed, you might notice that the lights are actually the same as those of the pre-refresh (pre-2018) Ford Mustang. A Ford spokesperson said this was done in part, because the new lights would have required new GT350-specific fenders, and also because nobody was complaining about the GT350's gorgeous design.
The Mustang's Chief Engineer Carl Widmann discussed the car's aero improvements, pointing out the additional grille "blanking" up front. According to Widmann, the outgoing car had some excess cooling capacity, so Ford decided to close off a bit more of the grille to reduce front lift and aerodynamic drag. Widmann says the 2019 model's drag coefficient dropped by about .010.
Out back there's a beautiful new wing, and Ford even says there's a Gurney flap coming later in the year for additional downforce, but more drag compared to the standard wing.
The new Shelby GT350 also got "recalibrated" springs, adjusted sway bars and retuned MagneRide dampers to go along with the new tires and aero features. Widmann told me the shocks themselves likely didn't get many hardware changes from the outgoing ones (perhaps the rears got a new jounce bumper, he said), but they were re-tuned.
I spoke with a Mustang suspension engineer who worked on the Mustang GT Performance Pack, and he told me that re-tuning for the new damper inputs (which have changed from the outgoing model year's thanks to the revised tires) involved adjusting how much current goes into the coils (the orange bits in the Ford Mustang GT shock image above) in the damper under differing driving conditions. This changes the magnetic field created, and alters how "tight" the bond is among the ferrous particles in the damping fluid, thus changing the stiffness of the shock.
Ford says the 2019 Shelby GT350 goes on sale earlier next year, and though the powertrain is unchanged from the outgoing model year, the promise of more grip and an easier time getting to the limit sounds good to me.