Daniel Ricciardo is the current king of the Red Bull junior alumni. He's not a series champion since coming onto the program like Sébastien Buemi or Jean-Eric Vergne, and he isn't a controversial rising star like Max Verstappen or a talented hopeful like Pierre Gasly. But he has survived, as of the British Grand Prix this year, seven years behind the wheel of a Formula One car funded by the caffeine empire—until last week with the announcement he'll defect to Renault.

That Red Bull tenure exceeds even the six-season stint of fellow Aussie stalwart Mark Webber, who saw out his final years in the sport frustrated by Vettel's four-year dominant streak. It's... kind of unheard of. And on Ricciardo's part, it's actually brilliant.
If you don't win this now we will never love you again
Enough has been written, over the years, about the apparent brutalities of the Red Bull program. There's hospitalizations, a bit of friendly public outing that your boss thinks you're a loser, interviews so visibly depressed that they sent conventionally not that compassionate F1 Reddit into urgently attempting emotional support.
G/O Media may get a commission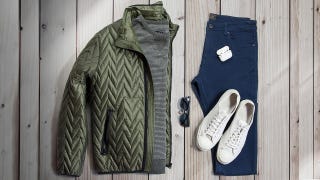 60% off
Jachs NY Fall Sale 60% Off
The sport is tough, that's for sure, and finding the funding for the sport is tougher. So if someone comes along when you're a young driver and says "hey, we will take care of you. We'll fund your career, we'll plan where you go and we'll find you teams. You never need to scrub round for sponsorship again, all you need to do is what you're good at, which is driving race cars super fast and winning," then you'd take the deal.
Most junior drivers don't really have managers. Traditionally, their manager at this point would be their dad or some similar guardian figure. Because in the junior ranks drives have to be paid for, unless someone's really got or looks likely to get to a position where there'd be money available as a percentage, a professional manager is relatively unlikely to come by.
Some drivers end up with older or former drivers taking them under their wing. But often it's a parental figure who is only too glad to not have to wonder what a Formula Renault Alps is and how you enter it anymore, while arguing with Dave's Discount Drills about sticker placement for the F4 race this weekend.
Great, right? Everyone's happy, the kid's career's taken care of and it's not like they could coast around midfield or backmarking and hope to progress anyway so it all seems pretty fair. And it is—Red Bull invests millions of euros in the junior careers and development of their junior drivers.
The bit that you don't read, bright-eyed with excitement—or maybe can't care about, at that point because the idea of being thrust sharply into an offcuts bin at 23 is still an incalculable distance away—is that the "option" in your contract, should you reach F1, is a control clause. You have no manager but the notorious Helmut Marko, head of the development scheme.
It's a very luxurious way to be trapped, of course; the highest carat of golden handcuffs. Oh no, you're a well-funded F1 driver; a terrible situation, right? But a bit like looking extremely cool riding a tiger, it's getting out of it that becomes very tricky.
There's two options, historically of doing that with some dignity: make like David Coulthard and Webber and retire, or win sufficiently that you can, like Vettel, invalidate your contract if you're supplied an inferior car.
Otherwise, there's a more ignominious option.
Running to the shadows
Of Ricciardo's junior program peers, three are currently in F1. Ricciardo came up after Jaime Alguersuari and Buemi, during the years of Vettel's championship dominance that saw the junior squad more hyped than ever before. How many of them could equal or exceed the German, who dominated F1 for years?
It's bizarre that three of the five key juniors at the time are in Red Bull's F1 teams, as three of them have also been kicked out of the program. Ricciardo's peers were Brendon Hartley and Vergne, with Daniil Kvyat and Carlos Sainz Jr. nipping at their heels and the less-well-fated Antonio Felix da Costa and Robin Frijns somewhere behind them.
Hartley was dropped for failing to balance the demands of simulator and test work for the F1 team against his own junior series campaign before he got a race seat. One down. Vergne made it up to Toro Rosso in his stead and spent three years in what seemed to be a deep mental mire, unable to accept the midfield after being pushed to win to get there and falling increasingly out of favor—and eventually into a hospital bed a couple of times as he tried to bring his weight down to match teenage Kvyat.
Vergne couldn't wriggle out of his contract in time for F1 negotiations, washed up on a beach in Punta del Este and discovered the healing powers of electricity, and also carbohydrates.
Kvyat is technically one of the more successful of the era, having made it to the top team from Toro Rosso to partner Ricciardo for a season-and-a-bit. Until he was sent back to the junior squad to make room for latecomer-to-the-junior squad Max Verstappen's ascension, followed by a public psychological collapse and finally being fired mid-season.
Carlos Sainz has managed the second-longest run in F1, of the five; now in his fourth season he's also created the illusion of an exit by being loaned to Renault as part of power unit supply wrangling last season. But he's not out and despite insistence at the time that Red Bull's retained control was a positive he's now facing a Vergne-like contractual hell, with likely no seats available to him in the Red Bull teams and no one willing—or able—to pay them off for him.
Meanwhile Brendon Hartley, who achieved two world championship titles in the highest category of Endurance racing during his absence from Austrian management before being called back up, now appears stuck in Toro Rosso until future notice. There's no one to replace him but being rinsed in the points by his teammate and suffering some heavy crashes isn't quite the fantasy of getting that F1 opportunity we all secretly think we'd make the most of somehow.
Daniel, on the other hand, has survived. Not dropped, not replaced for a younger model—he's the shatterproof iPhone of the F1 driver market and looked certain to carry on at Red Bull, the art of tiger-riding something he'd honed for a championship hope.
Keep it together
Red Bull is switching to Honda power units next year. It's not surprising, since their other options included "stop racing," having systematically broken down their relationship to Renault over many seasons and with both Ferrari and Mercedes refusing to offer them an engine supply, lest they threaten themselves in the process.
Honda's used to that, after several years with McLaren, and seem to have made a significant step forward with their move to supply Toro Rosso. But Daniel Ricciardo has a rare moment for a Red Bull driver: he's been there so long he's out.
He took an extension the last time this came up but didn't have to. With seven years under his belt, Ricciardo's contractual obligation to Red Bull is over. Nothing to buy out, nothing to negotiate. He's probably even allowed a manager.
It's hard to understate what an advantage this is. Ricciardo doesn't have four world championships under his belt, as Vettel did when he approached teams, but he does have multiple race wins and the ability to move.
Of the top three teams (which Red Bull's still one of) Mercedes has confirmed the whole of their line up, Ferrari half of theirs and with a clear internal competition between Kimi Raikkonen and Charles Leclerc for the other. Verstappen is locked in at Red Bull for multiple years, meaning Ricciardo's seat was the only one of the six he could negotiate for.
While it's probably true he could have asked for almost any amount of fizzy drink cash to stay, this is the first time we have ever seen a Red Bull junior leave the program of their own accord with no complication.
Even Vettel had to activate the performance clause in his contract. Ricciardo could simply walk.
Aside from the amusement of imagining how angry the strings-pullers at Red Bull probably got at this realization, this makes Daniel's decision to move to Renault so much less surprising. And much more sensible.
In reality, he actually has kicked off a different set of Red Bull negotiations by taking Carlos Sainz's seat with the factory team but it's hard to see how this doesn't work out for both parties.
Renault gets a driver who's won multiple races with their power unit, with years of knowledge of how Red Bull did that. As the French manufacturer exits its extraordinarily successful Formula E program to devote more resources to F1, there can be no question that they are serious about a step forward this year—and Daniel gets to be centered in that, working with the only type of power unit he's ever driven with, since the hybrid era of F1 started.
Ricciardo is, for all his aw-shucks, fun-cool-guy big dick energy tooling around, an adept diplomatic envoy to F1's murky dealings and his announcement is well-timed for that. He has yet to make any real statement beyond the obvious—that he will drive there next year and he has a clear six weeks without being obligated to attend a media session.
Knowing when to keep quiet is certainly a key element of success in the Red Bull junior program—the most likely inheritor to Ricciardo's seat, Pierre Gasly, was smacked back from F1 for nearly an entire season for running his mouth—but it's clearly key to an exit, too.
Daniel's done his time with Red Bull. And it's hard to imagine what he'd miss most between having a sponsor can grafted onto his hand during interviews for the past ten years or the themed outfits but it's surely not going to be the control.
He might have passed up a championship-winning car next year. He might have stepped into one. In reality there's probably still some leveling up needed for both Renault and Honda to really compete with Ferrari, as even Mercedes drops back from the prancing ponies.
It's reasonably likely that, in a well-resourced factory team, he's made a mathematically sound choice as Honda take on the supply demands of two teams. And certainly a less risky pick than hoping McLaren search deep enough in their bag of Freddos to find some good ideas any time soon.
In terms of his career, though, this is a Hamilton-to-Mercedes moment. Never mind whether it leads to the same results, McLaren had also sponsored Lewis' career all the way until that point. Moving to Mercedes represented the chance to decide where he went from there, even if it was keeping it roughly in the family by going to the Woking crew's former engine supplier.
Which isn't to call all sponsorship a poisoned, branded water bottle. It's almost dead certain that Ricciardo wouldn't have got to F1 without the Red Bull junior opportunity and the same could be said—with the possible exceptions of Verstappen and Sainz, whose families have motorsport heritage and clout—of all the others discarded along the way.
But almost anything will screw you up if you drink too much of it too long. We've yet to see how it will truly shake out, but Ricciardo's found a more-than-safe way to cut off the supply.
Hazel Southwell is a freelance motorsport journalist. She officially lives in London and unofficially on the departures side of Heathrow Terminal 2. She has one cat.
Correction: This post originally implied Renault is not supplying engines to anyone but its own team in 2019. Renault is supplying McLaren also.