A buck-sixty, or a single British pound: that's how much Caterham Sports Limited was sold for back in September. For a fourth of the price of one of my morning quadruple lattes, you could have had the entire manufacturing arm of a Formula One team.
Granted, Caterham Sports Limited was only the supplier arm of the team that put together Caterham's cars at the time, but it has since been rolled under 1MRT, the arm that handles Caterham's staffing and the license to participate in F1. Let's be honest, though: what you'd need for a hoon-factory would have been found under Caterham Sports.
Remember the drama between Tony Fernandes and Engavest SA, the company he claimed hadn't paid him for the shares of 1MRT? That was from back in June, and no shares for 1MRT were transferred because Fernandes didn't see those dolla dolla billz.
G/O Media may get a commission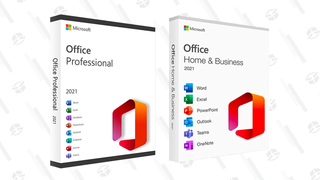 89% off
Microsoft Office Professional 2021 Lifetime License
Enter Constantin Cojocar, the man who purchased Caterham Sports Limited in September for $1.60.
"There is one issued share in the Company, and I purchased this on 24 September 2014 for £1," explained Cojocar in his witness statement for Caterham's administration proceedings. "I am now the sole shareholder and director of the Company."
Cojocar is one of the most bizarre parts of this entire story. Tony Fernandes claims that Cojocar was promptly promoted from cleaner to director of Caterham Sports Limited. Cojocar was a soccer star for Steaua Bucarest in the 1980s, per a statement released by Engavest SA. How this man was qualified to lead the supplier arm of a Formula One team, we're still not sure, but he's the fellow who bought it and now claims he is the only shareholder.
Per Pitpass, Cojocar came with some experience in logistics, having been director of Romanian transport and logistics company SC Transbus Codreanu, but that seems to be the extent of his relevant experience for owning Caterham's supply arm.
Surprise, surprise: he couldn't find the money to run the team after having purchased it, which is how Caterham Sports Limited ended up in administration. 1MRT was supposed to pay Caterham Sports for its services in design, testing and race support, but after the failed sale of 1MRT in June, no one quite knew who was on the hook for actually managing the day-to-day business of 1MRT. 1MRT's previous directors under Tony Fernandes had resigned. Engavest had appointed new ones in their place, but as Engavest never received shares for the sale they (allegedly, per Fernandes) didn't pay for, those directors weren't sure if they were now responsible for Caterham's debts and proceeded not to pay them.
Additionally, per Forbes, Romanian officials were supposed to chip in $3.2 million a week to keep Caterham Sports operational. However, Cojocar's witness statement in the administration proceedings claims that the money never materialized due to all of the legal proceedings surrounding the team, most notably the raid on Caterham Sports Limited by the police to seize assets over unpaid bills. By early October, Caterham Sports Limited owed over $1.2 million to 34 different entities.
Cojocar's Romanian investors didn't want to throw their money away on a failing product.
Cojocar had plans to sell Caterham Sports Limited's services to new team Forza Rossa, which the FIA had approved in June.
In October, Cojocar parted ways with his purchase entirely, also turning his back on all of the money Caterham Sports Limited owed. Caterham Sports Limited went into administration and its embattled parent company 1MRT joined them shortly afterwards.
Administrators at Smith & Williamson rolled both of Caterham's corporate entities into one and brought us the controversial crowdfunding charade to promote the administration firm and its business partn—er, um, try and keep the team operational long enough to find a buyer.
So, there you have it: why did fans bother crowdfunding the team's operations again? If someone had just had a dollar and sixty cents (and perhaps a few million on hand to pay the back-debts afterwards), they could have just bought the team outright and saved everyone from the possibility of seeing a 2014 car running slow parade laps during F1 races next year.
Photo credit: AP Images