Per Autoweek, financially distressed Formula One team Caterham has been given approval to run their 2014 car for 2015. This can only end well...behind everyone else on the grid. Still, this all fits into the administrator's plan to keep Caterham racing in order to show potential investors a viable team.
The decision to allow Caterham to run their 2014 car has been approved by the Formula One commission, but still needs to be ratified by the World Motor Sport Council to be allowed.
Caterham is currently in administration (bankruptcy protection), with administration firm Smith & Williamson handling their finances. Smith & Williamson's appointed representative Finbarr O'Connell has been the public face of the whole shebang, even stepping in to a quasi-team-principal-like role at Abu Dhabi.
G/O Media may get a commission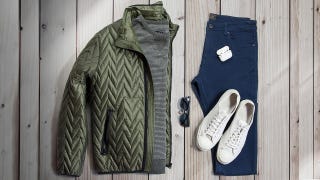 60% off
Jachs NY Fall Sale 60% Off
Needless to say, it's a bit odd seeing an accountant completely out of his element, but entertaining, nonetheless.
O'Connell had this to say to the Associated Press, as quoted in Autoweek:
The F1 Commission and FIA agreed if it would assist the weaker teams, they can use the 2014 car next year, so giving them more time and options. That is of interest to all the parties I'm talking to because it gives them a choice, an easier start to get into F1 if they chose that route. It helps.
The problem is that I don't see how running an obsolete car really helps. Given the amount of development that happens from year to year, I have doubts that the car will even pass the 107% rule mandating that every car must qualify within 107% of the fastest time in the first qualifying session.
Any potential buyer will surely want to develop a car to be competitive, as you don't enter Formula One to do very expensive parade laps. Taking off the off-season now due to lack of personnel and funding to drag out an outdated car next year will only confirm potential buyers' suspicions that the team needs a lot of work to be brought up to par.
O'Connell, however, is confident that he will find a buyer soon. He continued:
It's a very difficult purchase decision for any party because of the huge costs involved in running an F1 team. I'm still talking to a few interested parties, and I'm hoping one of them can do the deal. The number of people I'm talking to has increased, with two very strong candidates, and a third less strong.
Let's hope it's before 2015 so Caterham doesn't completely embarrass themselves.
At this point, no one is really sure what to think of Caterham anymore. They successfully crowdfunded an entry to the Abu Dhabi F1 season ender, but quietly laid off their entire 230-member backroom staff shortly after announcing that they would compete.
Critics say that the crowdfunding plan was more of a publicity stunt for Smith & Williamson and their business partner Crowdcube. Crowdcube's accountancy firm is none other than—you guessed it—Smith & Williamson. The two companies made a public announcement of this partnership a while ago.
I get the horrible, sinking feeling that the firms handling Caterham's revival care more about promoting their own businesses in this kerfluffle than actually taking practical steps to save the team. The staff has been let go. The thought of parading out an already slow, now outdated car next year is a joke.
Maybe they just don't understand the pace at which Formula One teams develop or anything about the process at all, or maybe I'm reading too much into the fact that Smith & Williamson and Crowdcube almost look like the biggest winners here.
All I know is that the money they'd spend to enter an old car would be better used to pay any employees' back pay that might be outstanding, or pay down other debts so that a new buyer doesn't step into a completely sinking ship. Last we heard, some of the support staff hadn't seen a paycheck since September. That ain't right.
Photo credit: Getty Images