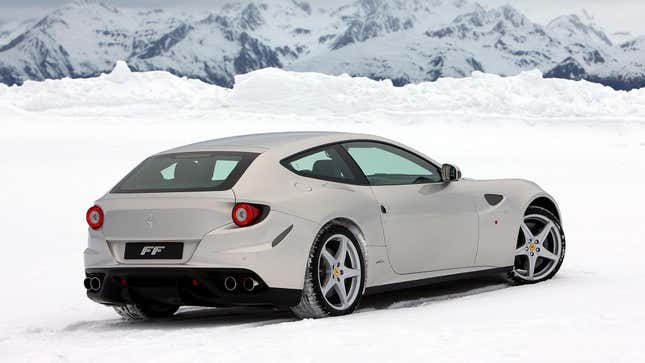 Ferrari. Is there any automotive brand more synonymous with beauty, prestige, desirability? It's a reputation cultivated with a history of stunners on and off the track. You know the names: 250 GTO, Dino, Daytona, 512BB, Testarossa, F40, F355. That's just playing the hits. But even Maranello is run by mortals, and not all its creations can be winners. Ferrari has suffered its share of duds over the years, and that's what we've gathered to discuss today.
I want to know what you believe is the ugliest Ferrari of all time. And I think this little exercise should produce interesting results, because there have been so many unique eras of Ferrari design in the brand's eight-decade history. The same year it gave us the F355, for example, it bastardized the Testarossa into the F512M. None of Ferrari's design glories came without failed attempts — executions of the same brief that missed the mark.
For me, none landed further astray than the FF. While I have no objection to the idea of a Ferrari with a hatch, I've never understood the adoration so many enthusiasts have for the breadvan look. It's hard to pull off well, as this curiosity demonstrated. The FF was awkward and lumpy from every angle — even the front, though you can't see it here, thanks to a questionable Cheshire grin.
Sure, Ferrari has certainly righted the ship as of late with the likes of the 296, Roma and Daytona SP3. But the continued existence of the chronically unhinged 812 ensures the FF's most obnoxious cues remain alive and well in the stable. Shoot me if you must, but I'd rather take the Purosangue any day of the week. Think it over, and let us know what Ferrari gets at you the way this abomination gets at me.