Dean Shaw, Volvo Cars USA's handsomely bespectacled VP of corporate comms, bellows the word to a ballroom full of sleepy-eyed car journalists—conceivably to both wake them up and emphasize what the morning's lecture would focus on: "Electrification!"
(Full Disclosure and Editor's Note: In July 2017 (yes, 2017) I asked Deadspin video god Tim Burke if he wanted to handle a Volvo press drive for us in Denver, because he's a not-so-secret car guy and was interested in buying a V90 wagon at some point. He then promptly never turned in a story, leading to some uncomfortable emails and phone calls between me and Volvo. Our relationship has since recovered somewhat. Now, at long last, on Burke's last day before he takes a buyout, here is his much awaited story on the future of the Volvo lineup. It is all presumably current as of last year. Also, it should be noted Volvo flew Burke to Denver, fed him, gave him cocktails, and put him up in the kind of hotel where your room has a turntable and a copy of the Beatles' White Album. They were incredibly accessible and patient with him, a non-automotive journalist, on his first and presumably final junket. -PG)
The purpose of this press event is, primarily, to exhibit the company's XC60 crossover—specifically the top-of-the-line T8 model of which features Volvo's plug-in hybrid technology. I will get to drive a T8 XC60, eventually, as well as a fully fossil-fueled XC60 T6, a top-of-the-line S90 Inscription, and the longroof V90 R-Design.
But before we are to be handed the keys, there is to be discourse. On electrification.
G/O Media may get a commission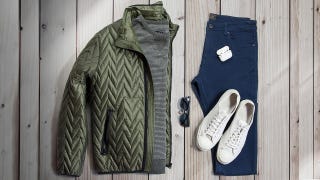 60% off
Jachs NY Fall Sale 60% Off
I sneak a look at Volvo's safety VP Malin Ekholm, who stands off to the side, while Shaw continues on about the company's goal to associate its brand with something other than, yes, safety. I cannot get a read on how the Swede considered this apparent shift in Volvo's marketing approach; weren't they still on track with "Vision 2020," announced now nearly four years ago?

Ah, well, here's Volvo's Anders Eugensson to talk about automation, and Volvo's semi-autonomous Pilot Assist technology, which is a key element of that company's dedication to safety. But safety is not sexy. Safety does not sell cars in 2018, because all cars are safe in 2018, relatively speaking. Ask ten people what word comes to mind when you say "Volvo," and nine of them will respond with "safety." (I did this at a dinner party the other night. Nine people said "safety." The other one said "nerdy.")
"Electrification," on the other hand, is a nice, modern buzzword. It represents progress, like the Tennessee Valley Authority or perhaps eugenics, I dunno. But we'll all be handed the keys to the new hybrid XC60 today, so we can see for ourselves what Volvo's new electrified future feels like.
I'm more interested in the V90 R-Design, because that's the car I thought I'd have as a daily driver by now.
---
For 16 years, I drove some variant of Volkswagen's A platform with the 8v 2.0-liter engine; first, a '98 Jetta I ran up to 250,000 miles before a head gasket meltdown; I replaced it with a MK3.5 Cabrio, which sucked, and then married into a MK4 Jetta family. (I liked that I could do nearly all the maintenance with just my Bentley manual, including brake jobs.)

We're a one-car household; the Cabrio hit the road, and we held onto the slowly rotting Jetta until the long-awaited V90 became available for U.S. purchase. (We test-drove a V60, twice; both times, my wife vetoed the purchase due to the car's weird, substandard interior—seats notwithstanding.) For months we planned our journey to Sweden for overseas delivery, our two weeks of Volvo-insured driving throughout Europe, ending with dropping the car off at the port in Barcelona.
That never happened, because by the time we absolutely, positively had to replace the Jetta (due to the A/C compressor fan turning itself into shrapnel) Volvo still hadn't made the car available in the U.S. yet. We reluctantly settled for a gently used BMW X1 xDrive35i; Volvo opened up American orders for the V90 two weeks later.
My wife adores the X1, and I'll probably be driving it for another ten years. Hey, 40/60 front/rear bias and a twin-scroll turbocharged inline six? It could be worse.
---
We saddle up into the very comfy, very bolstered, but not-quite-as-good-as-the-old-V60 seats and head for twisty mountain roads. The V90 is a massive beast of luxury and interior volume, but the twin-charged T6's 316 horsies are plenty, if not for an annoying lag between flooring the accelerator and the car actually responding. It is a Very Nice Car.

We move into the S90 after a refreshment break and deeper into the mountains. It is basically the same car as the V90, except with a more elegant interior and a trunk. I test Pilot Assist; I think it works better than Ballaban said it did, but for all other impressions please see his review of this same car.
We break for lunch, and I spend some more time picking Shaw's brain. I ask him what it really means to try and rebrand the company from "Volvo=Safety" to "Volvo=Electrification" and he is very good at his job, elaborating for several minutes without actually providing me an answer. It's all tied together, he suggests, that advanced technology makes for a better and safer and more elite driving experience, and I make a note to remember that word.

We climb into a T6 XC60 R-Design after lunch. This car retails for considerably less than the 90-series cars, but has a nearly identical interior and almost all the same brilliant features. Volvo will probably dispute this, and point out the diamond-encrusted Inscription shifter or some shit, but nearly everyone will find the XC60 to be Very Fancy, and the V90 and S90 (and an XC90, which, they're the same damn car) to also be Very Fancy, equally fancy, a very fancy car from a brand known for safety.
The twin-charged T6 spirits the XC60 to speeds at which no one really ought to be driving on these switchbacks, though I get stuck behind a Pepsi truck on one remote, no-passing-zone stretch.
I like this car. It's fast enough, it handles remarkably well, and in fact is overall a much more engaging driving experience than the larger 90-series cars. "Just wait," the Volvo press people tell me, "until you get to drive the T8 XC60."
I wait. I wait all day, until the eighth and final driving leg of our junket, the one that allots me just a few minutes of "real" driving before hitting rush-hour Denver traffic. The wait is not worth it.
Despite the alleged 400 total horsepower provided by the hybrid drivetrain, the T8 XC60 feels slower than the zippy T6; maybe the extra 500 pounds added to the package account for this, or maybe it's the power delivery. It feels slow and lumbering; the handling, despite our repeated fidgeting with the myriad driving experience options provided on the iPad-like touchscreen. I ask the "professional" auto journalists afterward if they preferred the T6 or T8 versions of the XC60, and each of them respond that they, like me, preferred the gasoline (91+ octane, please) version over the plug-in hybrid.

Gosh, that might be a problem.
---
Volvo invites me to a big, fancy dinner to postmortem our driving experiences and, I suspect, subtly influence my driving impressions after the fact. I opt out, instead going out for pizza with my cousin. I ask Volvo several times over the next few weeks for another shot at driving the T8 XC60; maybe I just got the car at the end of the day with the battery dead, or something, but they're never able to provide me with another chance behind the wheel.

Some time later I start thinking about exactly what image Volvo is trying to portray with its U.S. lineup—with the dated 60-series cars fully replaced with fancier models, it's fully into a new product generation—one that has been promoted with gimmicks ranging from the company's dedication to recycled plastics to an issues-plagued subscription program.
I look past everything the Volvo execs and press people tell me and toward the experience of sensing the cars I drove; how they looked, felt, even smelled. There is a very consistent theme here, one that is somehow subverted by the extraordinary 60-series cars: luxury.
That's what Volvo, or more accurately its parent company Geely, wants you to associate with the brand. Luxury. These cars are, by every measure, luxurious—but Volvo can't tell you that they are trying to overcome decades of the brand being associated with safety, and "electrification" is just a ruse, because stating that Volvo is trying to reach that tier of "luxury" consumer identification currently occupied by BMW and Mercedes-Benz is to acknowledge that the company is not already there.
So, in search of being a luxury brand, Volvo is bringing luxury to even its mid-tier models, which ironically makes their flagship automobiles appear... less luxurious, respectively. Given that all these cars are built on the common Scalable Product Architecture platform, with mostly identical drivetrains, there is now an incredible lack of differentiation between a 60-series and 90-series car besides size. Perhaps I'm wrong, but I see Volvo buyers as a bit more practical than the German car owners, less inclined to buy a rich person's car because it's the rich person's car, and for many of them an XC60 will do most everything an XC90 can do for cheaper.
I cannot tell you why anyone should buy the much pricier 90-series automobile unless you really want a large car or one of the dumb features like "executive mode," which allows someone in the back seat to move the front passenger seat forward to make more room for their feet, or perhaps to really annoy the front passenger.
I like Volvo, the car company. I like that they will essentially pay you to fly to Sweden and pick up your new car from the factory. I think they make great, fun, gorgeous cars, and the people who work there seem earnestly dedicated to making those cars great, fun, and gorgeous. (And, yes, "safe.")
It would be one thing if the accidental diminishing of their flagship cars were offset by the new, badass, Polestar 1 halo coupe, but that car isn't even officially Volvo-branded. Volvo's cars are probably just as good as their counterparts from the German automakers—I've never driven a 7 Series or S-Class, so I can't say for sure. But promoting "electrification" when that element isn't among the company's strongest offerings may be Volvo doing itself a disservice.