There's a lot of reasons to be excited about the upcoming 600 horsepower Polestar 1 coupe, but if you need to relax your eagerness to drop $155,000 on one, just take a few minutes with the car's configurator and you'll calm right down.

The Polestar 1 is the first model from the brand now that's it's sort of spun away from Volvo. It's off to a great start with the Polestar 1, a 600 HP hybrid coupe with 737 lb-ft of torque and a fully-electric range of 93 miles.
It looks fantastic, and will be available through either a car subscription program that covers insurance and maintenance bundled into your car payment, like Care By Volvo, or you can buy it outright for an eye-watering $155,000 starting price.
As good as that sounds, the configurator which is now live over on Polestar's website is sort of depressing.
First up, you get to pick from only six colors. One is white, which is fine, one is black, also fine, and the other four are are nearly indistinguishable range of greys. I think maybe one of them, Midnight, has a little bit of blue? Maybe?
G/O Media may get a commission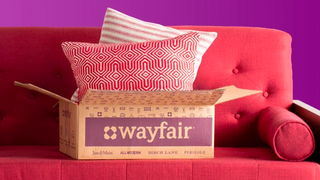 Big deals
Wayfair Surplus Sale
What happened to the vibrant Polestar Blue color? Is it really so bad that it may remind buyers of the older tuned Volvos? People loved those things! And would it kill you to throw in something even remotely close to red? Or anything distinguishable from white, grey or black?

And then from there you get three wheel options, or rather one wheel option in three colors. If the starting price to buy this thing is $155,000, Polestar better be willing to dip into some of Volvo's stock for wheel options if I demand it, and even then I have a six figure sports car potentially with wheels from an XC40.
And the third and final exterior option—which, only three? Ok—is "Brightwork," which turns out to be either chrome or blackened-chrome window and grille trimmings.

All of the cars come with the golden-yellow seatbelts, which is nice, but it would also be nice to have an option not to go for that. The only actual interior option for the interior, at least on the configurator, is the general fitting color. All you get to pick is whether or not the seats are "Zinc" or "Charcoal" to match the rest of the interior, which can only be Charcoal.
Maybe this has something to do with the companies pushing new models out as subscription services. Limiting options may streamline something. I don't know. It's just strange to me that all of these cars are going to be almost identically specced.

It still looks good, though.