The Aston Martin Vulcan, which there are only 24 of worldwide, is a track-only car for anybody with $3 million or so to toss aside. The car is so absurd that its price includes track days to teach owners how to handle it, but one owner decided to modify theirs to drive out on the public streets with us poors.
That means all 800 horsepower from the Vulcan's naturally aspirated V12 engine can drive on the same roads as any of us, ready to blind the normal folks by carbon fiber at any moment. But going from track car to street car isn't an easy change to make, since track cars don't exactly play by the rules.
Various regulations and required features for the road can weigh and slow the car down, so, naturally, those things get left out. That means the list of changes performance-engineering company RML Group had to go through to make this Vulcan road legal was longer than those semi-hopeful dud online coupon codes you always run down before giving up and buying that overpriced item already.
Here's a video about the whole conversion process, from Lovecars on YouTube:
While it seems counterintuitive to purchase a track-only car and pay to have it modified into a street car, one of those 24 owners asked RML to do it for some reason. Some of the many, many changes that the car had to go through were the addition of headlights; a brand-new, shortened carbon-fiber splitter; an engine remap for emissions compliance; altered gear ratios; changes to the suspension; swapping out the side mirrors for Aston Martin DB11 mirrors, to add turn-signal indicators; indicators on that massive rear wing; window replacements; adding wipers; a place for a license plate; and plenty else.
G/O Media may get a commission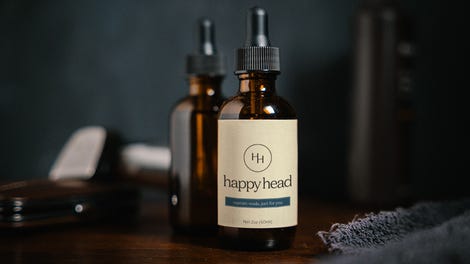 The headlights mimicked the styling of existing lights on the Vulcan, and RML just didn't put a rear windshield on the car to avoid having to add a rearview mirror. RML said in the video that it had the full support of Aston in modifying the car, and called it a "completely different car but still a Vulcan."
Here are a few side-by-side photos of the car versus the factory Vulcan, to show the surface-level changes:
And while it's perplexing to imagine a person taking a nearly $3 million car and having it altered from what it was meant to be, Lovecars said RML will convert the car back to full factory spec whenever the owner wants—whether it be for nostalgia or for a full-force track day, perhaps to be changed back into a street-legal grocery runner when it's over.
Oh, what that kind of life must be like.