With a lot of other high-end manufacturers getting into the track-only special game, Aston Martin clearly just saw that the waters are too tempting not to jump in. Enter the Aston Martin Vulcan, a surprise 800 horsepower bombshell of a V12 track day monster. With everything you need, and nothing you don't.
And everything you need starts with Aston Martin's 7.0-liter V12, sending all of that (at least) 800 horsepower from the front-midship directly to the back wheels, with nothing else getting in the way. Meaning no hybrid system here, unlike the other track-only offerings from McLaren and Ferrari.
But while Aston Martin doesn't offer you a massive battery pack, it does give you everything else you'd ever want to go as obscenely fast as is possible on non-public roads. Oh yeah, also, "obscenely fast" in this situation really does mean obscenely fast, as the monocoque and body are both made of carbon fiber. Giving the Vulcan a greater power-to-weight ratio, as Aston Martin notes, than one of their GTE racing cars.
G/O Media may get a commission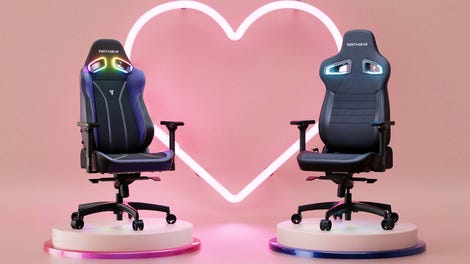 Up to $150 off
Vertagear Gaming Chairs
Of course, Aston Martin does intend on selling these to just 24 of the most discerning trackday bros in the world for an inconceivable and undisclosed amount of money, and not to just specially trained and qualified racers. So to make sure the 24 new owners of a Vulcan don't go and promptly kill themselves, they'll have their own driver training program. Not only will they get simulator time, they'll get training in real life, too.
It'll start out with coaching in the relatively mild Aston Martin V12 Vantage S, then proceed to the medium spice of an Aston Martin One-77. From there, they'll step up to the habeneros of the Aston Martin Vantage GT4 racer.
And the final step, the half-eaten bhut jolokia of Satan's scovillefest from hell, is the Vulcan. Well, for a few specially-designated track days with Aston Martin.
Don't feel too bad for the poor sods, however. They do get this magnificent beast, and, as Hooniverse notes, they get the same dynamic suspension spool valve technology that you can only find on the Aston Martin One-77 and the Chevy Camaro Z/28. (And yes, that is the only time in life you will see two people directly compare the One-77 and the Camaro Z/28.)
But it's not even about the technology, or how simple it is in relation to other super-ultra-crazy customer track cars. It's about that styling. Unlike the P1 GTR or the FXX K, the Vulcan doesn't appear to be directly based on anything other "production" offerings from Aston, so the company was free to explore stylistic boundaries. Unlike other Astons, and especially the One-77, it's lost much of the curves and replaced them with sharp, angular creases. And although I'm a little iffy on the headlights which make it looks like it's lost its glasses, I might just come around to them once I see it in person.
The beauty stretches to the interior as well, with simular sharp, angular themes as well that wouldn't be unheard of for a Lamborghini. It's somehow both intimidating and a delight, with what looks to be an overall theme of simplicity over a million switches.
It is, in short, great.
It'll debut in full next week at the Geneva Motor Show.