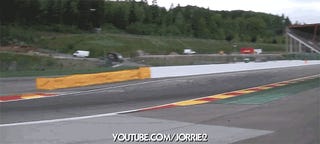 Robert Serwanski is the Valentino Balboni of Koenigseggs, and while he drives the coolest cars on the planet daily at work, his daily driver is not a second hand CC8S. Can you guess what he drives?
Before you would ask, Christian von Koenigsegg drives a Tesla Model S P85D. A black one. His previous Tesla was white, and probably not a P85D.
As for the other cars in the parking lot, his chief test driver Serwanski drives 120 miles to work every day. Before ending up at Koenigsegg, he was racing Miatas, so of course he has an NC MX-5 in the garage. But his daily driver is something even slower. And browner.
It's a Mazda3 with the 2.2 diesel and an automatic gearbox. And he absolutely loves it.
It's a 2015 model so it came with radar-guided cruise control and auto brake for safety, and as pretty much all new Mazdas, it handles very well for an affordable hatchback.
Robert is also thinking about replacing his Miata with the new, more awesome Miata.
And if money was no object, he would also consider buying a Cayman GT4. Solid choices all around.
Before you would ask, Valentino Balboni's daily driver was an Audi A4 the last time I checked...
Photo credit: Mazda
---
Contact the author at mate@jalopnik.com.