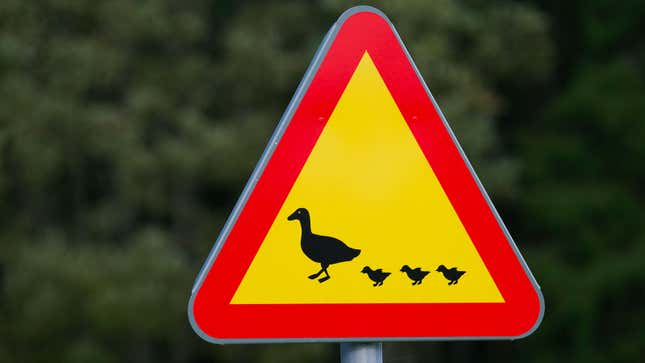 Did you ever have one of those I-Spy books when you were growing up? They were typically handed to kids to keep them preoccupied on long drives — packed with all manner of things that you might see along the journey. You could find exciting things like tractors, pylons and service areas that could all be ticked off, as well as all manner of road signs.

One that always stood out to me was a cutesy yellow sign with the black silhouette of a duck in the center, which was obviously to warn motorists that there might be ducks on the road ahead. Cute. It was always an easy one to tick off from the book, as there was one on the route from my childhood home to the highway.
While reminiscing about stuff like this from my childhood recently, after just turning another year older, conversation turned to that duck sign and it got me wondering, what other weird and wonderful signs have you seen out on the highway? What are the weirdest road signs you've ever seen?
They could be from your home country, such as the "gun free zone" signs I see interspersed around New York these days. Madness. Maybe you took a trip to Iceland and spotted one of its polar bear warning signs, or you could have found yourself gazing at a kangaroo crossing on the other side of the world.
Whatever the sign and wherever you spotted it, we want to hear all about it (and hopefully see it!) So, head to the comments section below and let us know the weird and wonderful road signs you've spotted on your travels. We'll round up some of the best answers in a slideshow next week.