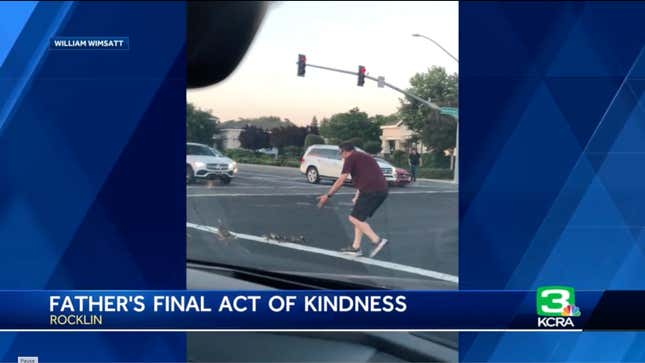 Canada geese can fuck right off, but ducks? Ducks are fantastic. Everyone loves ducks. America would be a better place if it had more ducks. But the modern world can be a confusing place for ducks because they don't fully understand the concept of roads and cars. Sometimes they need a little help crossing the road. Sadly, one man who was trying to do exactly that was recently killed in Rocklin, California.
We're Driving the 2024 Integra Type S, What Do You Want to Know?
KCRA reports that around 8:00 PM last Thursday, a still-unidentified man stopped his car to help a family of ducks cross the road. Other drivers reportedly noticed the ducks as well and stopped their cars to give the man time to get them across safely.
"He got out of the car and was shooing the ducks and everyone was clapping because he was being really nice," a 12-year-old witness told KCRA.
Once he got the ducks to safety, the man reportedly headed back to his car in what should have been a wholesome moment. "He helped them get up over the curb because all the little baby duckies were having trouble and then he walked in front of our car," the witness told KCRA. But then things took a turn for the worst. "My mom rolled down the window and said, 'Good job, good job,' and I said, 'Good job' to him too and then right after that, the second after that," someone hit him with their car, killing him.
The driver, a 17-year-old girl, reportedly stayed behind and cooperated with police. Police say they're still investigating and have not yet ticketed or arrested her. Regardless of what happens legally, she'll still have to live the rest of her life knowing that she killed a man who was just trying to save some ducks.

"He was the only person to get out of the car and try and help them and probably the nicest person in the entire area. It's not fair," the witness told KCRA.