There's a lot to look forward to in Need For Speed: The Run. They've got Porsches, an interesting plot, and, oh, did we forget to mention a completely digital Christina Hendricks? That's a lot of polygons. But doesn't it feel like something's missing?
Electronic Arts, the game's producers, are going to let the (mostly) guys who play these action racing games gawk at a digitized version of Christine Hendricks — famous for being the busty redhead from Mad Men and the busty redhead from Drive. We only have one photo of Hendricks in the game, but it's hard to ignore her uncanny valley is a little less uncanny.
If that's the case, it'll be a first video games, which has a strange habit of giving women completely unworkable anatomy. (Ahem, Lara Croft.)
G/O Media may get a commission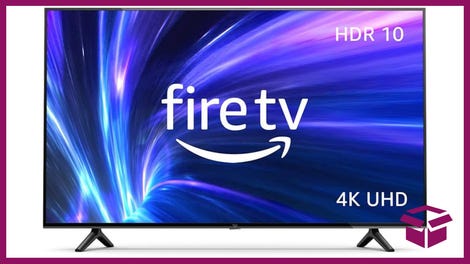 42% Off
Amazon Fire TV 50" 4K Smart TV
But more importantly than seeing a fake version of Hendricks, you'll get to hear the real thing as she whispers commands into your earhole. Get ready for the sexiest gaming voiceover since Betty White appeared on Hollywood Squares.
Here's a full description of Hendricks' character:
Sam Harper and Jack go way back. She's made money off Jack's racing past and she's betting on his future, paying his 250K to get in the race with a $25 million prize for the winner. Jack is in trouble and only Sam can save him. Victory for Jack solves both of their problems.
Beautiful and loaded? Sorry, Lara Croft, I think we've found someone else we want to go tomb raiding with.
INNUENDO!
Oh, and some dude from a Vampire TV show is in the game as well. His breasts look accurately-sized.
Photo Credit: AP/EA