Welcome to the Jalopnik Weekend Motorsports Roundup, where we let you know what's going on in the world of racing, where you can see it, and where you can talk about it all in one convenient place. Where else would you want to spend your weekend?
Let's cut right to the chase. The big story this weekend revolves around Formula One – specifically, the Pirelli tires the series utilizes in all its races. In case you're forgetting, last weekend's British Grand Prix was a bit of a debacle for the tire maker. Tires seemed to be exploding all over the place, sending chunks of rubber and steel belts flying out over the track (and often all over other drivers). It was a real safety hazard, but one that thankfully resulted in no injuries. That being said, it seemed only a matter of time before somebody was seriously hurt, or worse.
This whole week there's been a lot of will-they-or-won't-they waffling on the part of the drivers, as they debate whether or not to boycott this Sunday's German Grand Prix. The drivers demanded that Pirelli make changes to the tires and their very structure, along with some other rule changes, lest they all walk out en masse. Pirelli responded with 1,000 Kevlar-belted tires to replace the steel-belted onea, and so far no tires have exploded in practice, boding well for the race.
Either way, we can all rest easy knowing that Bernie Ecclestone won't care no matter what happens.
G/O Media may get a commission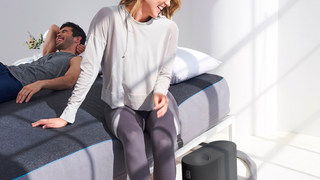 Eight Sleep Pod Cover
The other big news for this weekend, at least for me personally, is the last running of the American Le Mans Series Northeast Grand Prix at Lime Rock. The race will probably continue in some form or another as part of the new United SportsCar Racing series next year, but I get sentimental about ALMS and Lime Rock, specifically. Situated in rural Connecticut, you can hear the thundering engines boom off the Berkshire mountainsides, and you get to absorb all the action not from a grandstand, but from a hillside on a picnic blanket. Plus there's a pretty neat little karting track. ALMS at Lime Rock, I shall miss thee.
Though I'm sure USCR will be pretty great too.
We've heard your pleas and we'll be keeping the races and times in the body of posts, as well as on the map for now. Of course, please use our image annotation tool on the map above to show us races we might have missed, where they're being held, and where we can livestream them.
Get it while it's good.
All times Eastern.
Formula 1 German Grand Prix Practice (replay)
Nürburgring GP-Strecke Circuit
Nürburg, Germany
6:30 AM Saturday on NBCSN
Formula 1 German Grand Prix Qualifying
Nürburgring GP-Strecke Circuit
Nürburg, Germany
8 AM Saturday on NBCSN
AMA Motocross RedBud National
RedBud Pro Track
Buchanan, Michigan
1 PM Saturday on FUEL
3 PM Saturday on NBC
4 PM Saturday on NBCSN
American Le Mans Series Northeast Grand Prix
Lime Rock Park
Lakeville, Connecticut
3 PM Saturday on ESPN2
NASCAR Sprint Cup Coke Zero 400
Daytona International Speedway
Daytona Beach, Florida
6:30 PM Saturday on TNT
Formula 1 German Grand Prix
Nürburgring GP-Strecke Circuit
Nürburg, Germany
7:30 AM Sunday on CNBC
11 AM Sunday on NBCSN (replay)
IndyCar Pocono 400
Pocono Raceway
Long Pond, Pennsylvania
12 PM Sunday on ABC
NHRA Summit Racing Equipment Nationals
Summit Racing Equipment Motorsports Park
Norwalk, Ohio
7 PM Sunday on ESPN2