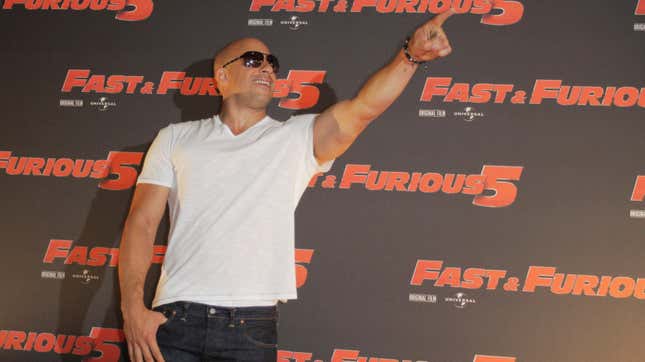 Rumor has it that the final film in the Fast and Furious franchise, titled Fast X, will not actually be one final film: it might actually be a three-part trilogy, which will transform the 10-film series into a 12-film series. But why stop there? I think it's high time we embrace the never-ending nature of this franchise and introduce a prequel about Dom Toretto's dad.
We live in the era of the extended universe. Folks trip over themselves running to the movie theater to catch up on the latest installment of the Marvel or Harry Potter franchise. We have an ample number of TV shows inspired by Yellowstone, another TV show. We are quite literally never going to escape Star Wars universe hell. If we've given up entirely on the idea of producing brand-new content, then we should simply double down. Why should we even have to end the Fast and Furious franchise at all?
Canonically, we already know that Dom Toretto's dad, Jack Toretto, was killed in a stock car crash, but merely accepting that premise will not do. As the films progress, we learn that Jack was killed trying to "throw the race" in order to get the family out of debt. But again, that premise — we could go deeper. We were already thrown for a loop discovering that the car had been tampered with. But I think we can keep probing for more.
See, what I'm thinking — and for all the Universal Pictures executives who read my posts, I hope you're taking notes — is that we bring in a totally different angle. I say Jack Toretto was killed by The Agency.
Now, I'll leave the details up to the industry bigwigs (unless they want me to write it, in which case hit me up), but in broad strokes, I'm thinking there's drug smuggling involved. I'm thinking that's how the Toretto family could afford its small businesses in the first place. I'm thinking there was betrayal. I'm thinking Jack Toretto had to throw that race, not because it was about a financial debt, but because it was about a more nebulous kind of debt he owed to The Agency, or to someone else — a debt that Jack Toretto could only pay with his life.
There are plenty of other side quests we could explore. Who was the mysterious woman who started the Toretto family with Jack? What did life look like for Dom growing up? How can we tie in Rita Moreno's character as Abeula Toretto? There are questions to be asked and answers to be sought. It's time for the Fast and Furious prequels.