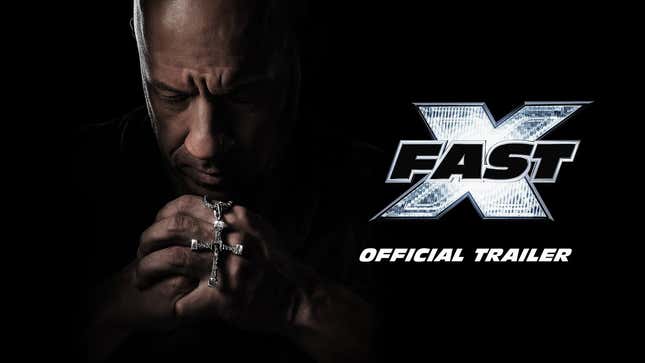 It's finally here. The day we've been awaiting for nearly two years, since F9 graced our eyes back in June of 2021. Today, we feast upon the first trailer for Fast X, the first half of the last entry in the Fast Saga. But as a finale, Fast X does something interesting — it goes back to the beginning.

Not just the Toretto house, not just the dad-remembrance Charger, Fast X looks back at the earlier movies in the Fast Saga. There are stills from the fourth movie, digitally edited shots from the fifth, and action sequences that call back to the sixth and seventh films simultaneously — eat your heart out, Edgar Wright.
We'll have a full breakdown of the trailer later today, picking apart all those tasty little morsels of continuity dropped in by director Louis Leterrier and writers Dan Mazeau and Justin Lin, but suffice to say this trailer is packed. Beyond all the references already included, there's a sense that the full film will have even more — a love letter to the franchise we've all loved for so many decades.
Of course, bringing back classic footage means the return of Brian O'Conner — and reckoning with the legacy of Paul Walker. Walker's untimely death meant O'Conner left the franchise just as the star's relationships with underage girls were beginning to enter common knowledge. The Fast Saga hasn't grappled with that reality as of yet, but putting Walker back on the silver screen may raise some questions about the actor's misdeeds.
Check out the trailer above, and keep an eye out for all the details and connections to previous films. Then, come back this afternoon for the full breakdown — and see if you can catch anything that I miss.