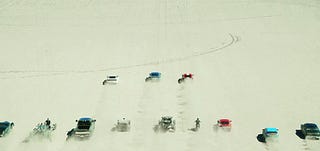 In case you haven't, ahem, "acquired" the Clarkson, Hammond and May-helmed show The Grand Tour yet, Amazon will be offering the first episode of the series for free to all Amazon customers starting tomorrow, December 23rd, and running through December 26th. Yes, that includes those of you without Prime.

Amazon wanted to celebrate its most-watched series premiere yet by letting anyone with a basic, free Amazon account log on and enjoy a little taster of the show.

Presumably this is to get more people to spend holiday money on Amazon Prime, but consider this Amazon's way of helping you through awkward times with your family over Christmas weekend. Here's a chunk of time where you won't have to answer any prying questions about significant others, politics, kids, school or jobs because the Holy Trinity of supercars happens to be on screen.
While we generally felt as if the series didn't really hit its stride until a few episodes in, it's still an enjoyable bit of online television and the sheer amount of car porn in the opening scene alone is worth tuning in for. You'll have to watch it soon, though, as Amazon pulls the plug on its free episode on December 26th at 11:59 p.m. Pacific.