Nick Ayers is the campaign manager for Minnesota Gov. Tim Pawlenty's bid to be the Republican presidential nominee in 2012. Five years ago, while running a campaign for Georgia's governor, he was stopped for drunk driving. His attempt to talk his way out through politics just came to light.
The 2006 arrest has been part of the public record for years, but Minneapolis' City Pages filed a Freedom of Information Act request for the dash camera video. Chopped into three segements, the first two show Ayers being pulled over, telling a Georgia trooper he's had one Jack Daniels and Diet Coke. The trooper would later write that Ayers' Chevy Tahoe was weaving and speeding, and Ayers smelled of alcohol. After refusing a breath test, Ayers fails a field sobriety test, and the trooper starts to haul him downtown.
Related:
• 12-year-old stopped for drunk driving
• Anti-gay Calif. state senator stopped for DUI after leaving gay bar
• DUI suspect blames oral sex for erratic driving
That's where this clip picks up, with then 24-year-old Ayers trying to plead his way out by name-dropping Georgia Gov. Sonny Perdue, flattering the officer and finally at the end asking "do you know what the other side will do with this?"
G/O Media may get a commission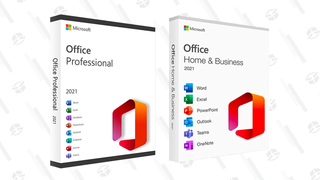 89% off
Microsoft Office Professional 2021 Lifetime License
Ayers later had his charge reduced to reckless driving, and the arrest had no impact on the campaign. And it probably taught Ayers the lesson Henry Ford II used when he was caught drunk driving with a woman who wasn't his wife: "Never complain, never explain."