Lava from the Kilauea volcano has been creeping across Hawaii's Big Island for days now, after the Los Angeles Times reports that volcanic instability began last Monday. On its slow but destructive path, the lava has consumed more than 26 homes, affected 1,800 residents and swallowed an abandoned Ford Mustang.
It's almost surreal to watch the lava rattle a metal fence open and creep all the way across an empty road, slowly approaching the doomed objects ahead of it. The speed makes it seem like there's all the time in the world for the Mustang to get away, but nobody around to move it. Things don't end well for the car.
Here's video of the lava consuming the car, from KHOU. The station didn't give any specific details on this scene when it published the video, and only gave an overview of how much damage Kilauea's lava has done so far:
G/O Media may get a commission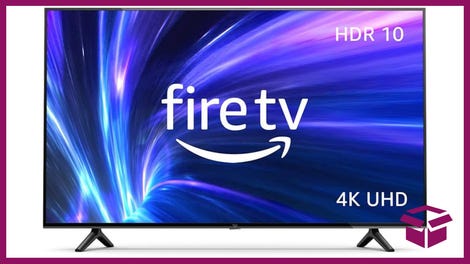 42% Off
Amazon Fire TV 50" 4K Smart TV
As of Sunday, the LA Times reported that lava was flowing farther than it did during the first days of the eruption. The area under the most threat is Leilani Estates, a subdivision with less than 2,000 people in the Puna District of Hawaii. Fissures, or cracks in the ground, continue to open up and spew lava in the area, and the LA Times reported that there were 10 cracks as of Sunday shooting lava fountains as high as 230 feet.
The positive thing, if anything, is that the lava is moving slowly. U.S. Geological Survey scientist Wendy Stovall told the LA Times lava is moving away from the eighth crack at "significantly less than 1 mph," and that U.S. Geological Survey scientists monitoring the flows can easily walk away from them.
The stationary objects, like this Mustang, are a little less fortunate.