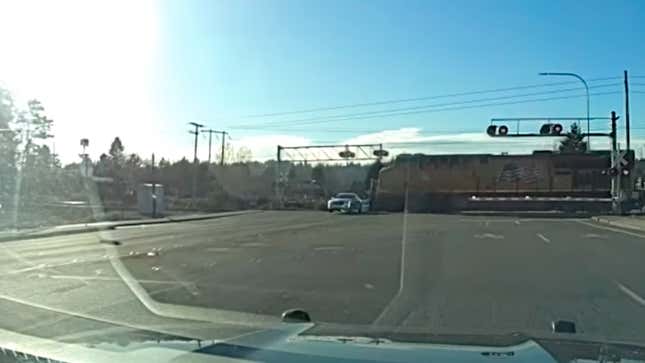 Trains and railroad safety have garnered a lot of attention as of late, but apparently not the attention of one driver in the Pacific Northwest. Police in Auburn, Washington have released a truly wild video of a robbery suspect blasting his silver third-generation Cadillac CTS through a railroad crossing, inches away from an oncoming train.

Police say they were responding to a nearby call involving a store clerk who alleged that a man threatened him with a gun, mid-afternoon of February 9. The gunman then ran out of the store through an emergency exit and jumped into the aforementioned Cadillac with another suspect.
The ensuing pursuit led to a railroad crossing as the crossing arms were descending, but police say the Cadillac just kept going. Despite what happens in the movies (and the fact police had to wait for the train), the daring move didn't give the suspects that much lead time to evade authorities, and the officers quickly caught up with the Cadillac. A lot of that had to do with another police cruiser on the other side of the tracks that quickly found the vehicle in an apartment complex parking area in the city of Pacific, Washington.
"It was learned that two suspects ran from the vehicle, and one of the suspects was found hiding in a tree," the department posted on Facebook. The first suspect shared with detectives, from the tree, plans to sell the stolen goods for money to then buy illegal drugs. After a couple of hours, the suspect climbed down and surrendered.
As for the second suspect, it's anyone's guess where he went. Police also did not make it clear as to whether or not the guy in the tree was the one who made that sweet ass jump in front of a moving train. But, they apparently damaged the crossing arm in their movie-like stunt, so I'm sure they'll be reparations sought for its repair as well.