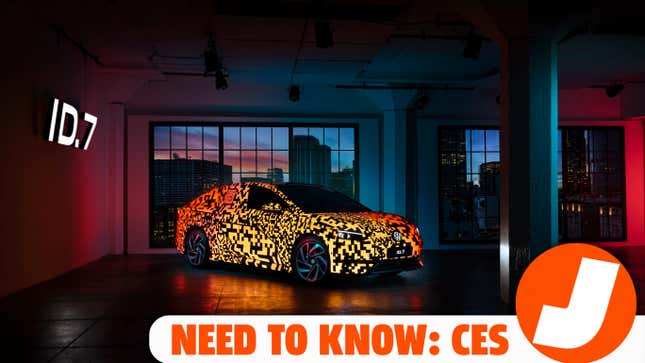 Over the summer, Volkswagen revealed the ID.Aero concept, a large, swoopy sedan that looked about like what you'd imagine the ID.4 would look like if it transformed from a hatchback into a sedan. At the time, we were told the production version would first go on sale in China in mid-2023 and arrive in the U.S. and Europe at a later date. Now Volkswagen has just revealed the production version, the ID.7 sedan. Sort of.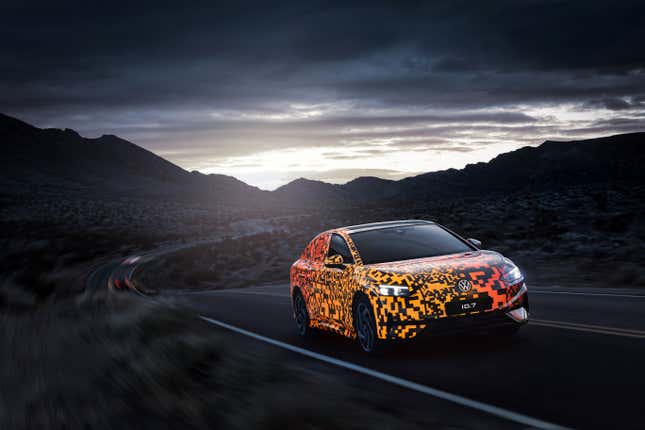 As you can tell from the photos, the production ID.7 is still camouflaged, but since this is a Consumer Electronics Show reveal, it isn't just any camouflage. It's "smart camouflage" that Volkswagen says is interactive. According to the release:

The camouflaged sedan features a digital design with unique paintwork, which lights up the ID.7 interactively. No fewer than 40 layers of paint have been applied, some of which are conductive while others have insulating properties. A total of 22 areas of the vehicle can be controlled separately and are electrified below the top layer of paint (electroluminescence) so that they light up. If all this is connected to a sound system, the rhythm is visualized by illumination of individual areas.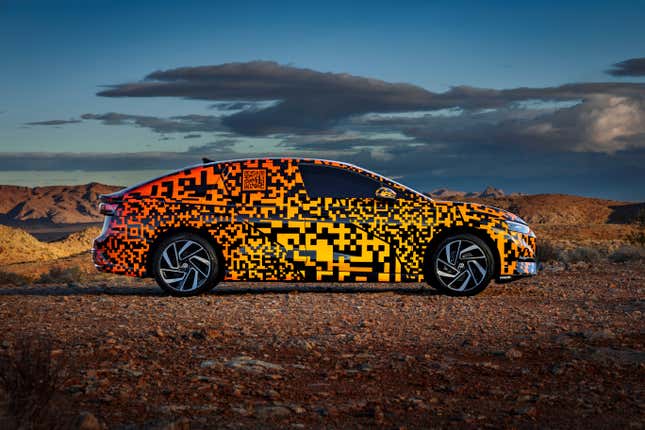 So that's definitely something. There are also QR codes on the hood and both sides of the car to "provide an interface between the physical and digital worlds," and the camouflage pattern is QR-code-inspired. It seems like a lot, but maybe random tech people at CES will enjoy it.
As for the specs, Volkswagen hasn't said much about the ID.7. The automaker estimates a 700-km range on a fully-charged battery using Europe's WLTP testing cycle, which works out to about 435 miles. But WLTP is more generous than the EPA's tests, meaning that by the time it makes it to the U.S., 370 miles is probably a more accurate estimate.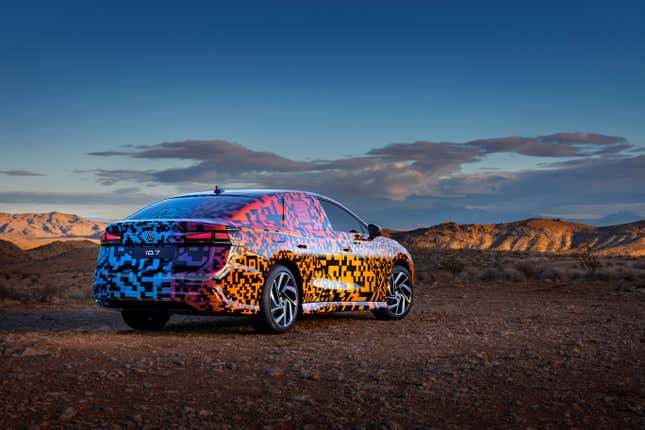 The ID.7 also has a 116.9-inch wheelbase, making it about a half-inch longer than the Tesla Model S. Volkswagen claims that will provide "an especially spacious interior that feels more like a luxury sedan's." But as far as overall size, battery size, powertrain figures, and pricing go, that's all still a secret for now.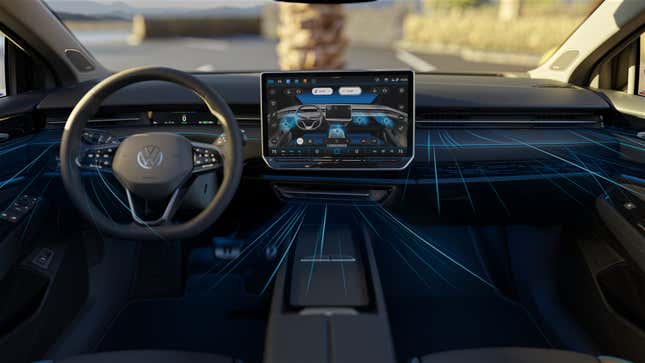 In addition to a number of features such as an augmented reality head-up display, a 15-inch infotainment screen, and "illuminated touch sliders," what Volkswagen was really excited to talk about is the ID.7's fancy air conditioning system. It can heat or cool the cabin before the driver gets into the car and uses so-called "smart air vents" that "move dynamically," which sounds a lot like a higher-tech version of the oscillating air vents in an old Mazda 626.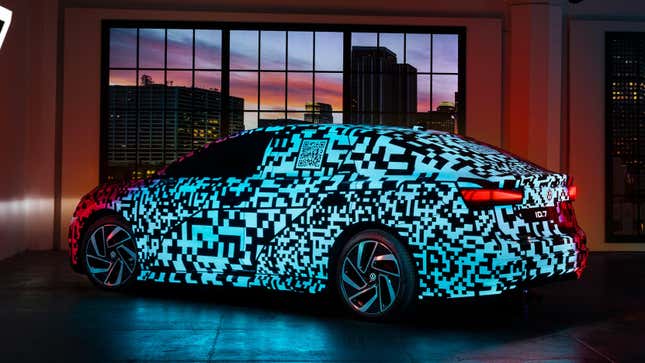 They can also be set to either target passengers' bodies or blow air around indirectly, and they'll also respond to voice commands. So, for example, if you tell the ID.7 that your hands are cold, it will turn on the steering wheel heater and start blowing warm air toward your hands. It's certainly not the most exciting enthusiast feature, but it does sound like it would be convenient if it works as well as VW describes it.
Until we know more about the ID.7, it's hard to tell how it will hypothetically compare to the competition. But based on the limited number of available images and what we saw with the ID.Aero concept, at least initially, it looks like it will be an attractive electric sedan with solid range, interesting tech, and a spacious interior. And you can certainly do a lot worse than that.