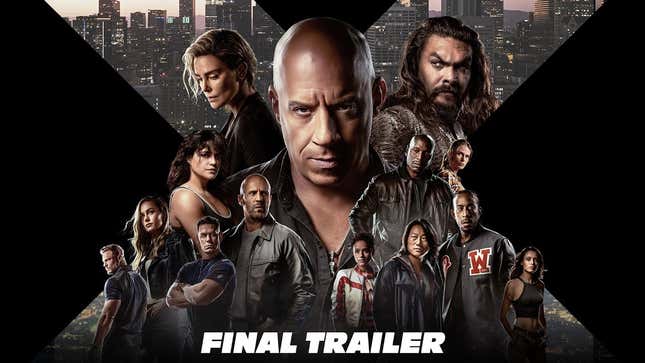 Fast X, which opens on Friday, was supposed to be the end of the line for the Fast & Furious franchise. As Vin Diesel famously posted on Instagram back in 2016, the plan was two decades, 10 films and one saga. But then someone made the decision to split the finale into two parts, meaning there's a Fast 11 coming, too. Now, though, it sounds like Fast 11 won't be the final finale. No, we're probably getting a Fast 12, as well.
Andy Judges the First Three 'Fast and Furious' Movies By their Covers
Variety reports that while speaking at the Fast X world premiere in Rome, Vin Diesel suggested that what was originally supposed to be a single movie will actually be split into a final trilogy. "Going into making this movie, the studio asked if this could be a two-parter," Diesel told red carpet host Naz Perez. "And after the studio saw this one, they said, 'Could you make Fast X, the finale, a trilogy?'"
Apparently, Michelle Rodriguez then chimed in to add, "It's three acts in any story." So it's not just Vin Diesel hinting at another Fast & Furious movie. When Perez asked if that was an official confirmation that they were going to make Fast 12, Diesel said, "You're gonna get me in trouble here." That may not be an official confirmation, but it's not exactly a subtle hint. It feels safe to assume that Fast 11 will only be the second in a three-part finale to end all finales.
At least until more characters get their own spinoffs. Or they just decide the finale wasn't really the finale. After all, if the Fast & Furious movies continue to make money, why would they stop making more of them? Since they've already been to space, it's going to be hard to keep going bigger and getting even more ridiculous, but where there's a will there's definitely a way.