The National Auto Sport Association (NASA) National Championships at Miller Motorsports Park crowned some champions, then took those crowns away after technical inspection.
One of the best races of the weekend at the NASA National Championships was in the Camaro Mustang Challenge class. It was a hard charging come from behind last lap pass that put the winner on the podium. But after both first and second place cars were inspected they were both disqualified. Mr. Third Place, Eric Sjoblom, in his Mustang, found himself with a new name: 2010 NASA Camaro Mustang Challenge National Champion.
Honda Challenge also saw a podium change after inspection during impound when the some unapproved parts were found on the second place car.
G/O Media may get a commission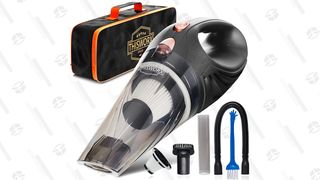 Save 50%
ThisWorx Car Vacuum Cleaner
Above photos were taken by Head-On Photos.
But the scandal didn't stop there. The Spec Miata National Championship was also marred by issues in impound.
Photos below were provided by photographer Michael Wells.
The winner of the Spec Miata class, which was 41 cars deep, had some issues with his shocks and had his crown taken away, allowing the second place driver, Dan McKeever (who drove from 26th place to second) to become the National Champion. Rumor has it this finishing order is under appeal.
Regardless what was happening in the impound garage, there was still some great racing on track filled with hard driving (sometimes a bit too hard as pictured above).
Each race had its share of two wheels off moments and heroic passes.
And of course, as promised there were NASA Cheerleaders and podium girls.
The guys at GoRacingTV.com covered the NASA National Championships and you can see their video coverage below.
Here is one more podium shot (with the girls) for your viewing enjoyment.
To read how the races unfolded and get live race results go to the NASA News Page. To see photos of the official National Champions from Saturday's races you can check out the coverage at Speed:Sport:Life.