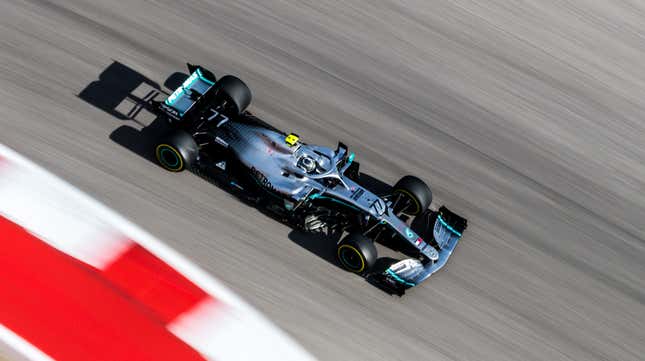 Valtteri Bottas might not have led the entire Formula One U.S. Grand Prix from pole, but he was out front on the lap he needed to be out front on: the final one. His Mercedes teammate Lewis Hamilton finished finished just over four seconds behind in second, which was enough to secure Hamilton's sixth-career title.

Red Bull driver Max Verstappen got the final spot on a mostly Mercedes podium, while Charles Leclerc, Alex Albon, Daniel Ricciardo, Lando Norris, Carlos Sainz, Nico Hulkenberg and Sergio Perez rounded out the points-scoring top 10.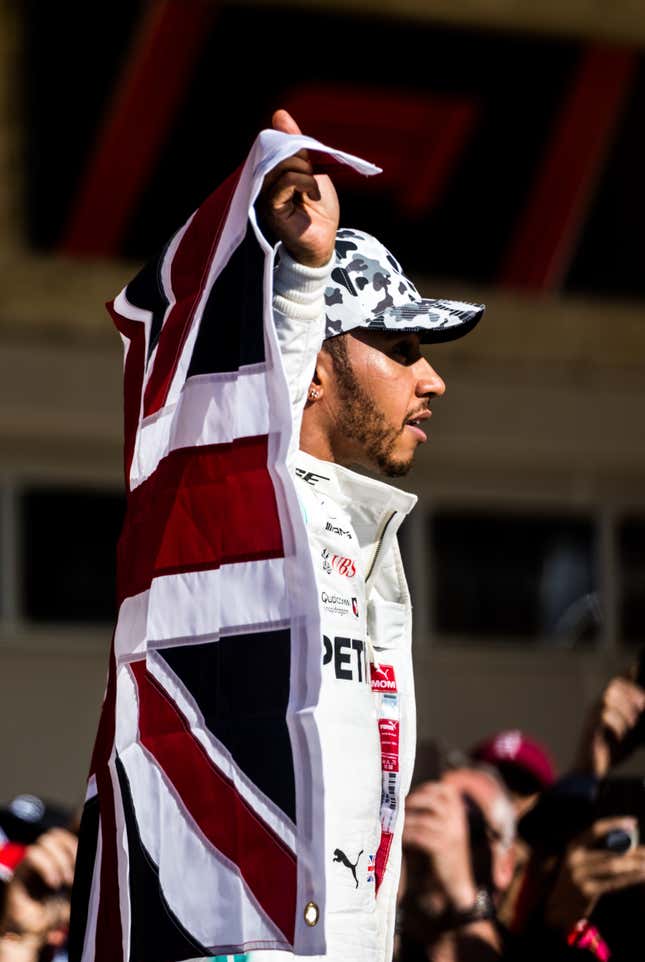 In terms of which Mercedes car would be out front at the end of the 56 laps at Circuit of The Americas in Austin, things looked like they could go either way until the final laps. Bottas and Hamilton were on differing pit strategies, with Bottas' team following what third-place finisher Verstappen did, a two-stop strategy, while Hamilton's team decided to try to make the race work on just one pit stop. The former, evidently, paid off for Bottas.

Bottas had pole position while Hamilton started the race in a surprising fifth, given how good he is at COTA. Ferrari's Sebastian Vettel and Red Bull's Albon had issues early on, with Albon going to pit lane after early contact and falling to last place while Vettel simply fell in the running order.
Vettel, asking if he had damage, dropped from second to seventh by just six laps in. He pulled off track not long after, as major suspension issues in a turn left the front of his car looking like a boat gliding over a rough set of waves.
"I think the suspension just failed," Vettel said over over the radio. "Something broke." He got out of the car soon after, finishing the race last with seven laps recorded.
Even with Vettel out, Hamilton had ground to make up after qualifying further back than expected—but he didn't have to do much in order to find himself out front. Verstappen pitted for hard-compound tires 14 laps in as Hamilton closed on him, complaining about his balance in high-speed corners as he did. Bottas followed Verstappen's lead to make it a two-stop race when he came back around, with Hamilton's crew deciding to stay out and do it on one.
It was apparent that the U.S. Grand Prix would be a three-car race—Hamilton, Bottas and Verstappen—rather early on, leaving strategy to decide whether one stop or two would win out.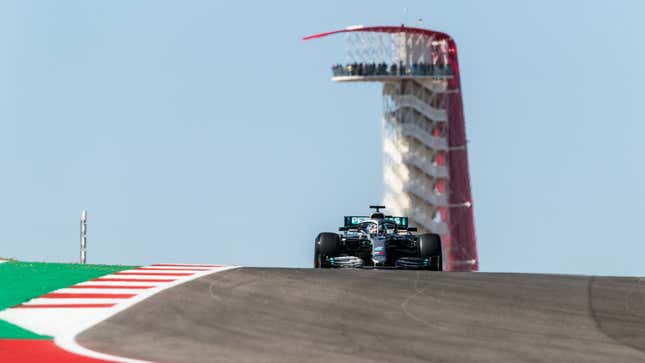 By 22 laps in, Bottas was running his teammate down and getting ready to pass him on the fresher tires, thus Hamilton's team called him into the pits the next time around. But Hamilton radioed back to say he wanted to go longer, likely in an attempt to have slightly fresher tires than his team planned at the end of the race, and got easily passed by Bottas before coming into the pits for tires around lap 25. Hamilton came out more than 21 seconds behind Bottas.

Verstappen made his second and final pit stop for new medium tires 35 laps in, prompting Bottas to do the same when he came back around and setting up the end of the race to be a question of whether Hamilton could nurse his older tires around for 20 more laps at the 3.4-mile track in order to win. Hamilton radioed in to say that it was "going to be tough" to do that, but stuck to the strategy.
Bottas spent the rest of the race closing in on Hamilton, but at a pace that made it hard to tell whether he would catch back up until he finally did. Hamilton got concerned about tires 40 laps in, when Bottas was about 4.4 seconds back.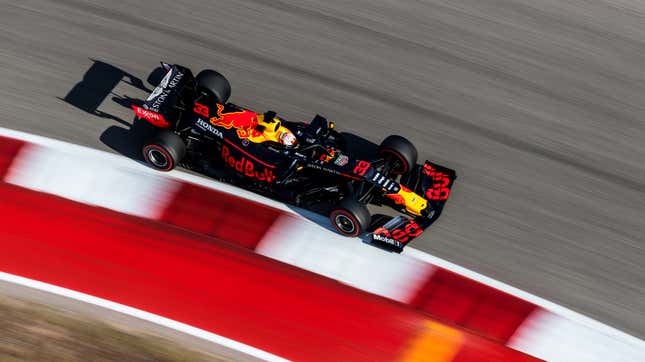 "I don't know how much longer these tires are going to last," Hamilton said about his hard tires over the radio on lap 41. The next lap, he came back on to ask, "Has anyone else made these tires last this long?"

The team said Hamilton could stop if he wanted, but he didn't. All the while, Bottas was still around the same interval by lap 43.
Bottas began closing not long after that, getting within a second of Hamilton, and thus within the range to use the Drag Reduction System passing aid, 50 laps in. Bottas went off track on his first attempt to get around his teammate on lap 51, finally making it work to take the lead on the next lap. Verstappen was next to begin closing on Hamilton, but didn't make it in time to pass him.
That made the podium lineup Bottas, Hamilton and then Verstappen, but order didn't matter much in terms of the championship picture. Hamilton only had to finish eigth or higher at COTA in order to guarantee a sixth-career F1 title two races before the end of the season, and second is well ahead of that.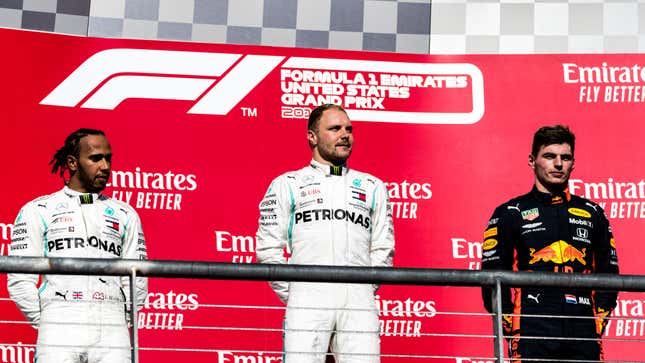 Six championships puts Hamilton just one title away from matching the all-time record of seven held by Michael Schumacher, who suffered a traumatic head injury in a ski crash in 2013 and whose condition has been generally kept private since.
Thus, the question on the podium was how many more titles Hamilton felt like he had in himself, and to it, Hamilton said, "I don't know about championships, but as an athlete I feel fresh as can be right now."