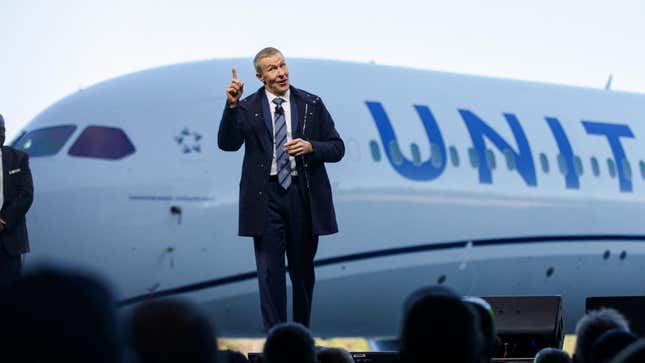 Last weekend was a rough experience for most passengers at New York City's three major airports, John F. Kennedy, Newark Liberty, and LaGuardia. There were 20,000 flight delays and cancellations across the Northeastern United States, provoked by severe thunderstorms across the region. With Newark being a United Airlines hub and heavily impacted by the disruption, United CEO Scott Kirby also commented on the matter. Kirby was eager to blame the Federal Aviation Administration (FAA), omitting any apparent issues with his airline.
CBS News reported that Kirby sent an email to United Airlines employees about last weekend. He wrote, "I'm… frustrated that the FAA frankly failed us this weekend. As you know, the weather we saw in EWR is something that the FAA has historically been able to manage without a severe impact on our operation and customers." While the FAA issued ground stops at the three NYC area airports and has struggled to fill air traffic controller positions, it doesn't tell the whole story how what happened over the weekend.
The breakdown in operations at Newark was significantly worst than at other airports. According to Simple Flying, there were over 300 cancellations at the New Jersey facility. JFK and LaGuardia had a combined total of just over 180 cancellations. The statistical difference was supported by passengers posting their first-hand accounts dealing with United Airlines' staffing issues. There were atrocious customer service lines, baggage flooding claim areas, and no help in sight.
The FAA might have its own problems, but the organization shouldn't be used as a convenient excuse for airline understaffing. The carriers are able to function exceptionally profitably when things are running smoothly but don't have the capability to handle the slightest inconvenience.