Auto industry changes are making the German economy nervous, Hyundai may be making adjustments to a slowing market in China, Trump is happy with Fiat Chrysler, and Daimler and BMW are teaming up on autonomous cars. That and more in the Morning Shift for February 28, 2019.
The Ford Taurus Is Reborn — But Only For the Middle East
1st Gear: Uncertainty in the Auto Industry Could Spell Doom for the German Economy
Many folks might not realize just how important automobiles and automobile parts are to Germany's economy. According to MIT's Observatory of Economic Complexity, those are the country's biggest exports by an enormous margin.
Because of this, the fate of the auto industry is closely tied with the fate of Germany, which is why the current car climate—one whose future is uncertain in light of new technologies and concepts like ride sharing, self-driving cars, and electrification—can be seen as a threat to Germany at large.
Bloomberg's got a new story out called "Peak Car Poses a Mortal Threat to Germany's Most Important Industry," in which the author claims that Germany's glory days may soon be over, quoting a German mayor, writing:
...automotive employment will start to decline this year, the powerful IG Metall union predicts. Germany may have reached peak car, posing a threat to the most important pillar of the economy. "We're preparing for a time when fewer people will work in the industry in our region," says Rüdiger Schneidewind, mayor of Homburg, a western city of 42,000 with four big factories that account for 30,000 jobs. "More than half of this region's prosperity is due to auto manufacturing."
G/O Media may get a commission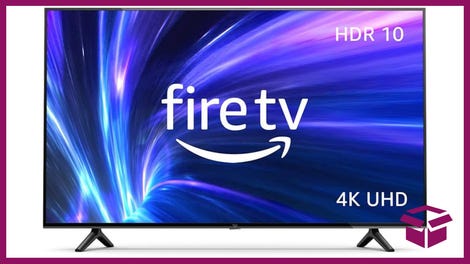 42% Off
Amazon Fire TV 50" 4K Smart TV
Bloomberg mentions a number of factors that could contribute to a reduction in Germany's car-related jobs. One being that electric vehicles require fewer workers to assemble due to their relative simplicity, with the story saying that, according to Germany's big trade union, IG Metall, over a third of Germany's 210,000 engine and transmission building job are headed down the toilet by 2030.
The story describes how new developments in the industry could hurt the German economy, writing:
But as people shift to ride-hailing, car-sharing, and driverless electric vehicles, many of Germany's advantages will evaporate. "The three core features of mobility in the 20th century are dissolving: cars that need a driver, are privately owned, and are powered by a combustion engine," says Stephan Rammler, an auto industry consultant and professor of transportation design at Braunschweig University of Art. "Germany risks falling behind new giants being created in China and the U.S."

There's risk that—even though German automakers are actively getting in on electrification, ride hailing, and autonomous car development—money could shift from Germany's established automakers to newcomers in the space like Apple, Uber, and Waymo, and that could spell disaster for the country with one of the richest automobile histories of them all.
2nd Gear: Hyundai May Cut Back Production In the Former Golden Goose Market for Automakers: China
For the longest time, the Chinese car market has been considered automakers' Golden Goose: a source of never-ending profit resulting from an insatiable demand for cars. But lately, growth there stopped, and per the New York Times, Ford's joint venture with China's Changan Automobile Group has begun laying off "thousands of its 20,000 workers."
Now, according to Reuters's input from two sources claiming to have heard from CEO Wonhee Lee at a meeting with investors, Hyundai is considering cutting capacity in the nation due to poor sales. From Reuters:
He told the meeting that the automaker is considering addressing overcapacity at its old factories in China, while slashing headcount in the country, according to a note from one of the people which was seen by Reuters.

[...]

Hyundai's China sales sank 23 percent in the fourth quarter amid a lack of attractive models and strong branding in the face of competition from both Chinese and global car makers.

The Golden Goose may be losing its luster.
3rd Gear: Trump Is Happy About FCA's Investment in Michigan
Tuesday was a huge day for Fiat Chrysler and for the state of Michigan, as the former announced a planned $4.5 billion investment in manufacturing in the latter, in part, to build a three-row Jeep and a new Jeep Wagoneer and Grand Wagoneer. The three-row Jeep, along with an all-new "WL" Jeep Grand Cherokee, are planned to be built in a new assembly plant within the city of Detroit—first in Detroit-proper in quite some time.
President Trump—who has been vocal about bringing and keeping manufacturing in the U.S., and decried GM's recent plant closure announcement (even threatening to pull EV subsidies)—is, naturally, thrilled to hear FCA's announcement, tweeting:
Fiat Chrysler will be adding more than 6,500 JOBS in Michigan (Detroit area), doubling its hourly workforce as part of a 4.5 Billion Dollar investment. Thank you Fiat Chrysler. They are all coming back to the USA, it's where the action is!

— Donald J. Trump (@realDonaldTrump) February 27, 2019
It's not clear what the president meant by "they are all coming back to the USA," as Fiat Chrysler did not say the new investments will involve moving production away from another country. But in any case, it does seem that he and Michigan have a good reason to celebrate.
4th Gear: Things Are Getting Steamy Between BMW and Mercedes' Autonomous Car Development Teams
Back in March of last year, BMW and Mercedes announced that they were planning to team up on ride-hailing and EV development, and now the two companies have put out press releases announcing details on a partnership for autonomous vehicle development.
The two German automakers say they've signed a Memorandum of Understanding pledging to co-develop a number of technologies, with priority initially being on driver assistance systems and on "automated driving on highways and parking features (up to SAE Level 4)."
They describe the benefits to this partnership in their press releases, writing:
The planned cooperation offers the BMW Group and Daimler AG a number of obvious advantages: the skills and experience of the individual partners and a scalable architecture will speed up and streamline the development of future technology generations. Besides the synergies, new technologies will be faster to market, with shorter innovation cycles.
BMW and Daimler talk a bit about how this will all work, saying:
Joint development work will be carried out via a scalable architecture covering several stages of automation, with Levels 3 and 4 enabling automated driving on highways. In addition, the two partners plan to discuss the possibility of extending their collaboration to cover higher levels of automation, both on highways and in urban areas.
The automakers say this "strategic cooperation" is a long-term thing between the companies, and that they plan to come up with a "scalable platform for automated riving."
The goal for releasing "next-level technologies," they say, is the mid 2020s.
5th Gear: Damn, Former Head of Nissan Carlos Ghosn Has Been in Jail for 100 Days

Former Nissan Chairman Carlos Ghosn was arrested back in November for alleged financial misconduct, and now, after spending 100 days in the clink, he's got new lawyers attempting to get him out on bail for the third time. From Bloomberg:
The application to a Tokyo court was made Thursday by the team of lawyers Ghosn, 64, hired earlier this month. His previous lawyers lost two requests for bail, and the former Nissan Motor Co. chairman faces as many as 10 years in prison if convicted of several charges. A trial likely is several months away.

Still, things aren't looking promising, with Reuters writing:
Yet, even with greater legal firepower the former Nissan boss faces a criminal justice system where only three out of every hundred defendants pleading not guilty are acquitted. Neither does Japan have a plea deal mechanism that would allow Ghosn to agree to lesser charges for a lighter sentence.

100 days is a long time.
Reverse: Mario Andretti Is Born
Via History:
Mario Andretti, whose name will become synonymous with American auto racing, is born in Montona, Italy, on February 28, 1940. In a career that spanned five decades, Andretti was known for his versatility as a driver, taking the checkered flag behind the wheel of sports cars, sprint cars and stock cars on a variety of race courses.

Neutral: How Worried Should Established Automakers Be About Changes Happening in the Auto Industry?
Have we been here before (after all, the industry is always changing), or do ride sharing, autonomy, and electrification really pose a significant threat to established players in the industry, who could find themselves falling behind?