VW is sweating over tariffs between the U.S. and Europe, trade deals with China may finally happen, Lyft may go public, Apple talks autonomy, and all this and more in The Morning Shift for February 21, 2019.

1st Gear: No New Trade Deal with Europe Could Cost German Automakers Billions
Volkswagen Group could lose up to $2.8 billion in profits if the U.S. can't work out a new trade deal with Europe, according to analysts and backed up by Volkswagen Group CEO Herbert Diess. Here's more from Automotive News:
"It's becoming tense once again," Diess told the paper. "You know it's a pity because we can't solve it from the car industry. It's more of a tariffs negotiation between Europe and the United States."

Analysts at London-based Evercore ISI said the introduction of tariffs could cost the automaker 2.5 billion euros ($2.8 billion) a year, about 13 percent of expected earnings.

"In the worst-case situation, that would probably be close to the real figure," Diess said of the Evercore projection.

President Trump is seeking a new trade deal with the European Union, and has threatened tariffs targeting European vehicle exports to the U.S. And make no mistake: Those tariffs will translate into higher costs that will end up hitting consumers hardest.

Any such tariffs would also put significant strain on Volkswagen specifically, as the company invests billions of dollars in overhauling its lineup  with all-new fully electric vehicles in the next few years, which itself was decided in the wake of the company's Dieselgate scandal in Europe and America.

G/O Media may get a commission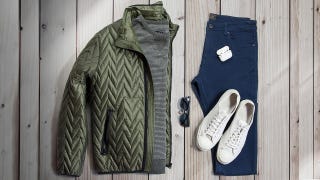 60% off
Jachs NY Fall Sale 60% Off
We'll just have to wait and see where President Deals decides to settle with Europe.
2nd Gear: China Trade Deals Reportedly Progress
Speaking of President Deals, his administration is busy dealing with China over a new trade policy that would finally end the costly back and forth between the two countries.
After seven months of back-and-forth and billions of dollars in new tariffs on goods manufactured by either side, the U.S. and China have reportedly laid the ground work for the outline of a trade deal. Here's more from Reuters:
Negotiators are drawing up six memorandums of understanding on structural issues: forced technology transfer and cyber theft, intellectual property rights, services, currency, agriculture and non-tariff barriers to trade, according to two sources familiar with the progress of the talks.

[...]

The two sides were discussing an enforcement mechanism for the deal, the source said. Reuters reported last month that the United States was pushing for regular reviews of China's progress on pledged trade reforms and could reinstate tariffs if it deems Beijing has violated the agreement.


The parties also were looking at a 10-item list of ways that China could reduce its trade surplus with the United States, including by buying agricultural produce, energy and goods such as semiconductors, according to two other sources familiar with the talks.
The bad news is that the deadline for this new round of negotiations is March 1,
and if they don't reach an agreement, tariffs on $200 billion worth of Chinese goods will rise from the current 10 percent up to 25 percent, which is good for nobody.
3rd Gear: Lyft Could File to Go Public Next Week
Lyft could be the first ride-sharing company to go public, pending reports that the company could file for an IPO as soon as next week with a launch date set for mid-March, according to Bloomberg. Here's more from Bloomberg:
Lyft Inc. could file as soon as next week for an initial public offering and plans to target a valuation of $20 billion to $25 billion, a person familiar with the matter said.

The ride-hailing industry's No. 2 plans to begin marketing shares in a roadshow the week of March 18, said the person, who asked not to be identified because the plans weren't public. That may put Lyft ahead in its race to go public against its larger rival, Uber Technologies Inc.

The only possible catch here, as Bloomberg points out, is that these companies have a bad trend of losing money. That may not matter, as the complex and often confusing world of investing means investors don't care about profits, just growth, or whatever. As long as Lyft keeps losing money but keeps getting bigger, it's probably fine. What could go wrong.
4th Gear: Apple's Autonomous Program Is Already Playing Teacher's Pet
Remember the Apple Car? Remember Motor Trend's horrible Apple Car exploration? Those were simpler times.
Anyway, regardless of whatever Apple wanted to actually do with its secretive Project Titan car program, it's foray into the automotive world seems to finally be getting somewhere.
The tech giant officially submitted a description of its autonomous testing program to NHTSA, and even threw in a voluntary safety assessment that the government doesn't typically require at this stage. Here's more from Automotive News:
"We are excited about the potential of automated systems in many areas, including transportation," the company's document said. "In particular, we believe that automated driving systems (ADS) have the promise to greatly enhance the human experience in three key areas: improving road safety, increasing mobility, and realizing broader societal benefits."

[...]

Issuance of the assessment comes one week after the California Department of Motor Vehicles released its latest batch of disengagement reports, which broadly offer information on companies' autonomous testing performance on the state's public roads. In its filing, Apple disclosed it had more than 70 vehicles registered in the state, and that they had collectively driven 80,739 miles in the reporting period from April 2017 through November 2018.

In its seven-page safety assessment, which Apple titled "Our Approach To Automated Driving System Safety," the company said it required a safety driver and an operator in the front seats of its vehicles whenever they're operating in automated mode.

Automotive News speculates that the submission of the safety assessment up front suggests Apple is angling its self-driving program to be more consumer and government friendly up front, which is probably a smart plan!
5th Gear: UK Automakers Are Stocking Up Ahead of Brexit
As we talked about in yesterday's Morning Shift, a no-deal Brexit result would be catastrophic for manufacturers relying on supply lines into and out of the UK. This would hit automakers with production in the UK particularly hard, which is why Honda is getting the hell out of there.
But for British automakers like Vauxhall and Aston Martin, which both are too heavily rooted in the country to just pick up and leave, the strategy is now all about hoarding as much supplies as possible in the event that the current Brexit nightmare goes full worst-case-scenario.
Here's more from Reuters:
"I still have to believe that we'll get to a proper and right decision because a no-deal Brexit is frankly madness," Aston Martin CEO Andy Palmer told Reuters at the company's Gaydon headquarters in England, where designers are working on a diverse lineup of vehicles for the 2020s and beyond.

[...]

Aston is building stockpiles of key parts in case an abrupt, no-deal Brexit results in trucks with components getting delayed by chaos at British ports. It is increasing the days of stock it holds from three days to five days and could fly in parts if ports become clogged up after March 29.

[...]

"When you've got 10,000 parts on a car and then you've got all of the sub-parts and the sub-parts, you quickly get up to hundreds of thousands of parts. And do you honestly know where they've all come from? Often not," he said.

That's one reason why Palmer said he hired a supply chain chief, an appointment announced last month. "His obsession right now is planning for Brexit," he said.
As Aston sweats over a no-deal Brexit, Vauxhall actually seems some opportunity to grow its market share. Here more again from Reuters:
Vauxhall believes a no-deal Brexit would lead to as much as a 20 percent fall in British new vehicle demand but a bigger market share for Vauxhall.

[...]

If the market takes a hit, Vauxhall's emphasis on functional, economically priced models could be an advantage, Norman said.

"People will look very long and hard," he said. "And they will say: do I need this enhanced brand strength which I'm actually paying for that has no material value or should I not look more seriously at the offer from Vauxhall ... and have just as good a vehicle and not have to pay through the nose for the privilege."

Banking on miserable people in a country full of disarray giving in to your lower-perceived-quality brand because they no longer have affordable options is a very weird strategy, my guy, but if shit goes south I'm sure it's probably a pretty solid business move.
Reverse: NASCAR, 71 Years, Baby
Neutral: Driving Foreign

Between tariffs and Brexit, it looks like a lot of cars coming from across the pond might soon be more expensive. Is that gonna put you off from your favorite European brands? Or will the forces-that-be pry your Euro wagon from your cold dead hands?