Donald Trump, a big boy known to like big toys, mentioned that he'd love to get into Martin Truex Jr.'s NASCAR race car and drive it away. This, of course, is a pretty natural reaction to a loud stock car. We as a country should indulge this, as it would be an invaluable learning experience for Trump.

Trump gestured towards 2017 NASCAR Cup champion Truex's car at an event honoring Truex at the White House, telling the crowd (as quoted by Politico):

I have to say your car looks truly amazing. In fact, I want to get in that thing and just drive it right away. Do you mind? But it is — it's beautiful. It's incredible.
I'm for this! Come on, NASCAR. You're his favorite sport nowadays anyway. Trump's good friend Vladimir Putin got to drive a race car. What, are you gonna keep Trump out of it? He's gonna look bad.
Truex even gave Trump a helmet at the event. Make that happen at speed. Give him his own empty track to try it out as fast as he'd like to go. Real fast. Real, real fast.

G/O Media may get a commission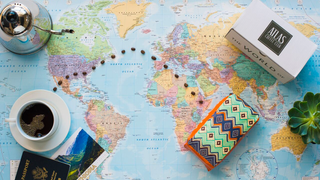 First Bag Free
Atlas Coffee Club - Free Coffee
Explore global coffee
With each bag, Atlas includes details on the coffee's tasting notes and a postcard about the region and its coffee history. And when you subscribe, you have options to tailor frequency, grind size, and roast preference of your beans, so you'll always be brewing the perfect cup.
It would be a tremendous opportunity for Trump! You see, race cars have something Trump has rarely encountered in his personal life: consequences.

Race cars do not care that you were born into considerable privilege, or that you were allowed to fail upwards all the way into the White House. They do not care about your gender, race, sexual orientation, hairstyle or favorite order at KFC.
If you don't listen to the instruction of well-meaning handlers with prior racing experience, don't follow the directions or otherwise get it wrong, you will lose control of the car and then you're looking at a crash.
Fortunately for those of you who aren't big fans of Mike Pence, race cars are pretty safe nowadays. The worst that would probably happen at track novice speeds would be a good slice of humble pie—likely caught on film.

If anyone could use some humble pie, it's the guy sitting in the White House. You owe this to America, NASCAR. Put the president in a race car.