The Morning Shift
All your daily car news in one convenient place. Isn't your time more important?
Good morning! Welcome to The Morning Shift, your roundup of the auto news you crave, all in one place every weekday morning. Here are the important stories you need to know.

1st Gear: Trade Tension
This weekend's G7 summit between leaders from the U.S., Canada, Italy, France, Great Britain, Germany and Canada didn't end on a great note, after President Donald Trump refused to sign the group's communique and saying he felt slighted by Canadian Prime Minister Justin Trudeau's comments on U.S. trade tariffs. Trump is mad at Canada's tariffs on U.S. dairy products, and one response is a U.S. tariff on steel and aluminum, which matters to you, Jalopnik reader, because critics fear it could raise the price of cars.
But as this trade war looks to escalate, now we have the U.S. threatening to put tariffs on cars themselves, Reuters reports:
Canada, Mexico and the EU also are moving ahead with their own levies on U.S. goods.

But tariffs on U.S. imports of cars and auto parts would devastate the Canadian auto industry, which is highly integrated with the U.S. sector. They could also damage Japan and Germany.

The Trump administration announced two weeks ago that it would investigate whether auto imports hurt U.S. national security, the first step toward tariffs similar to the ones he imposed on steel and aluminum imports last week.

Earlier on Saturday, Trump told reporters it would be "very easy" to make the case for tariffs on auto imports using the rationale that they threaten national security.

"It's economic. It's the balance sheet. To have a great military, you need a great balance sheet," he said.
G/O Media may get a commission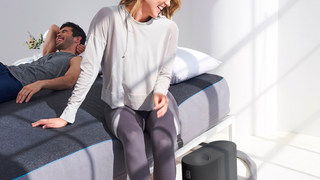 Eight Sleep Pod Cover
Here's the relevant tweet:

The Trump administration has claimed that the rest of the world's trade policies are wildly unfair, even as foreign automakers have tons of plants in the United States. For the counterpoint, here's Peter Navarro, assistant to the president for trade and manufacturing policy, in the New York Times:
Consider Germany, with which the United States had a trade deficit in goods of about $64 billion in 2017. While the United States tariff on cars made in Germany and elsewhere in the European Union is 2.5 percent, the European Union tariff is four times as high, at 10 percent. No wonder Germany sells us three cars for every one we export to Germany.

Even when Germany's automakers build facilities in the United States, these so-called factories are more like assembly plants. S.U.V.s in the BMW X series that are assembled in the United States actually contain only 25 percent to 35 percent American-built content — the high-value engines and transmissions are manufactured in Germany and Austria.
I suppose I'd argue that America's not really building cars the Europeans (or the Japanese) want to buy en masse, nor have we ever, and that those BMW jobs in South Carolina are still American jobs.
Such tariffs would hurt both allies of the United States and also our own economy, as those additional costs would only get passed onto us, the consumers. Fun times.

2nd Gear: A Quick Skip From The U.S. To Europe
China, meanwhile is dealing with the trade tensions in another (and sort of predictable) way: Its investors are "pouring money" into Europe instead of here. That's neat.
In particular, mandates from Chinese clients to invest in the European auto industry are on the rise, while mandates to invest in the American auto industry are dropping, according to Reuters, which spoke to over a dozen bankers, lawyers and consultants.
From the story:
Thirteen of the 17 bankers, lawyers and consultants interviewed by Reuters, based in Europe, the United States or China, said their Chinese clients were increasingly choosing Europe over the United States because of growing difficulties with CFIUS.

The United States accounted for 26 percent of the total number of Chinese deals in either of the markets in the first five months of this year, according to the figures from Thomson Reuters and research group Dealroom. That is down from 31 percent in the same periods of 2017 and 2016.
Allegedly, at the heart of this trade dispute are U.S. claims that China stole American intellectual property. Investments in the auto industry and its technologies, which include electric and autonomous cars, AI and robots, have been scrutinized more closely than before, the outlet reports.
As always, this isn't personal. It's just business.
3rd Gear: Loans, Loans, Loans
As you might already know, the auto loans situation in this country is miserable. There are people taking out 84-month loans. There are people taking out 96-month loans. This trend doesn't seem to be stopping anytime soon, either.
Banks and other lenders are working on loan terms in order to make them more attractive to more people, reports the Wall Street Journal. Loans now have repayment periods of over five years and extend to "consumers who are stretching further to afford their purchases." Also, banks like TD Bank, Santander said that they are taking on riskier applicants.
This, as the WSJ points out, is bad.

Their moves come at an unsettled time for auto lending. Sales growth has been choppy and missed payments are up from a year ago. Also, used-car prices are under pressure, raising the risk of higher losses for lenders when vehicles are repossessed. Faced with these headwinds, many lenders shunned applicants with low credit scores and have been looking for ways to make up the lost volume.

The latest underwriting efforts show that lenders, faced with conflicting signals about the health of the U.S. consumer, are engaged in a delicate balancing act to boost lending and profit without taking on overly risky customers. Though unemployment has reached an 18-year low and wages are creeping higher, some households are sliding deeper into debt and falling behind on their credit cards and other debt payments.
By the way, as we reported last July, subprime auto loans are heading in the way of the housing crisis and that Americans now owe over a trillion dollars in car loans.
But, by all means, keep extending loan terms and offering more loans in general. It doesn't help that cars are getting more and more expensive, either. We live in hell.
4th Gear: Nickel Fever
As production (and anticipated production) of electric cars ramps up, so has the demand for nickel. Which is weird because nickel used to be one of the least desired commodities.
This sudden fervor for nickel is due to the anticipated explosion of electric car production, reports the Wall Street Journal. Even though only a fraction of nickel production goes toward batters (about three percent) currently, those in the industry are hoarding the metal because they estimate an eventual shortage.
It also goes to show how much everyone is betting on and investing in the electric car future. If tomorrow we wake up and nickel is no longer the best battery material, all that means is that investors and companies will put their money elsewhere.
Are people getting ahead of themselves? Maybe.
Some analysts aren't sure nickel can continue its hot run, noting that the market for electric-car metals is vulnerable to rapid price moves. Rallies in other battery metals like lithium and cobalt have paused recently. While the nickel market is much larger, some caution that prices may have gotten ahead of themselves.

"It's not the actual demand that's moving prices—it's more sentiment," Mr. Bhar said.

Heavy supply of stainless steel in China could also reverse the rally.
But that is the nature of things.
5th Gear: Defeat Devices Discovered In Daimler Diesels
Welp.
The German road vehicle authority KBA sound five "illegal switch-off devices" in Daimler car engines, according to Reuters, citing German newspaper Bild am Sonntag. From the story:
The authority said it suspected the emissions control devices were being used in the bulk of Daimler's new Euro 6 diesel car fleet, encompassing some 1 million vehicles, according to the report.
A Daimer spokesperson told Reuters that the company has no comment on the Bild story and that it is fully cooperating with the authorities.
After the Dieselgate scandal broke in 2015, diesel technology has faced incredible amounts of scrutiny, as it should. And despite investing billions of euros in diesels, German automakers are facing intense backlash against the tech.
There's also talk about a possible diesel ban in Germany, where it can decide whether cities can ban heavily polluting cars. Similar regulations have been discussed in Paris, Mexico City, Madrid and Athens.
Diesel is dead, guys.
Reverse: NRVOUS
Neutral: Is Trade Unfair?
Does the Trump administration have a solid point here, or is it not worth blowing up everything we have?