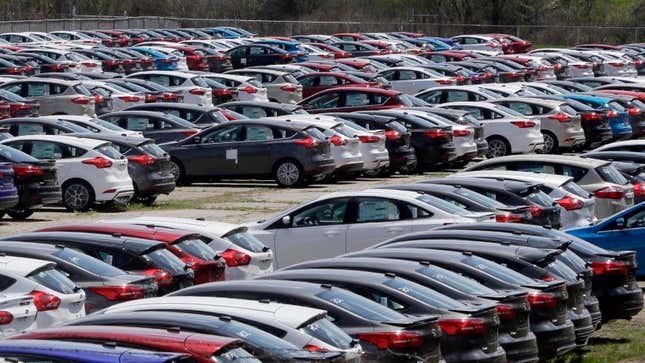 To be honest, I didn't realize this was a record-setting number last month when I reported on the impact of subprime auto lending in the U.S. ever since the economic crisis of the late-2000s. But a new report confirms as much: Americans owe $1.1 trillion in auto loans, a new record, according to Automotive News.
This NYC Garage Takes Vanlife To The Next Level | Jalopnik Visits
The latest State of the Automotive Finance Market report from analyst Experian said the increase was due primarily to prime buyers—consumers with solid credit scores—while subprime and deep subprime buyers slightly dropped.
Still, the astronomical debt is the other side of the coin when it comes to cheerleading headlines about record new and used car sales.
Here's more from Automotive News:
Total subprime loan and lease originations dipped to 18.4 percent of the market, from 19.3 percent in the year-earlier quarter. Deep subprime origination share also fell slightly to 3.45 percent, vs. 3.54 percent a year earlier.

Prime and superprime share, on the other hand, grew from year-earlier levels. Superprime loan and lease originations made up 19.1 percent of the market, up from 17.9 percent. Prime loan and lease originations dominated the market with a 39.4 percent share, vs. 39.0 percent a year earlier.
The number could be a tad higher; data from the Federal Reserve Bank of New York shows that, as of 2017's second quarter, consumers owe $1.19 trillion in outstanding auto debt.
Ever since the economy collapsed in 2008, the total volume of subprime auto loans increased year-over-year, as more buyers took on loans with extremely high interest rates, sometimes as high as 29 percent. The level of auto loan fraud has also increased to a high that hasn't been seen since the mid-2000s.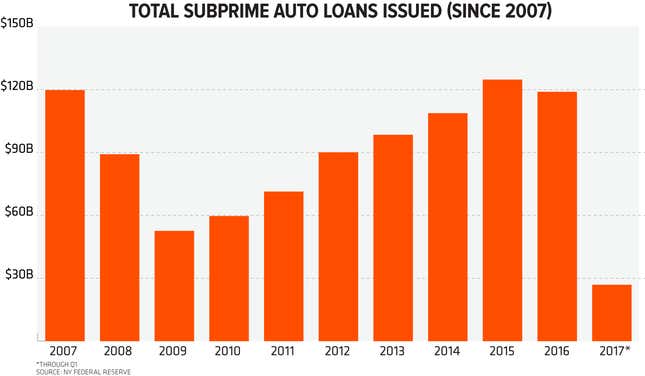 Starting this year, lenders decided to ease up on subprime loans as more borrowers fell behind on their payments and defaults increased. Indeed, the Experian report showed the 60-day delinquency rate increased over the last year from 0.62 to 0.67 percent.

While subprime lending might've dropped a smidgen, loans with terms that last 85-96 months have increased, up from 1.25 percent to 0.95 percent a year earlier. In the used market, 73-84 month loans jumped to 17.7 percent, up from 16.1 percent a year ago, according to Automotive News.
All in all, it amounts to an unbecoming scenario for the auto industry: after record sales that were achieved thanks to a jump in subprime auto loans, Americans have set a record for outstanding auto debt.
This is fine. Everything is fine.