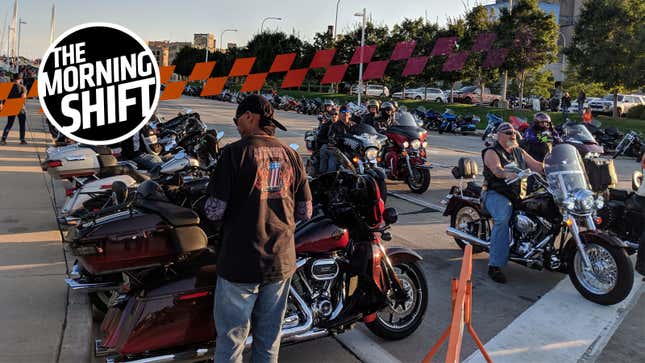 Tesla's got the chips, Uber is getting beaten by an Estonian startup, and Porsche is leaning in on tech from China. All that and so much more for The Morning Shift of Tuesday, April 23, 2019.
1st Gear: Trump Tries To Claim He's On Harley's Side After Trashing It For Months, Harley Still Boned
Please take a look at this tweet from President Donald Trump, which gets wilder the more you think about it:

If you haven't been following, Trump's trade wars have been screwing up Harley all kinds, with executives claiming tariffs have cost the company between $100 and $120 million, as Bloomberg reports.
Now Trump is trying to present himself as the company's defender. What's sad is that Harley is still suffering, per a Bloomberg wire report. Profits are down, but they were less bad than analysts expected, which is "good news" in Bloomberg-speak:

Harley-Davidson Inc. said profit slumped less than analysts expected even as tariffs that Europe implemented in retaliation to President Donald Trump's levies on steel and aluminum raised costs.

[...] Rather than attack Harley, as he did throughout 2018, Trump aimed his ire at the EU shortly after the Milwaukee-based company reported earnings Tuesday. In a tweet, the president called the bloc's tariffs "so unfair" to the U.S. and threatened retaliation.

Trump's post was an about-face from last June, when he accused Harley of using tariffs as an excuse to ship American jobs overseas. In August, he said he'd support a boycott of the company's bikes.
Harley needs all the good luck it can get, as it tries to get in on EV bikes, overseas production, all with the never-ending help of the Commander in Chief.
2nd Gear: Musk: Tesla Has The Best Chips, You Hear It More And More
Yesterday's big news on Tesla was one of its cars appearing to explode in a parking garage in the same city it plans to open up its third Gigafactory... I mean Musk announcing yet another wild promise for autonomy while we still wait for his last (rather overdue) one to come true.
That would be driving across the country with no human inside, which was supposed to happen in 2017, then 2018.
But that's old drama! Who cares. New shit. Chips, man.
The strict news is that Tesla has dropped Nvidia and has claimed to have developed its own chip that will take it to the next great era of autonomous driving, as a Bloomberg wire report elaborates:
"At first it seems improbable — how could it be that Tesla, who has never designed a chip before — would design the best chip in the world?" the chief executive officer said Monday at an investor day focused on autonomous driving. "But that is objectively what has occurred. Not best by a small margin, best by a huge margin. It's in the cars right now."

Musk, 47, delivered the braggadocio amid detailed presentations by members of Tesla's Autopilot engineering team, which has spent the last several years working furiously to meet the boss's aggressive timelines. His newest big prediction: that Tesla will have self-driving cars on the road next year — without humans inside — operating in a so-called robotaxi fleet.

Tesla switched over to its own chips and self-driving computer from Nvidia's for the Model S and Model X about a month ago, and for the Model 3 about 10 days ago, Musk told investors at Tesla's headquarters in Palo Alto, California. Samsung Electronics Co. will manufacture the chips in Austin, Texas, he said.
Bloomberg goes on to note that Nvidia claimed that Musk's claims about Tesla's new chip were overblown, but it's this Associated Press report that has the juiciest rebuttal:
"It's all hype," said Steven E. Shladover, a retired research engineer at the University of California, Berkeley who has been involved in efforts to create autonomous driving for 45 years. "The technology does not exist to do what he is claiming. He doesn't have it and neither does anybody else."

That's an outrageous claim. Tesla never overpromises its capabilities. It's always very clear.
3rd Gear: Uber Steadily Defeated By Startup Out Of Estonia
Here's a great read in the New York Times on Bolt, a startup based in Estonia launched by a 19-year-old college dropout six years ago that has steadily supplanted Uber in Europe and Africa:
TALLINN, Estonia — Uber used to dominate ride-hailing in Poland and Kenya. Over the past two years, that started to change.

In Poland, a small competitor opened a rival service and began winning customers with cheaper fares and attracting drivers by charging lower commissions. In Kenya, that same upstart grabbed business by offering motorbike rides and letting passengers pay using a popular mobile payments provider.

In both countries, Uber responded by spending more money on new incentives to entice customers and drivers.

The rival that put Uber on the defensive is called Bolt. Based in Estonia, it was founded six years ago by a 19-year-old college dropout, Markus Villig. Since then, the company has turned into an unexpected success story by becoming Uber's most formidable challenger in Europe and Africa.

"Transportation is a completely different space," Mr. Villig, now 25, said in an interview at Bolt's offices inside a former furniture warehouse in Estonia's capital. "You will have these regional champions." He added that Uber did not make Eastern Europe and Africa a priority because "they have bigger battles elsewhere."
It all goes to show that the reign of our current tech titans are much more fragile than they'd have us believe.
4th Gear: Porsche: Oh, You Think We Can Develop This Car In Germany Only? LOL
Speaking of locality, Porsche made the rounds today for pairing up with a number of local tech giants to fill out its cars with tech in the Chinese market, as Automotive News China reports:
Porsche is exploring joint projects with Chinese technology giants including Tencent Holdings, Alibaba Group Holding and Baidu Inc. to expand digital offerings in its largest market and bolster sales.

Country-specific features for voice recognition, navigation and integration of the ubiquitous WeChat messaging service will be developed locally, Porsche CEO Oliver Blume said in an interview in Shanghai. The manufacturer also signed an agreement to expand its research cooperation with Tongji University on Wednesday.

"We want to have the right partnerships in place in each individual region," Blume said. "It's a misconception to believe all this can be developed in Germany."
This is a much more realistic assessment of how the auto industry and the tech world are interacting in this day and age than what you hear coming out of Silicon Valley.
5th Gear: And Please Enjoy Some EV Startup Musical Chairs
This is a fun story for anyone who has spent a lot of time following different executives leave mainstream manufacturers for startups, remembering the big headhunting days of a few years back. Now we get to enjoy stories of various executives bouncing from startup to startup, as Auto News China explains:
Carsten Breitfeld, the founder of electric vehicle maker Byton, has left the startup for another fledgling Chinese EV maker, Iconiq Motors.

Breitfeld, who started Byton in 2016 and also was CEO, made his first appearance as Iconiq CEO during the company's press conference at the Shanghai auto show.

The same day, Byton issued a statement confirming Breitfeld's departure.

Daniel Kirchert, Byton co-founder and president, has assumed the CEO role.

Before creating Byton, Breitfeld led BMW's i series electric vehicle program in Germany.
I can no longer even pretend to keep any of these companies straight. I'm just going to stop paying attention until one of them puts cars on sale.
Reverse: I'm Gonna Be Honest, This Was Tight As Hell
Neutral: You're Running Harley. Now What?
You're walking your dog down the street, mentally lining up all the things you need to do today, and then in a brilliant flash of light you are transported to an office in Milwaukee. Your old life is gone. You now run Harley-Davidson.
How much stock do you put in Trump genuinely screwing up your business? Do you say to hell with it, and move all production within the United States? Would that even stem the tide of Trump pronouncements? How will you escape this hell you find yourself in—and if you do, will you ever see your family again?