An hour before midnight on New Year's Eve in 1985, a bunch of Harley executives sat in a room at a bank with two stacks of papers, one for bankruptcy and another for recapitalization, if their last gasp ask for fresh investment came in. They had given themselves until midnight to get new money or go bankrupt, and time was running out.
Many of the executives had, four years earlier, personally invested $1 million or more—while borrowing tens of millions more on top of that—to buy the company from the conglomerate AMF for $80 million and take it private. AMF itself had acquired the motorcycle manufacturer for $14 million in 1969 (about $100 million today) with a plan to expand production and squeeze out maximum profits. But a decade of labor trouble, declining build quality, and the dominance of Japanese motorcycles—Honda, in particular—had, by 1981, left Harley in dire straits.

It was kind of a miracle that Harley had lasted that long to begin with and, indeed, had almost done so by default. Such was the impact of 1969's Easy Rider that, without it, the company might not have existed much longer after, since, historically, motorcycle companies in the United States came and went at the ferocious whims of the marketplace. Consider that, after Indian closed its doors in 1958, Harley was the only American motorcycle manufacturer left, having succeeded where hundreds of competitors had tried and failed.
By that time, market forces were already working against them, since by the 1950s in the U.S., no one really needed a motorcycle. Unlike in Europe, Asia and Africa, motorcycles and scooters never really became a viable and large-scale means of transportation—especially in urban areas—here in America. Besides, cars were getting safer and cheaper, and bikes had already become, in the public's mind, tools of outlaws, thanks in part to 1953's The Wild One and the (often overhyped) emergence of motorcycle gangs.
And while that image has changed, motorcycles have remained hobbies for decades, the province of the weekend rider who has some money to burn.
"We're in the fashion business," Willie Davidson, the grandson of Harley co-founder William A. Davidson told People in 1981. "No one needs a motorcycle. It's your toy or hobby. It has to do something for your ego."
Harley has found, time and time again, however, that appealing to hobbyists isn't always a great formula for business success. The '70s almost killed them, and the '80s were even less kind, though in that room at 11 p.m. on New Year's Eve in 1985, the Harley executives finally got a call. New investment had come through. The company would not go bankrupt. The executives in the room were jubilant, and, just seven months later, in July 1986, Harley went public.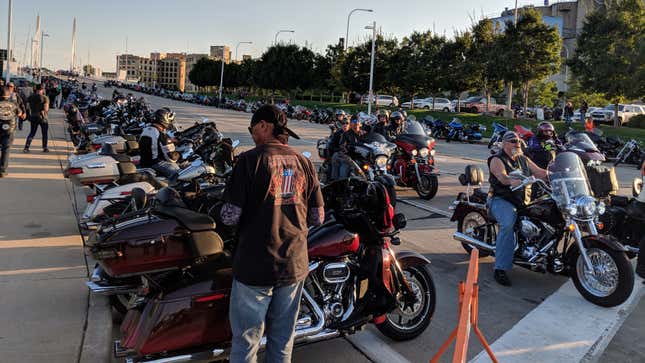 The good times were back on for the next 20 years until recently, when sales dropped for the first time in decades, President Donald Trump imposed a damaging trade war, and Harley's future began to look ever dimmer. It was a child of the 1900s, a warhorse of the 1940s, a Boomer icon of the 1960s, a lucrative source of nostalgia in the 1990s. Today, though, it's just another shrinking piece of Americana.

Harley sales in the U.S. peaked at over 260,000 motorcycles in 2006, but have dipped to 147,972 last year, a number that is the lowest since 2010 and, before that, the lowest since 1993. (Retail sales fell 13 percent in the U.S. in the third quarter of 2018 compared to 2017, Harley said late last month.)

Harley's longtime bread and butter has been Baby Boomers, those who grew up enamored with the outlaw image to the point that they were willing to spend $20,000 or more on the bikes and leather to live out that image. But the Boomers are getting older, increasingly physically unable to ride or dying out entirely. And Harley's response—an electric bike called the LiveWire set to debut next year—isn't so much of a Hail Mary as it is a capitulation. It also won't be nearly enough.
"I think they have to completely reinvent the brand, and I don't know if they can do it," Erik Gordon, an assistant professor at the University of Michigan's Ross School of Business, said. "The jokes are true. When I go down the freeway, I always look to see if this cliche about Harley riders is true. And the crazy thing is that it is true. I don't think I've seen anyone under 55.
"My generation viewed Harleys as American fast, loud, muscle. We liked that stuff," Gordon said. "[My students] view it as the tired old folks who screwed up America."
---
Harley's official history starts in 1903, though William S. Harley and Arthur Davidson, childhood friends, worked together before that on engines. It was in 1903 they produced their first prototype and two other motorcycles and the company was officially born. Their first dealer came the following year. In 1907, they incorporated; the first V-twin engine was also built that year, before disappearing and reappearing in 1911.

The business quickly expanded as competitors like Indian, Henderson, and Curtis rose and fell. By the late '10s and early '20s Harley was producing tens of thousands of motorcycles a year, aided by a dealer network that set them apart in the early days.
In 1925, the company built a motorcycle with styling in mind for the first time; eleven years after that came the Knucklehead engine, the V-twin look that still defines Harley today.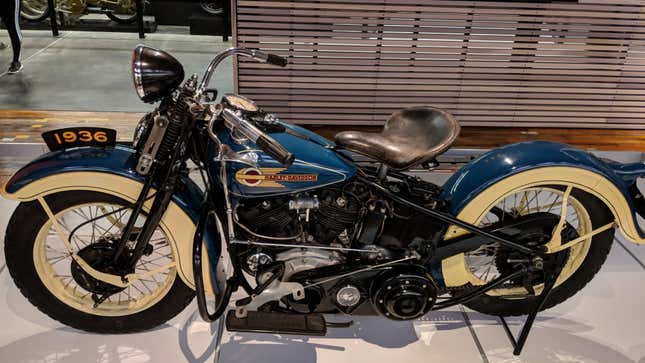 Up until then, motorcycles had primarily been marketed for their economy, as they were cheaper transportation options compared to cars. But during the Great Depression, partly in response to slowing sales, Harley began to market them for a different reason: leisure. The Depression had forced the company's hand in some regard, though, since it was cheaper to differentiate new bikes with styling than it was to dump money into development.
Harley also expanded its market by making motorcycles for a wide swath of government agencies, including the police and the U.S. Postal Service. (The notion that police bought motorcycles to be able to more easily catch up to speeders on the roads—something I've heard on and off for years—is a myth, a company archivist told me.)
By 1937, when William Davidson died, Harley was able to make a new motorcycle every five minutes, and sales in "all parts of the world," The New York Times reported then.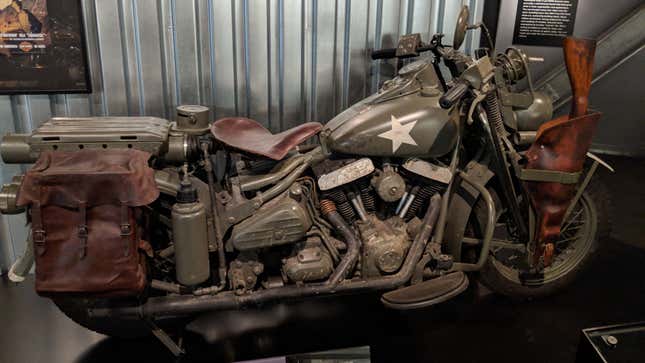 But it was World War II that gave the company its biggest boost, laying the seeds for a postwar boom. Harley made around 90,000 WLAs for American military forces in World War II, a modified model you probably saw Captain America riding.
After the war, motorcycle clubs proliferated because of veterans' experiences with them overseas and because so many of the WLAs were sold back to them on the cheap. The reputation of those clubs quickly took a hit, though, after an apparently staged photo appeared in Life magazine in 1947, showing a motorcyclist double-fisting beers while sitting on his ride surrounded by empties.
"They quickly tired of ordinary motorcycle thrills and turned to more exciting stunts," the magazine reported of the group in Hollister, California, which was said to be 4,000 strong. "Racing their vehicles down the main street and through traffic lights, they rammed into restaurants and bars, breaking furniture and mirrors."
The actual events of the so-called "Hollister riot" were more tame, but the sensationalized version is what America heard. The question of whether or not the reputation would stick was put to rest six years later after The Wild One, starring Marlon Brando, was released. Brando rode a Triumph in that film, but Harley was so dominant postwar that it was cited by the Federal Trade Commission for "monopolistic" behavior in 1949, by allegedly forcing dealers to exclusively trade in Harley bikes and parts. (A little less than three years later, the FTC told them in no uncertain terms to stop.)
That dominance wouldn't last long, though, and by the 1960s foreign bikes, especially Hondas, were selling better than ever. By 1965, according to The New York Times, motorcycle sales across the U.S. were on track to reach $200 million (or $1.6 billion today), with Honda the leading producer and Harley just behind. Two years later, nearly two million motorcycles were registered in the U.S., as motorcycling in the U.S. reached an early zenith.
The release of Easy Rider in 1969 inspired a whole new generation of Harley riders, but long term it would prove to be a false dawn.
---
When I got to Milwaukee last month for Harley's 115th anniversary celebration—a five-day extravaganza that amounts to a family-friendly rally—I wasn't sure quite what to expect.
These days, motorcycling remains a niche, even among car enthusiasts. Like most people in my generation, I don't ride, though my dad does, but my not riding was less about non-interest and more about practical concerns, since I've spent my adult life in states with four seasons and couldn't afford to be without transportation for months out of the year.
On paper, though, I should be squarely in Harley's sights: a moto-curious Millennial who recently got his permit from the New York DMV. I also grew up thinking Harley was cool, something about noise and stoicism and masculinity summed up by the scene in Pulp Fiction where Bruce Willis explains it isn't a motorcycle, "It's a chopper, baby."
As I grew older, my notions of what is cool vastly changed, though the broader culture of Harley never stopped fascinating me, a contradictory culture fully on display in Milwaukee. There were Trump supporters who disagree with him when it comes to tariffs and trade; ostentatious drinking and ostentatious shows of religion; and a lot of leather, tattoos, and cussin' in a crowd that skewed upper-middle class.
Harley might have represented some kind of counterculture in the 1950s and 1960s, but Harley in 2018 is a commodified version of that culture, one of the biggest dangers being how quickly you can empty your bank account buying Harley merch. Everyone has something—a jacket, jeans, face mask, or belt, say, though the accessories are almost endless, a lucrative sideline for the company that's happy to indulge Baby Boomers' nostalgia.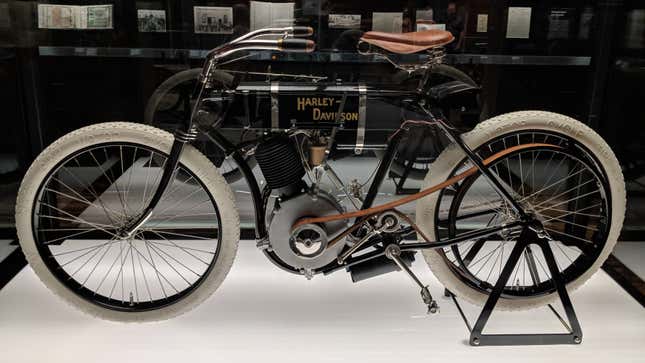 "Harley riders have a romance with Harley," Harley rider Tony Crook, 67, of Memphis, told me in Milwaukee. "It's more than just riding a motorcycle. For some, if there wasn't Harley, they might not even ride."
We all have expensive diversions that we don't need, like golfing or buying Apple products or whatever else it is you people spend your money on. Buying a Harley is no different, even if it's louder and more expensive than other toys. The kind of person who can afford to dump thousands of dollars into their hobby is Harley's key demographic, the kind of person who showed up in droves in Milwaukee, and the kind of person who in 2018 is unlikely to start a riot in Hollister, California.
Crook, a retired procurement professional, typified the crowd.
"Like a lot of Harley riders, you might ride early when you're in your teens, your twenties, which was me, but then family comes along, life comes along and, so you have to raise kids, put them through school, and then you reach a point in your life where, hey, I got some time on my hands," he said. "So you rekindle that romance."
The problem is that, increasingly, there aren't enough people around to rekindle the love.
---
The period of AMF's ownership, from 1969 to 1981, probably would've killed any other company. The distant corporation allowed labor problems to fester such that by the end, absenteeism soared and build quality tanked. Sales were strong throughout the 1970s, but by 1980 half of all the motorcycles coming off the line had defects. Harley's reputation among riders also couldn't have been worse; the bikes were now somehow expensive and poorly-constructed.
On top of that, the American market had been for years trending towards smaller motorcycles built by Japanese brands like Honda and Kawasaki, both of which were selling motorcycles here for less than they did in Japan, in a bid to increase market share. They were cheap, tough, easy to fix and more reliable than their American (and British) competitors, and eventually offered performance that went beyond just the leather-clad rumble buggy image.
By 1982, a year after the company went private again, Harley had reached a nadir, laying off hundreds of workers amid slowing sales and a nationwide recession. Fearing the worst, Harley lobbied for—and received— tariffs imposed on the Japanese manufacturers thanks to the Reagan administration. Taking effect in early 1983 and scheduled to wind down over five years, the tariff was initially 49.4 percent on imported heavy bikes. It was, at the very least, a chance for Harley to catch its breath.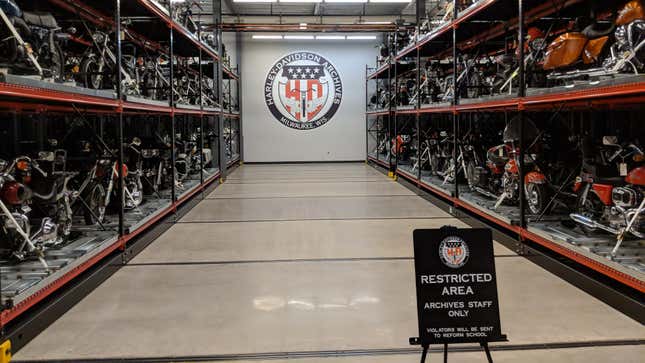 Indeed, finally things seemed to be looking up; later that year, the California Highway Patrol said they would be switching back to Harley from Kawasaki, with the tariffs tipping the balance. The symbolism at the time was potent, since 94 percent of motorcycles sold in the U.S. at the time were Japanese.
Ad campaigns, meanwhile, tried to rehabilitate the image of Harley riders, with one ad claiming that Harley riders had "more responsible job[s] than the owners of any Japanese motorcycle," an unintentional self-own that also acknowledged the Japanese manufacturers had captured the youth market.

The company also rebuilt its relationship with its employees, and put a new emphasis on quality. Harley's '70s bikes were leaky and vibrated so much that they were uncomfortable to ride. By the mid-'80s, those problems were gone.
"It's amazing, the difference," Michael "Irish" O'Farrell, president of the Hell's Angels chapter in Oakland, California, told The New York Times in October 1985. "They don't beat you to death any more, and your kidneys are still intact."
By March 1987, Harley's turnaround was such that it asked the federal government to end the tariffs before their planned phase out. The tariffs had helped Harley get back on its feet, though they did not come without some unintended consequences, as the gulf between high-priced Harley and cheaper Japanese crotch rockets had only widened, which meant that consumers who might have in the old days graduated to a more expensive Harley found themselves priced out.
Harley's competitors, meanwhile, had been finding new ways to eat away at the business, in particular with the Honda Gold Wing, first manufactured in Marysville, Ohio, in 1980. The Gold Wing was something the U.S. hadn't seen before: a luxury touring motorcycle, a bike that was (almost) as comfortable as a car.
Still, Harley was profitable again by the early '90s, with the company trying to find new markets overseas as its customers in the U.S. aged. The company in the meantime had become more conservative with production, a deliberate strategy to introduce scarcity to the market.
If you wanted to buy a brand-new Harley in 1993, for example, you could expect to wait three or four months for it to finally be delivered, still the case five years later, when Harley opened its Kansas City plant to increase output to a planned 210,000 motorcycles a year, as motorcycle sales rose again. Harley's customer base still wasn't getting younger though.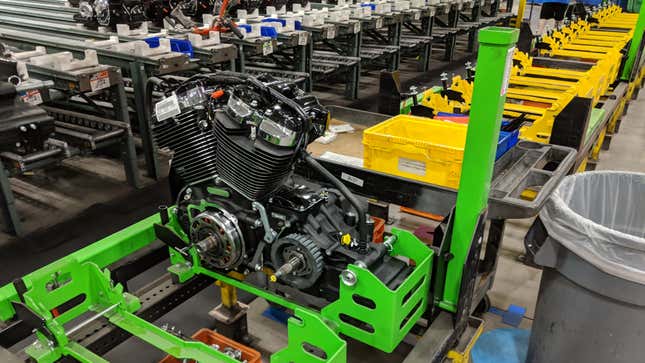 From The New York Times, in 2002:

An increasing number of buyers in their 40's and 50's have raised the average age of a new-motorcycle buyer to 38, from 32 in 1990 and just 24 in 1980, according to the Motorcycle Industry Council in Irvine, Calif. At Harley-Davidson Inc., the legendary Milwaukee manufacturer known for its premium bikes, the average age is even higher, 45, and the average owner's income is $78,300, well above the $44,000 for all owners of street bikes.
Motorcycle sales saw an upward tick in the aughts, as Boomers got older and many, now with empty nests, sought to get back into a hobby that they had abandoned in their youth.
And price-wise, those bikes were definitely aimed their way. The cheapest Harleys start at $6,899 for a stripped-down "street" bike that's aimed at young people. If you want a more traditional Harley, you'd probably opt for one of the Softail or touring models, which range in cost from $14,549 to $40,000 or more. That is about the price range of new Hondas, the difference being the sheer variety (dozens!) of bikes in the low-end of that range that Honda sells, whereas Harley has just six motorcycles that start at under $10,000.
Its efforts to reach out to women and youth have also fallen flat, most notably with its investment in American sport motorcycle company Buell in 1993. But Harley was never really committed to Buell, stopping production of the nameplate in 2009 amid fallout from the Great Recession and a CEO who was uninterested in the brand.
Financially speaking, though, none of this hurt the company until recently. The company posted $104 million in net income in 1994 after losing $11 million the prior year. Their profits only increased from there, reaching over $1 billion in 2006, as Baby Boomers reached middle age. Sales declines during the Great Recession in the late aughts led the company to slash 1,800 jobs, but in 2015 profits were back up to $1.1 billion. That profit, though, hid some troubling underlying numbers, as revenue at Harley has fallen for the past four years, with fewer and fewer people buying Harleys.

It is not time to panic for Harley, though that time isn't far off.

---
Last year, Harley executives met with President Trump for a photo op and to help push the administration's "America First" agenda. An iconic American company whose customers tend to support the president, Harley and Trump made sense optically, and for awhile the two got along well, with the Trump administration deciding to reduce millions in penalties last year imposed by the Obama administration for devices that allowed the emissions controls on Harleys to be shut off.
This made it all the more surprising when that relationship spectacularly blew up, after Trump's trade war led the European Union to impose tariffs on Harleys imported there, and Harley said it would move some production to Europe as a result. That led Trump to endorse a Harley boycott on Twitter in the run up to the 115th anniversary party, an uncomfortable spectacle for Harley executives but not one riders I spoke to took particularly seriously.
"Hell, no," Larry Allen, 66, a Trump supporter, told me in Milwaukee. "Asking riders to boycott Harley was just foolish. When he opens his mouth I go, 'What the hell are you thinking?' sometimes.
"He doesn't really understand the situation," Allen added. "Harley's been making stuff overseas for awhile. And they gotta be competitive. The Harley following is still there... Obviously us old guys are kinda dying out."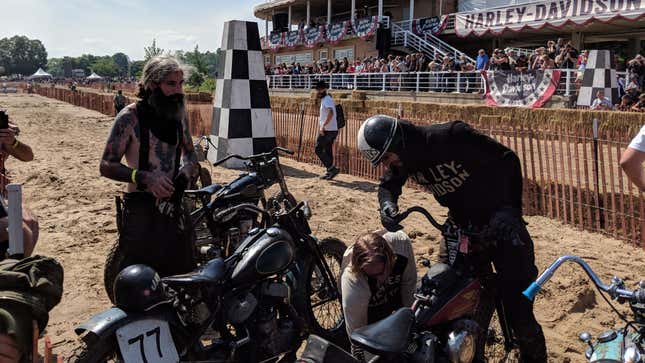 That relationship, though, was probably doomed to fail from the start. Days before the Harley White House visit, for example, Trump had withdrawn from the Trans-Pacific Partnership, which would've removed some tariffs between the United States and a host of Asian countries, and which Harley had supported. Instead, Harley opted to build a plant in Thailand to supply the growing Asian market, the company said in April; two months after that Trump fired his first broadside at Harley on Twitter, admonishing the company for waving "the White Flag."

These days, Harley executives sound they like they just wish it would all go away.
"Obviously, we would like nothing more than to build every motorcycle in the United States," Marc McAllister, vice president for international markets, said. "As a business, we have to make tough choices."
Go away it eventually did, and by November Trump had moved on, though the whole episode did speak to a key part of Harley's survival strategy, which is growth in international markets, where the Harley brand remains strong.
I was a little skeptical just how strong until I saw how many riders had come in for the 115th anniversary, thousands of riders from Brazil and Poland and Malaysia and too many other countries to mention.
"It's very nice to be here with these very nice people, among the bikes," Kenneth Karlson, of Öckerö, Sweden—outside of Gothenburg—said.
Karlson owns 11 Harleys, a habit that started in 1994 after his wife bought one.
"It's the soul," Karlson said. "It's an old tradition. You love it. If you must explain, they don't understand."
---
With some fanfare, Harley unveiled its electric bike concept a few years ago, taking a prototype on a cross country tour and letting people test-ride it, as a trial balloon. The electric bike they put into production (and will debut next year) looks and operates very much like that prototype. Which is to say very much like Harley's gasoline-powered motorcycles, with a twist-and-go throttle but no gears to speak of. Harley has spent the time in between the prototype and the launch of its first electric bike—dubbed the LiveWire—prepping its customers to a painful degree.

"An authentic Harley-Davidson expression of individuality, iconic style and performance that just happens to be electric," text read on Harley's website in the build-up. It's electric, Harley's saying, not that there's anything wrong with that.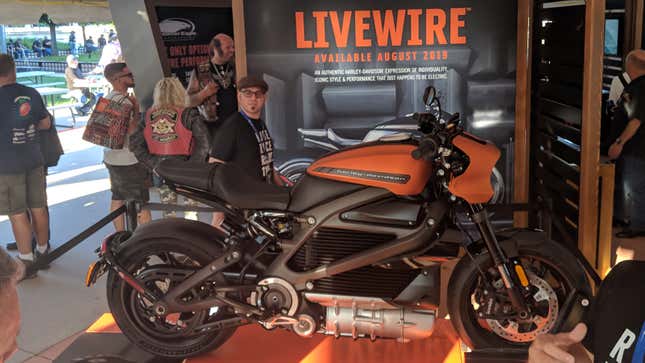 The LiveWire will debut in a market—high-powered electric motorcycles—that essentially doesn't exist yet, with fewer than 1,000 such motorcycles sold in 2017 in the U.S. and Europe, according to Cycle World. Part of the problem is inherent in the design.
Motorcycles lack much in the way of aerodynamics, meaning that sustained acceleration over 30 mph gets exponentially more taxing on the battery in ways that don't exist on cars. That partly explains why electric motorcycles that people actually use up until now have been low-speed and low-power affairs, since aerodynamics don't matter so much when you're going 20 mph, and battery life is correspondingly longer.
Further, riding an electric motorcycle is a fundamentally different experience than a gasoline-powered bike, as we discovered a few years ago, since the instant torque of electric power changes the ride dynamics, and not necessarily for the better. Electric motorcycles can also be on the heavy side, owing to the battery, though Harley hasn't said how much the LiveWire will weigh. Chargers, meanwhile, will be set up at Harley dealers nationwide, though charging remains its own issue for electric vehicles.
All of this means that the LiveWire is already facing significant headwinds before its launch, with a range that will likely be unimpressive, even more so on the highway. In August, Cycle World crunched some of the numbers:
The original LiveWire battery was estimated to have about 1/10 the energy capacity of the Tesla battery, which suggests a freeway range of less than 40 miles. Harley has almost certainly done a lot of work on the LiveWire since 2014, but even if its battery comes in much larger at 20 kWh and 210 pounds, which would make it state-of-the-art, the highway range of the LiveWire is unlikely to be much more than 100 miles, at least at 75 mph. Heaven help you if you cruise at 90 mph, as that would cut range by another 30 percent.
Still, there's bullishness within the company about what the new motorcycle represents.
"We will win," Dave Cotteleer, vice president for the U.S. market, said. "There have been literally hundreds of motorcycle companies in the United States that have come and gone and yet Harley-Davidson continues to thrive and survive."
Harley does have lightweight electric motorcycles in the works, though a mid-weight electric motorcycle isn't expected until 2021, and lightweight electrics in 2022 at the earliest. Which is good and well, but may be too little too late.
"I think the company has no future unless they do something really dramatic," Gordon, the Michigan business professor, said, adding that the company needs a machine that is "so cool nobody knows it's a Harley."
In other words, Gordon says, the company has to look beyond the leather and muscle stuff and really think outside the box if it is to survive. A scooter, or a moped, or some other smaller electric that might not necessarily require a special license endorsement. Or, even if they do, Harley should think about making a lighter-weight electric motorcycle that doesn't copy the same styling Harley has made for nearly a century.
The company knows this to a degree, and has released images of electric concepts that resemble, well, bicycles. Which is more along the lines of what the company needs: a genuine alternative to its past.

---
Back in Milwaukee, a rep told me conspiratorially that I might get to hear and see the new LiveWire in the anniversary-capping parade. And so I went, assuming that Harley would showcase it in some fashion, maybe with a banner or something. And then the parade started with a line of motorcycle police, who were followed by thousands of riders, and it became clear that this was less a parade than the longest procession of motorcycles I had ever seen. I would be lucky to spot any particular motorcycle here as they whooshed by, let alone the one that I'd been promised.

But at one point, after shooting some photos, I looked up. The parade had temporarily halted for some reason, and directly in front of me was the LiveWire. I scrambled to shoot some video of it, while trying to listen to its sound as the parade restarted itself.
No one else around me took any particular notice. Here was Harley's future, hidden in plain sight and ignored by most everyone. Whatever sound the LiveWire made was lost in the roar of the V-twins.