"Transformers: Age Of Extinction" will likely beat "Roger & Me" as the most GM movie ever made. With an onslaught of product placement, scenes shot at actual GM workplaces and employees making cameos, it seems designed to help get the troubled automaker some temporary goodwill as it slogs through an inescapable public crisis.
Fifty GM employees will be seen as extras in the new "Transformers" movie, with its head of global design in a speaking role. Several of the scenes were filmed at GM's design center — transformed into a fictional CIA nerve center — in suburban Detroit. And of course, there are the cars.
GM invited a few reporters up to its design center in Warren to talk about the automaker's influence on the franchise and how it's benefitted them in return. In short, the films help get GM a ton of business in overseas markets and appeal to younger buyers in the States, so there will be tons and tons of GM product throughout the film.
And while all of this has been in the works for a while and much of the groundwork precedes the current recall crisis, it is a convenient opportunity to display the kind of products that the company is proud of and not the ones people fear will kill them. Although, maybe a bunch of GM cars crashing doesn't send exactly the right message.
G/O Media may get a commission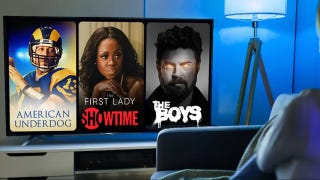 UNDER $1
99¢ Prime Video Channels
You've seen a Malibu split in half, some of the new Trax and the new Bumblebee. The full list of GM product featured in "Transformers 4: Age of Extinction" includes those, the Cadillac Ciel concept, a Chevy Sonic rally car, a Cadillac XTS, a Cadillac Escalade and the Corvette Stingray.
Director Michael Bay originally envisioned a 'Vette Z06 Autobot when putting together the fourth "Transformers." He'd seen some early sketches, designers said, and pushed for GM to put it into production ahead of the film. But GM stuck to their original plan of parsing out the Z06 release, leaving Bay to settle for the Stingray.
For Bumblebee, designers wanted to take the current Camaro and make it "more muscular" for the film and "take you on a journey through the movie," says senior creative designer Jelani Aliyu.
It's unlikely any of Bumblebee's design quirks will make it over to a production Camaro. But the Camaro's presence in the films over the years has put Chevy on the map in China. "China is a market that is changing rapidly," Ed Welburn, GM's VP of Global Design, tells me. "Prior to the movie, there wasn't a lot of interest in Camaro there."
So why Trax? A mini SUV doesn't quite line up with the Camaro, Corvette and Ciel. Because GM wants you to buy it. It's a global vehicle for the company, and GM knows plenty of younger buyers will be in theaters this summer. "We really want the brand to attract a younger audience," Welburn says. (The average Chevy buyer is 52.)
Reporters have often been invited to events at GM's tech center, but usually the design center is off limits. (While walking through there today, I saw a large SUV under wraps that I wasn't supposed to see and a clay model of some kind of GMC. Whoops!) So we got to see Welburn's office as well as a few other places in the studio.
Bay thought so highly of GM's design digs (picture mid-century modern with lots of wood and Eames furniture) that he decided to film some of the movie on site. The design center will act as CIA headquarters — there's a large dome on the campus that will represent that in the film — and you'll see actual GM employees in the mix, including Welburn himself.
Welburn had a tiny cameo as a mechanic in the third "Transformers," but now he is "head of design for the Autobots" in the film, where he'll deliver a few angry lines toward Mark Wahlberg.
"It was a fun thing to do, it was a cool thing to do. I can't believe I actually did it," Welburn, who's a bit more soft-spoken than his on-screen character, says.