For the past few months, the top hypercar manufacturers and the FIA have been in talks to decide what the top class of sports car racing will look like at the 24 Hours of Le Mans and beyond. Their conclusion is to have a new level of freedom for hypercar design for LMP1 prototypes.
This is not a bad thing. For years now, prototypes have struggled to look anything like, you know, cars. Today's top LMP1 contenders look like indistinguishable insectoid streamliners, not like any one manufacturer's cars.

(We're lucky to even be able to pluralize the term 'LMP1 contenders.' As of last year, the only major carmaker competing has been Toyota as rival after rival dropped out.)
G/O Media may get a commission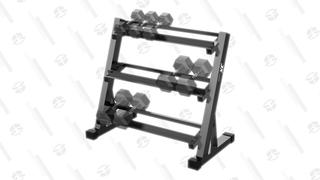 20% Off
JX Fitness Dumbbell Rack
Gains but tidy
Has a three-tier design to help store more weights more conveniently, can safely support up to 1000lbs of weight, which should be enough for most people, has a triangle base for stability, and also features anti-scratch feet which is great if you've built your own studio or workout in your garage.
In the last year of Porsche vs Toyota, for instance, both cars looked and sounded nearly identical, even down to the paint jobs.
Everyone knew that something needed to be done or LMP1 would price itself out of existence, and that something was... oddly ambiguous.
It seemed like there were two paths: either today's crop of superfast road-going hypercars would be all lumped into one racing class for competition, or a new batch of pure prototypes would be commissioned that had road car looks alone.
What we got from the FIA today, following one of the international racing regulatory body's World Motor Sport Council meetings, is annoyingly vague:
A summary of the ongoing discussions regarding the 2020 Technical Regulations for the highest category of FIA WEC was presented as follows:

Targeted budget of one quarter of current LMP1 budgets.
Freedom of design for brands based on a 'Hypercar' concept.
The FIA also said it's working to promote more female drivers and it will tell us more a week before Le Mans, which is next weekend. That's all.
There is no mention of homologation specials that made GT1 so great in the 1990s. Is "freedom of design" a question of engineering or is it styling alone? Unclear.
Worse still, we've got some ambiguity from the car companies themselves. At the table in these discussions were Toyota, McLaren, Aston Martin, Ferrari and Ford, as Motorsport.com reports. The most recent of those companies to show off a hypercar was Toyota's racing Team Gazoo, which showed the GR Super Sport Concept at the start of this year. It's basically a 1,000 horsepower prototype, pure and simple. But Toyota says it would be road legal.
What I really care about is if these vehicles will be seen outside Monaco cafes just as often as on the Circuit de la Sarthe. There's no clear answer for that yet.
Jalopnik has reached out to manufacturers involved in these discussions for clarification, and will update if we get anything back.
Now, Motorsport.com says that this will fall more on the 'looks' side than anything else:
The rules, which have the working title of 'GTP', will allow for manufacturers to give their prototype machinery the look of one of their road-going sportscars.

The intent of the new rulebook will be to maintain the current level of performance, but at a substantially reduced cost.

There will be a lower level of hybrid technology allowed and it is expected that manufacturers will be able to chose to a spec energy-retrieval system rather than developing their own.

Now, were the final days of GT1 really that different? Not really. The final "homologation special" cars were barely actually produced if at all and were mostly just prototypes in road car suits anyway.
But they felt so much more real than, say, the first Peugeot 905s, which were pure prototypes but with road car-looking headlights on them.
The current run of LMP1 was a super expensive moonshot, as technically complex as Formula 1. The problem Gwas it was without F1's media reach, the same sort of problem that killed Group C back in the 1990s. So altogether, this is not a bad thing, and I do hope we find that there will be road car spawn to link this all together.