Toyota, for now, will be the lone manufacturer left in the FIA World Endurance Championship's top racing class next season. The company said it wants to stay in the class, "only with the goal of winning." The only thing you can do is win if there is no one else competing, Toyota.

With Toyota's last remaining competitor in the top Le Mans Prototype 1 class, Porsche, out of WEC after this season, things are looking slim in terms of the competition. Reports say should Toyota stay and be the only manufacturer, it could have a few privateer teams compete against it. But when a team has a $100 million annual budget for a series, there probably isn't much hope for the teams trying to do things out of their own garage.
Everything considered, Motorsport.com reports that Toyota head of motorsport Shigeki Tomoyama hinted at the Tokyo Motor Show that the company wants to stay in WEC's top class long term. No official decision has been made.
Staying would probably include building a new race car for the 2020-2021 race season, by which WEC hopes to have another automaker in LMP1 to compete with Toyota. From Motorsport.com:
"Once things have calmed down, we will make a decision, but we will probably continue to be racing in a new top-flight class which they are looking to create," said Tomoyama at this week's Tokyo motor show.
"We are looking to stay - and only with the goal of winning."
That's such a Toyota thing to say. Anyway, the Motorsport.com story continued:
The likely commitment to the WEC has come at the same time as news that Toyota will create a Gazoo Racing sub-brand under which performance cars such as the next-generation Supra will be sold.

Toyota's commitment to race on with the existing TS050 HYBRID into the 2018/19 superseason, which will lead into the WEC becoming a winter series climaxing at Le Mans, has been delayed.
G/O Media may get a commission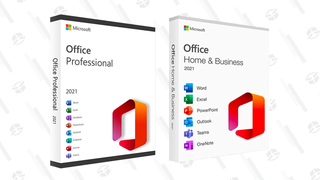 95% off
Cyber Monday - Lowest Price Ever - Microsoft Office Lifetime License
For the few weeks remaining in this season, Toyota still has Porsche around to keep it company (and destroy it on track, usually). But just like Audi did last year, Porsche's decided to dump WEC for the Formula E electric racing series. Porsche and Toyota were the only two manufacturers in the LMP1 class this year, meaning we're down to one—if Toyota stays.
The costs and benefits make sense: Formula E teams run on about $4 million a year and get to test electric technology, whereas LMP1 has an option for hybrids with Porsche and Audi rumored to spend more than $200 million annually and Toyota $100 million. That $200-million figure is about half of what top Formula One teams spend, all for a lot less TV time and exposure. While Formula E can't match F1 in exposure either, it offers innovation ability at a much lower cost.
Porsche and Audi finally ran some numbers and got out, making the future of the LMP1 class about as clear as the interstate at 5 p.m. on a Friday. But Toyota's just hanging around, whistling nervously, hoping for the best.
Or maybe Toyota just wants the bigger, shinier participation trophy before it finds somewhere more beneficial to funnel cash. This is one way to get it.