I missed the Super Bowl last Sunday because I made a terrible decision: I used a 2018 Jeep Grand Cherokee Trackhawk on all-season tires to tow my new 1979 Jeep Cherokee Golden Eagle from Ohio back to Michigan through an ice storm. It should have been a four-hour trip, but it became a harrowing 12-hour ordeal that nearly ended in disaster.

"One to three inches of snow," I read aloud from my laptop as I heard a knock on my front door the Thursday before The Big Game. It was ESI, the company that handles press vehicles for Fiat Chrysler, and they were at my house to drop off a 707 horsepower super-SUV for me to use to pick up my next project—a 1979 Jeep Cherokee Golden Eagle—from Ohio.
A few days prior, I had contemplated canceling the loan request out of concern over weather conditions, but with only a couple of inches of snow expected, I figured everything was going to be fine. I was wrong. Very wrong.
The trip began at 7:15 on Sunday morning. I had my tools loaded in the back of the Jeep (just in case my new project decided not to start), and a U-Haul trailer hooked to the rear hitch, ready to go. The plan was for me and my two buddies Taylor and Clark to drive the Trackhawk four hours southwest to Eaton, Ohio, spend about an hour on paperwork and on getting the Golden Eagle running and up onto the trailer, and then return to Michigan by around 6:30 to watch The Big Game with more friends.
G/O Media may get a commission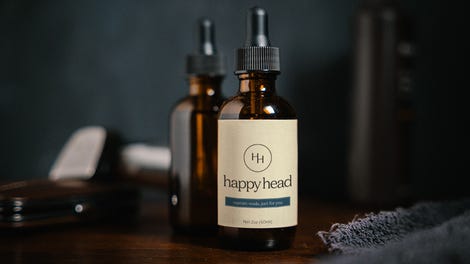 The first half of that itinerary worked out swell. There was a bit of snow on the roads, but it really wasn't a huge deal, and I was able to drive close to the speed limit down I-75 almost the entire way.
We stopped once for gas (dropping around $70 on 93 Octane to feed that 6.2-liter supercharged monster under the hood), but otherwise the journey was steady, and we arrived at Tammy's (the seller's) house at 12:30 p.m.
Surprisingly, it didn't take long for Tammy's husband Rodney to fire up the Golden Eagle and drive it up onto the trailer. The burly AMC 360 V8 had a tendency to choke itself under load, but Rodney somehow managed to finesse the 4,300 pound beast up the U-Haul's ramps on the first try. Clark and Taylor then strapped the SJ Jeep down, while I walked inside with an envelope filled with 20 $100 bills.

Inside, Tammy signed over the title, we chatted a bit about the awesome local rally scene, and she gave my friends and me a nice tour of her gorgeous house in rural Ohio before sending us on our way with some restaurant recommendations in a nearby town. We left Tammy's home in our rearview mirror, just beyond the beautiful old Jeep we now had in tow.
At this point, with the Golden Eagle having had no issues driving up onto the trailer, things were actually going better than we'd planned. Now all we had to do was cruise four hours back to Troy, Michigan, and the Super Bowl fun could commence.
There was no precipitation, and the skies were clear. We were so relaxed that we stopped at a local Ohio restaurant for lunch, and took our sweet time eating as we prepared for a steady ride on I-70 eastbound and then straight up I-75. We even took a few back roads just to snag some shots of the two Jeeps. Here's one next to a field:
And here's another in front of a quarry:
After snapping a few photos, we eventually wound up back on the freeway, where the sky began to slowly weep. The Trackhawk handled the 6,500 pound trailer beautifully, with its towing mode holding gears a bit longer, and its 707 HP engine offering plenty of passing power in case someone in a Toyota Sienna felt like dilly-dallying in front of us. The trailer was stable at speed, and the Brembos—along with the trailer's surge brakes—comfortably and quickly scrubbed our Jeep train's kinetic energy into heat.
To be totally honest, after having spent the previous evening ripping nasty all-wheel drive launches from Detroit-area traffic lights, having that trailer hooked to the back of the Jeep felt like I was in handcuffs.
My self-restraint was wearing thin, as all I wanted to do was kick the gas pedal to the floor and listen to that whine from the glorious supercharger and the roar from the Hemi V8. After my previous few nights with the Trackhawk, that sound had become an addiction that—thanks to the giant hulk of AMC behind me—I could no longer satisfy. It was torture. But nothing was more torturous than what was to come.

I first grew concerned after we pulled off the highway to take the photo you see above. I put the Jeep in park, got out, and walked along a sidewalk to frame the shot, only to notice that I was having trouble staying upright. "Thank god the road's not this slippery," I thought.
After we took the picture, I merged back onto the freeway, with the windshield wipers on their low setting, and the cruise control set to 65. The Trackhawk, which is rated to tow 7,200 pounds, was loaded up to 90 percent of its towing capacity. Add the two friends and gear, and we were probably close to the Gross Combined Weight Rating. But that didn't matter; the Jeep just cruised, steadily and quietly. Everything was totally fine.
And then something happened. I'm not entirely sure what it was that gave it away—perhaps the Jeep reacted just slightly differently to my steering inputs than normally—but I recall saying to my friends "Oh boy, it's getting slick."
At that very moment, just as I finished the sentence, a little hatchback in front of us lost control, swerved all over the highway, and slid into the median. Cars all around us were losing grip, and the shoulder and divider quickly became littered with wrecks, including one completely totaled Toyota Camry that had collided with a guardrail. Hell had frozen over, and we were in the middle of it, hooked up to a 6,500 pound wrecking ball.
I tested the Trackhawk's giant nearly 16-inch discs clamped by six-piston front Brembos, but they did almost nothing on the slick ice thanks to the trailer and the absolutely useless Pirelli Scorpion all-season tires (even without the trailer, the tires were awful on ice). "We have to get off the highway now," I yelled, fearful that the cars flanking me would turn into pinballs on the slick surface.

Strangely, I encountered resistance to this suggestion. "No, stay on the highway," my friends declared. "We have work tomorrow, and don't want to be late." Almost baffled, I implored them to look around at all the wrecked cars; I described just how little control I had thanks to the surface whose friction coefficient may as well have been that of a skating rink. And even worse, I told them, we were surrounded by the most unpredictable things on the road: other drivers. "Screw it, I'm making an executive decision; we're getting off the highway," I said after failing to convince them.
I pulled onto an exit ramp, and began ascending the slight grade up towards a stop sign situated just before the two-lane road crossing the highway. I tapped my brakes to slow down, but they did nothing. Zero. We were going to plow right through the sign—there was no way around it. Then I looked to my left, and saw a car crossing the bridge, timed exactly right to meet us at the intersection. We were going to get T-boned.
In my head, I began to panic as the heavy Golden Eagle behind me kept pushing us farther and farther up the slope, rendering our brakes useless, and instilling in me a feeling of utter helplessness. "Honk!" my friend Taylor cried in an effort to warn the oncoming driver, but I couldn't think. I just held onto the rim of the steering wheel for dear life.

The only thought going through my mind at that point was to somehow use the stop sign—which was mounted on two thick, rectangular posts—to bring us to a halt. I turned the Jeep to the right as the seemingly-endless slide up the grade continued. Eventually the Jeep crept sideways towards the sign. Was I planning to run the Jeep into it? I don't think so. Was my goal to try to hook the U-Haul trailer onto the sign to get us to stop? Maybe.
Honestly, I don't know what I was thinking. All I know is that, as soon as our Trackhawk and its cargo skidded to the intersection, the Jeep gods came out of nowhere and drizzled some gravel onto the ground just inches to the left of the red octagon. When the right front tire hit that gravel, the Jeep-towing-a-Jeep came to an immediate halt at the very same moment the oncoming car zoomed by.
You could have filled a pool with the sweat I wiped from my brow at that moment. It was truly terrifying.
The next few hours were some of the most stressful, most white-knuckle times I've ever experienced in an automobile. Visibility was low, with snow and ice pouring sideways onto the Ohio back roads. We may have had a bit too much tongue load, but that wasn't the issue—the surface was just too slick for the tires, heavily dulling my braking and turning inputs as the Jeep seemed to do whatever the hell it wanted.
My friends were concerned that the back roads would be in worse shape than the freeway, and that there'd be no help if we got into a bind out in the sticks. While those were fair points, all I knew was that I was away from other cars, and on a road that I could comfortably drive slowly on.
And drive slowly I did. I averaged probably 25 mph on the rural back roads of Ohio and Michigan, crawling beside enormous farm fields, and through small towns and suburban neighborhoods I'd never seen before, as my friend Taylor called out directions from the back seat. The trip would have been scenic, I think, if I could actually see anything, and if I could stop freaking out over keeping the Jeep and trailer from falling into the ditches running along the roads.
Tensions in the car elevated when I pulled over to take the photo above. One of my friends was upset with me for not taking the highway, and I was upset with him for not respecting my decision to take the roads I felt most comfortable driving. Every time we crossed over the highway, he'd tell me I should get back on it, and every time we looked down from the bridge, we'd see cars abandoned on the side of the road. I wasn't going down there. No way.
So there I was for the next 10 consecutive hours, desperately clinging onto the wheel of a $99,965 super-SUV on all-season tires, praying I wouldn't wreck as I slowly towed a 6,500 pound trailer over slick black ice and struggled to see the road ahead. Friendships were being strained, I was starting to get tired, and on top of that, the Golden Eagle's parking lights were gradually dimming in my mirror as the battery drained (we had to use the Jeep's lights because the trailer's taillights were dead). The whole thing was a shitshow.
After six hours crawling along the back roads with my hands wrapped tightly around the steering wheel, and my eyes staring sharply ahead, I had had enough. Stress levels had reached an all-time high, and it was time to relax a little. I stopped the Jeep, took a breath, and looked at my friends. They knew what I was thinking, and I knew what they were thinking: "All-wheel drive burnouts."

Yes, doing burnouts with a 707-horsepower, 5,400-pound SUV while hooked to a 6,500 pound trailer on a road that's basically a giant sheet of ice is probably not advisable, per se. But screw it, something had to break the tension, and my god did that 6.2-liter Supercharged V8 do the job. We giggled as our Jeep's supercharger sang a lovely duet with the V8's exhaust, and the four wheels clawed against the slippery ice as the big Cherokee Golden Eagle—now completely encrusted—held them back.
We arrived back at my house at 2 a.m., over 12 hours after we left Tammy's house in Ohio. I pulled into my backyard, and Clark, Taylor and I began unstrapping the Cherokee so I could take the U-Haul trailer back to the rental lot. Of course, even that mundane task proved difficult.
The front straps were frozen solid, requiring me to use a flathead screwdriver to chisel through the ice to undo them. Once that was done, we ran into another problem: the Jeep was in park, and unfortunately, all the doors were frozen shut. I pulled with all my might, but they wouldn't budge.

After Clark left to catch some sleep before work, Taylor and I walked into my house, where I filled a spray bottle with hot water. We walked outside, and I sprayed the edges of the passenger's door, hoping to melt the frozen slush and get the door free, but the water hardened almost immediately upon exiting the nozzle, only making things worse.
Eventually, a nice, rhythmic yanking of the handle did the trick, I hopped in, and Taylor—the poor bastard who was dead tired and still had to drive an hour home in a rear-wheel drive van on all-seasons—used the last of his strength to push the Jeep off the trailer. Taylor left, and I dropped the giant chunk of ice resembling a U-Haul trailer off at around 3 a.m.
I was drained, feeling like I'd lost a few years of life expectancy from all the stress. But I was still human, so as soon as I left the U-Haul lot, unencumbered by a trailer, I let that glorious motor sing all the way back to my house, where I fell asleep immediately.
It took over half a day, nearly resulted in a crash, nearly ended friendships and turned my glorious Golden Eagle into a salty ice block, but ultimately—thanks to a bit of luck and some very slow driving—the trip down to Ohio in the firebreathing 2018 Jeep Grand Cherokee Trackhawk was a success. A terrifying success, but a success nonetheless.