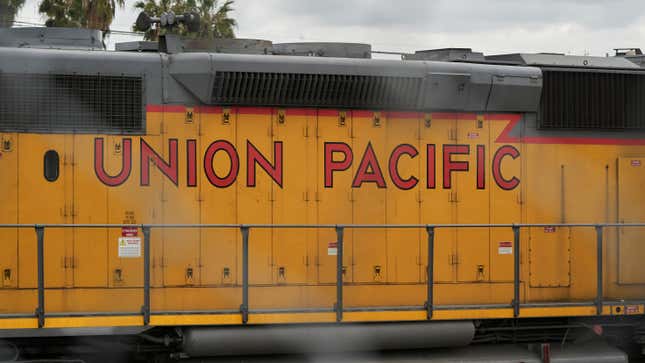 Thirty tons of a potentially explosive chemical went missing from a sealed train car in April, and no one has any clue where it went.
What 'The Last of Us' Gets Wrong About Post-Apocalypse Cars
The good news is that Union Pacific doesn't have any evidence that the chemical, ammonium nitrate, was stolen with untoward purposes. The bad news is that neither UP nor the company that produced the explosive, Dyno Nobel, have any idea where it went. Right now, the best guess is it all leaked out during the train's two plus weeks journey from Wyoming to California, since the car was sealed before it left Wyoming and was still sealed when it arrived at its destination, according to the New York Times:
"The initial assessment is that a leak through the bottom gate on the rail car may have developed in transit," the statement said.

A report made on May 10 to the National Response Center, a federal emergency call center for railroad incidents, said that the rail car left Wyoming on April 12 and arrived in California empty.

Dyno Nobel said that the rail car was transported back to Wyoming for further investigation and that it had "limited control" of the train's activity while the cargo was being transported.

Kristen South, a spokeswoman for the rail carrier, Union Pacific, said in a statement that the company's investigation was in its "early stages."

Ammonium nitrate is used as a fertilizer as well as a component in explosives, so if it leaked out along the tracks, it won't do any damage to the environment. Indeed, the weeds between the rails running through the Mojave desert might start growing particularly well, but you still don't want anything potentially hazardous to just leak its way across half the country from a sealed train car. It's bad enough when dangerous chemicals come out all at once in a single place, like East Palestine, Ohio, experienced earlier this year.

The fertilizer ammonium nitrate is a favorite among folks looking to cause terror and chaos, as it is used for other, less explosion based uses. It was an ammonium nitrate bomb that killed 168 people in the Oklahoma City Bombing in 1995. Fifteen people were killed in an explosion in 2013 after a fertilizer plant was sabotaged, and ammonium nitrate was responsible for killing more than 200 in Beirut, Lebanon in 2020.